Man Discovers Prehistoric Woolly Mammoth Skull in His Own Backyard
Have you ever dreamed of being a paleontologist? Imagine the thrill of uncovering the bones of ancient creatures in far away lands! But what if you found something extraordinary right in your own backyard?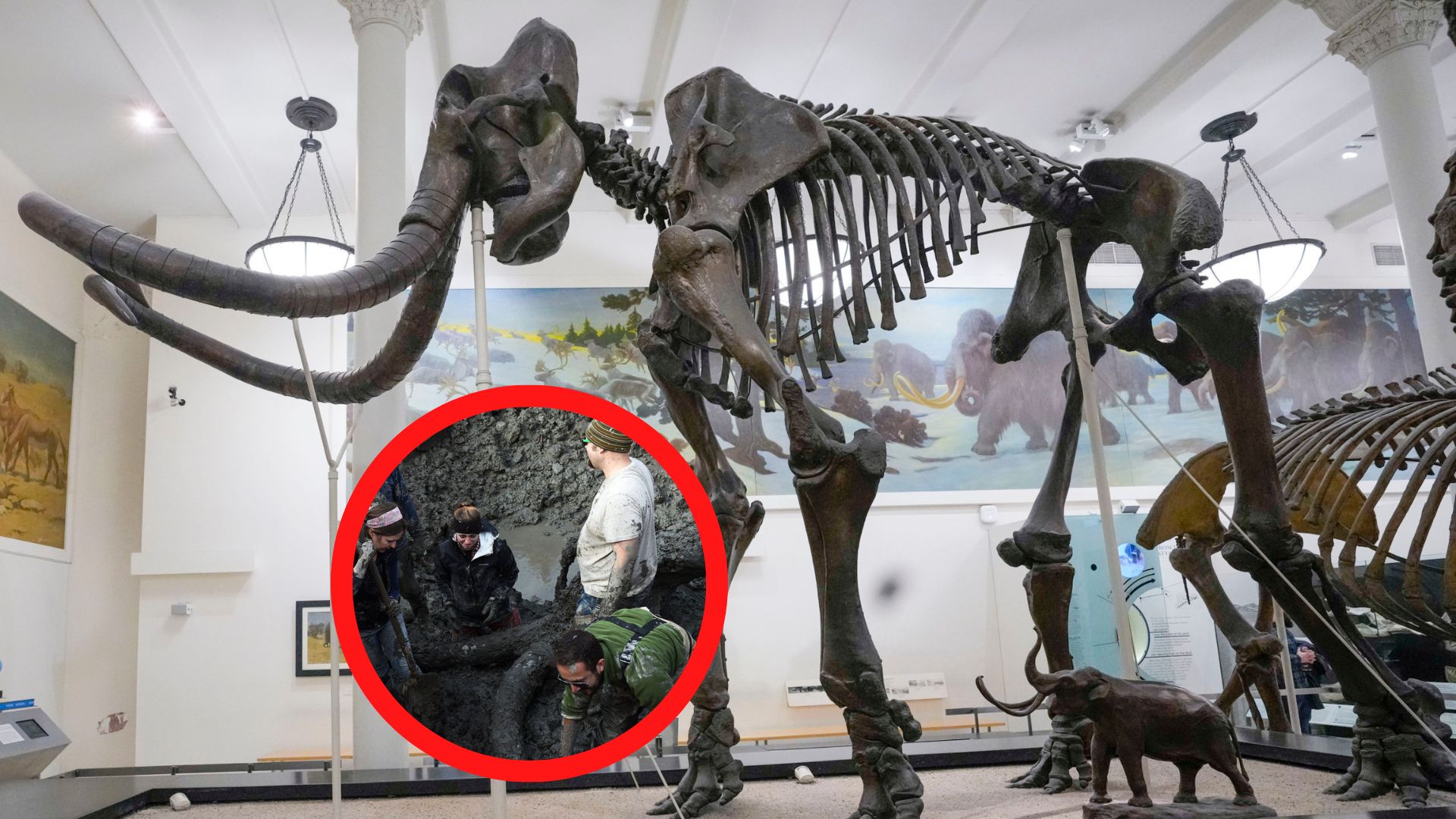 A man and his friend from Michigan made the incredible discovery of prehistoric remnants while digging in their newly acquired parcel of land. Read on for their incredible story!
A Farmer's Unexpected Discovery
James Bristle, a farmer in Chelsea, Michigan, was delighted when he recently acquired a parcel of land that was being used as a soy bean field. The previous owners had bought the farm all the way back in the 1950's.
When James and a friend were inspecting the new piece of land, they could never have expected the astonishing discovery they found. As they dug, they uncovered something truly remarkable that changed their lives forever.
James' Incredible Discovery!
James was carefully digging through the soil when he came across what appeared to be an old fence post. But as he examined it more closely, his heart began to race as he realized it was actually an old bone! James had made an incredible discovery, and he could scarcely believe his luck.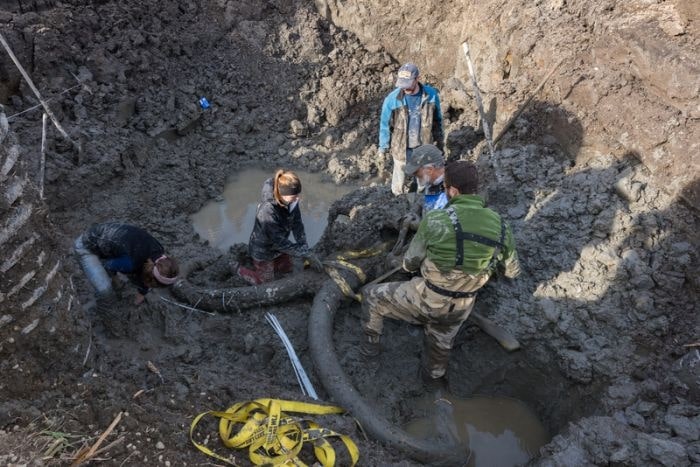 He knew he had stumbled upon something special and couldn't wait to find out what it was. Who knows what exciting secrets James' find would reveal?
Astonishing Sight Leaves 5-Year-Old Speechless 
Bristle was amazed when he saw something that was completely out of the ordinary. He invited his 5-year-old grandson to take a look, and the young boy was left speechless. "It was a truly incredible sight," Bristle said.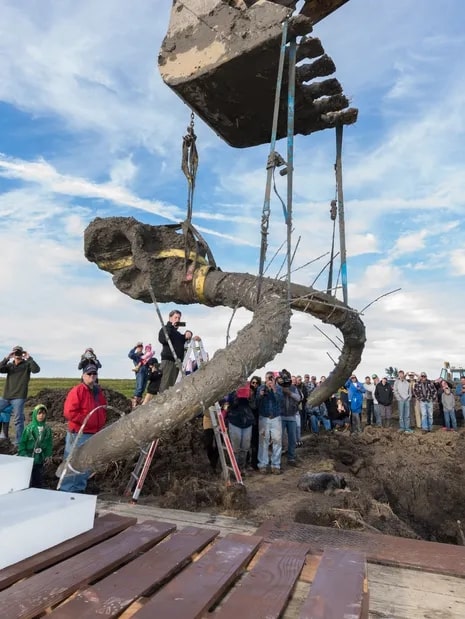 "I've never seen anything like it before, and I'm sure my grandson hasn't either." He went on to explain that his grandson was in awe, and it was a moment that neither of them would ever forget. It was truly a remarkable experience!
Michigan Paleontology Team to the Rescue
James found himself in a tight spot. He needed to use this piece of land but needed more information before going ahead with his plans. Who did he turn to? Professor Daniel Fisher of the University of Michigan and curator and director of the Museum of Paleontology.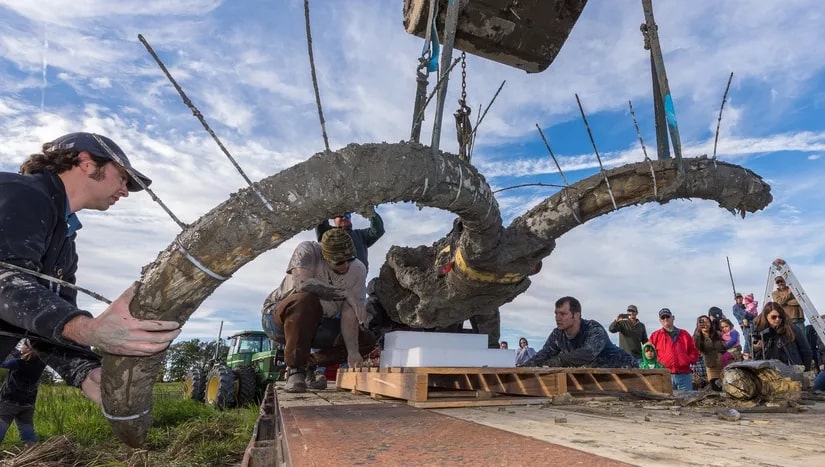 He knew his team of researchers had the expertise to get the job done quickly. And thus, the Michigan paleontology team was called into action! With their knowledge and experience, James was sure of getting the answers he needed in no time.
Unbelievable Discovery at Excavation Site
The team of professionals were in for a surprise when they arrived at the excavation site. Little did they know that they were about to uncover something extraordinary – a buried Woolly Mammoth skeleton – skull, tusks, jaw, shoulder blades and vertebrae! The professionals were amazed at their amazing find, which had been hidden for centuries beneath the earth.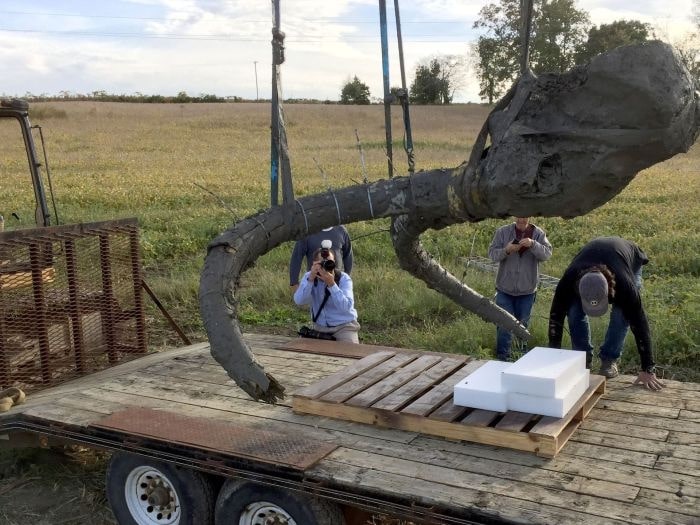 It was a discovery that would go down in history, and one that could offer valuable insight into the distant past. The team worked diligently, unearthing this remarkable relic. It was a truly unforgettable experience. Who knows what else lay beneath the surface just waiting to be discovered!
Uncovering a Prehistoric Mystery: the 11,000-Year-Old Butchered Woolly Mammoth 
For centuries, the mysteries of prehistory have captivated the minds of scientists. Now, Daniel Fisher may have uncovered an incredible 11,000-year-old secret – the butchered carcass of a Woolly Mammoth! According to Fisher's estimations, the mammoth died at the ripe old age of 40 and is believed to have been killed by humans.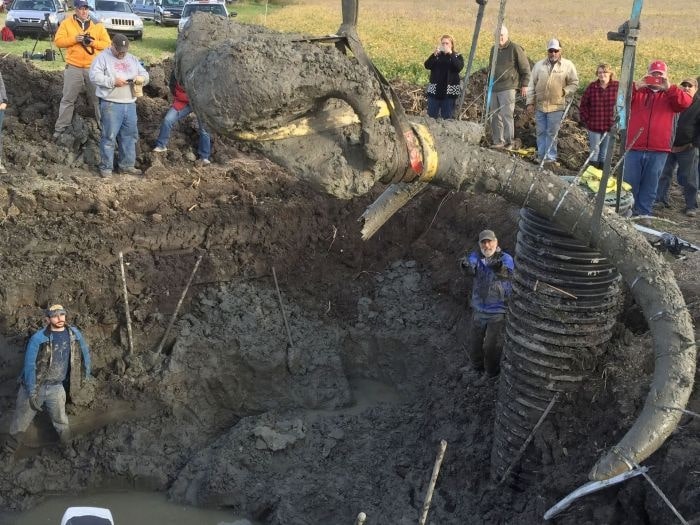 This astonishing find is sure to shed light on the ancient practices of our ancestors and the history of the long-extinct woolly mammoth. If Fisher's assessment is confirmed, this incredible discovery could revolutionize our understanding of prehistoric times.
A Whodunit Mystery
Paleo-Indians were likely the mysterious culprits behind the killing of this mammoth and its subsequent dismemberment. But why did they do it? According to Fisher, the animal was most likely dissected and stored in a pond as a back up food source.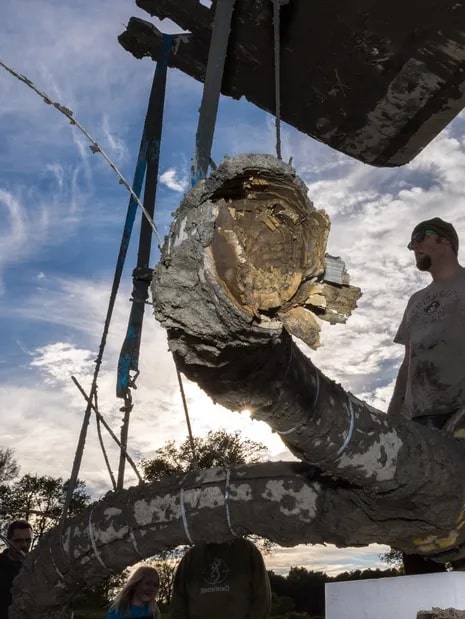 This discovery opens up a window into the lives of the Paleo-Indians and how they interacted with their environment. It also speaks to their ingenuity in finding ways to survive in their harsh surroundings. This ancient story may have been lost to history, but we now have the opportunity to uncover further secrets of the Paleo-Indians.
Unearthing a Marvelous Discovery 
James Bollinger was beside himself with excitement as he shared his incredible experience. After 45 years of excavating in a variety of places, he had just unearthed something truly extraordinary. "It's a pretty exciting day," the local excavator exclaimed.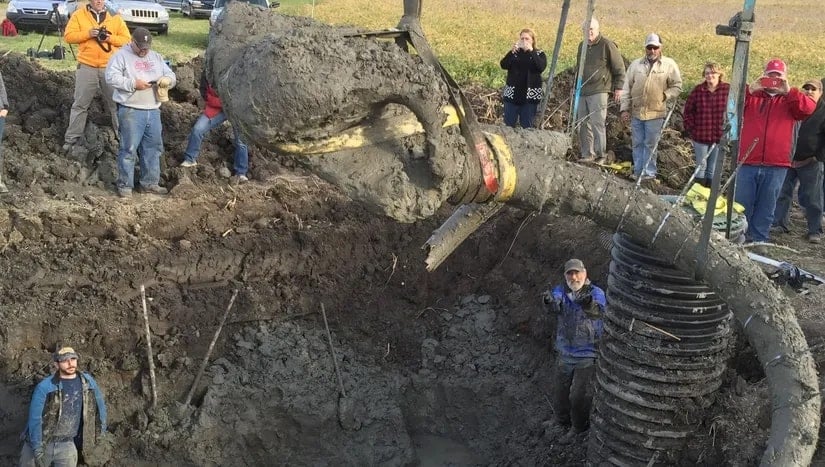 "I've never dug anything up like that!" His enthusiasm was palpable as the great mammoth was unearthed. This incredible, historic discovery was certainly one to remember. 
Uncovering the Complete Mystery of Michigan's Mammoth Skeleton 
Archaeologists in Michigan were astounded when they unearthed this complete Mammoth skeleton! Dr. Fisher, a renowned expert in the field, said it was one of the most extensive remains he has ever seen. He went on to explain that while Mastodons are the more common find in Michigan, full Mammoth skeletons are much rarer.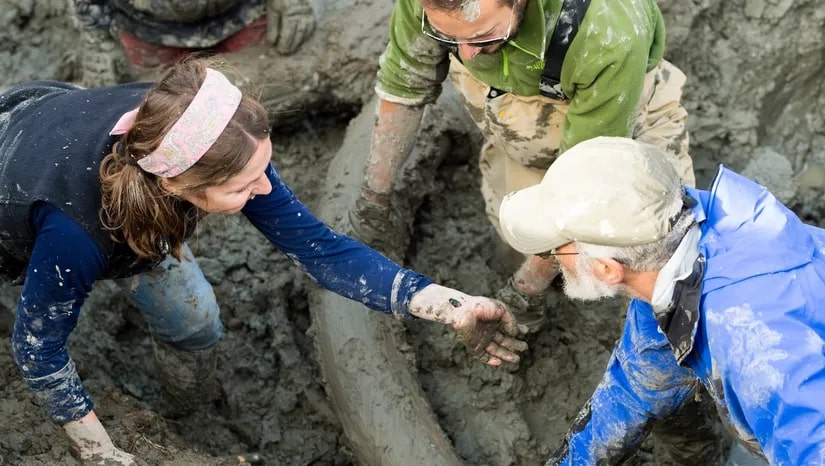 This remarkable discovery is sure to provide a deeper insight into the history of Michigan and its ancient inhabitants. It's an exciting time for archaeologists as they finally get to uncover the full mystery of this Mammoth skeleton.
A Discovery that Could Rewrite History: Human Habitation Dates Re-Examined
Fisher, a renowned academic, made a startling announcement that could revolutionize the timeline of human habitation in this region – an announcement that could potentially rewrite history! After careful examination of the evidence, Fisher concluded that the area's human habitation dates may be far older than previously believed.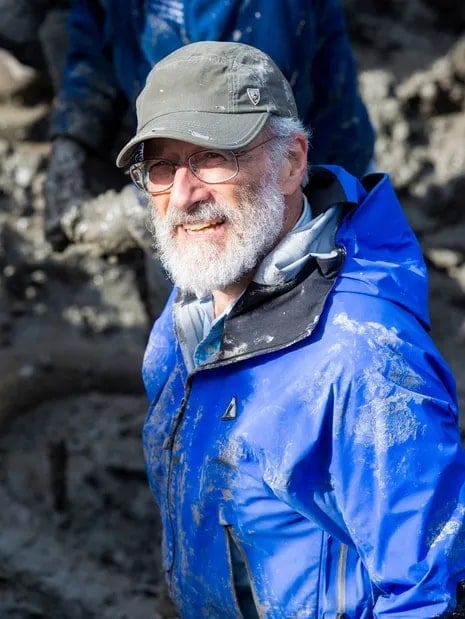 Speaking to reporters, Fisher expressed his excitement at the potential implications of this groundbreaking discovery. This remarkable find could completely change the way historians view this area, shedding new light on the evolution of human civilization.
Cleaning Bones with Fisher: A New Beginning 
The next step Fisher was about to embark on was to clean the bones that were mounted on a flatbed in James' barn. It's a process that requires the utmost care and attention, and the results were sure to be worth the effort.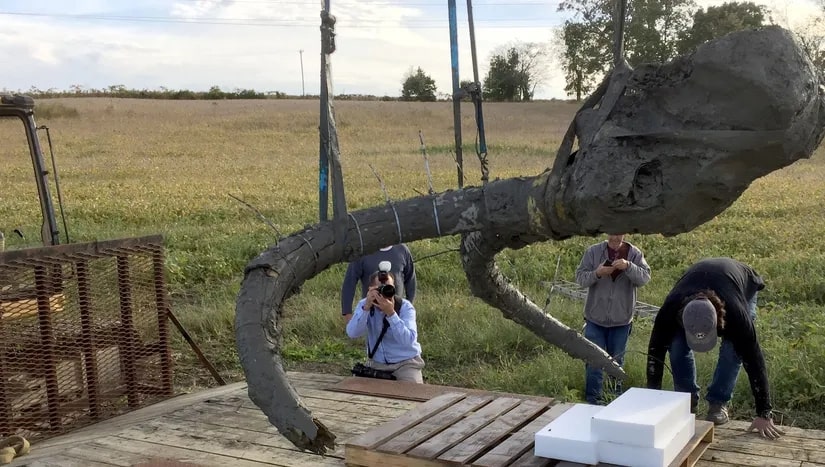 Every step taken would shed new light on these bones, and the end result promised to be simply spectacular. So, join Fisher on this journey of discovery and witness the transformation of these bones.
Unearthing History - An Inspiring Act of Generosity 
Bristle has taken a remarkable step to honor the history of his find – he has decided to donate the bones to the University of Michigan, so that many more people can appreciate and learn from them.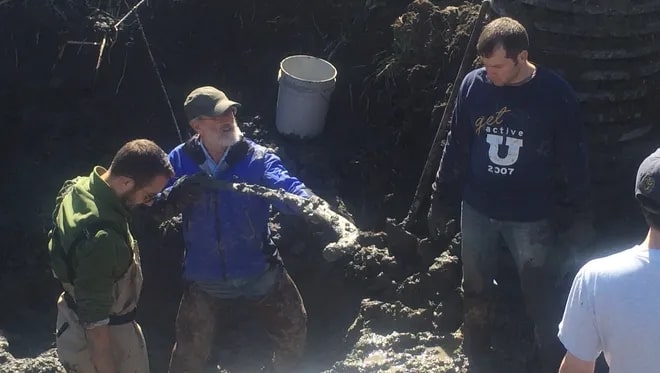 "I'd like it to go to a place where more people can see it and we can learn more about history from it," he said. "Really it's just the right thing to do." By taking this unselfish action, Bristle has demonstrated a great respect for knowledge and our shared history. We can all learn from his inspiring act.
Mammoth Unearthing: A Student's Spectacular Sight 
David Vander Weele, an undergraduate student at U-M Earth and Environmental Sciences, was recently treated to a spectacular sight. He watched in awe as the mammoth tusks and skull were carefully secured onto a flatbed trailer. It was an amazing moment for David and a reminder of the wonders of the natural world. 
The mammoth remains represented a rare opportunity for David to witness a piece of history being unearthed. He was able to appreciate the process of the discovery, from the excavation of the bones to their safe transportation. This unique experience was a reminder of the power of Earth and Environmental Sciences and the importance of its research.
Spectacular Discovery Unveiled to Locals 
The locals flocked to the scene, their curiosity piqued by the news. An atmosphere of excitement and anticipation filled the air as the crowd eagerly awaited the unveiling of the spectacular discovery.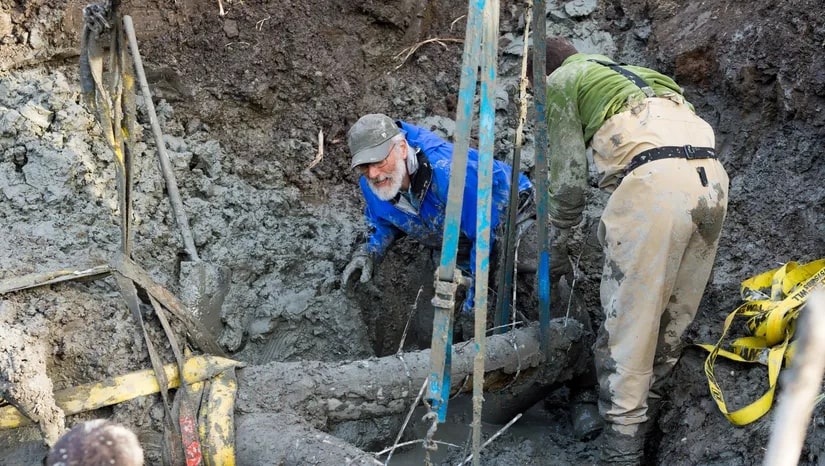 People craned their necks and chatted excitedly as they waited to see what lay in store. Finally, the moment of truth arrived, and the locals were awestruck at what they saw. They had just witnessed something truly extraordinary, and it was sure to remain in their collective memories for a long time.
U-M Students Uncover Ancient Mammoth Remains 
Astonishing discoveries were made by University of Michigan (U-M) archaeology graduate student Ashley Lemke and paleontologists Daniel Fisher and Joe El-Adlis. While excavating a muddy pit, the trio uncovered a mammoth tusk, along with a stone flake.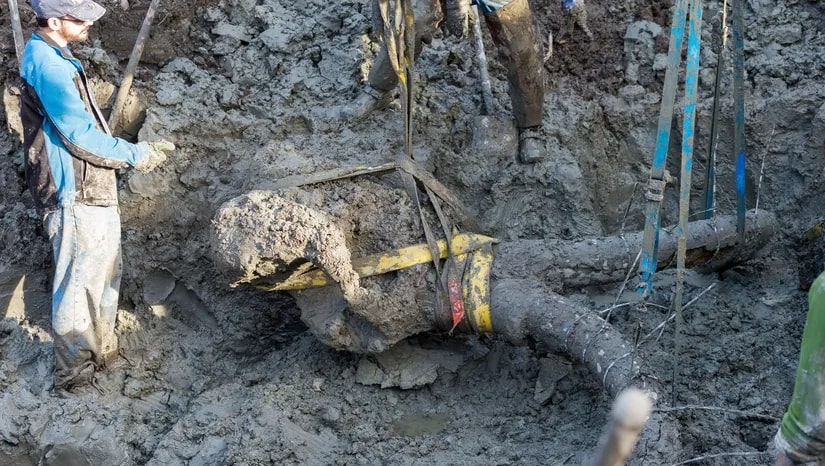 The remarkable find prompted the team to investigate further, and their efforts revealed more clues that could shed some light on the mysterious past. The students felt a sense of awe and wonder as they examined the ancient remains. As they continued to unearth the secrets of the past, they knew they were participating in something extraordinary. With determination and enthusiasm, the students are determined to unlock the mysteries of the past and uncover more of these captivating discoveries.
The Secrets of Chelsea with Daniel Fisher 
Uncovering the secrets that lie beneath the soil of Chelsea, Michigan is no small feat. But with the expertise of Daniel Fisher, the director of the University of Michigan Museum of Paleontology, this mission is being made possible. Daniel is leading a dig in the area with the hope of uncovering fossils and artifacts that can provide us with a deeper understanding of our planet's past.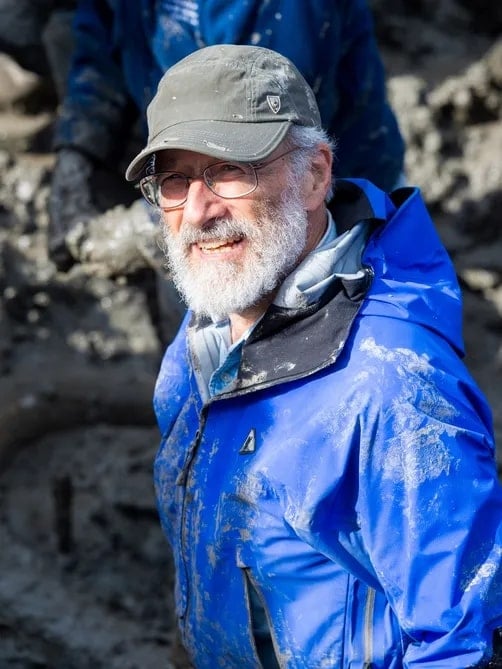 His team of paleontologists are working hard to uncover the mysteries of the area and the findings of their expedition promise to be exciting and illuminating. With the help of Daniel Fisher and his team, we are sure to uncover the secrets of Chelsea and gain a better understanding of our planet's history.
Joe El-Adli on the Excavation of Prehistoric Relics 
Joe El-Adli, a Ph.D. candidate from the University of Michigan, was at the forefront of an exciting archaeological discovery. During a dig, Joe and his team unearthed several mammoth vertebrae, providing further insight into the history of this species.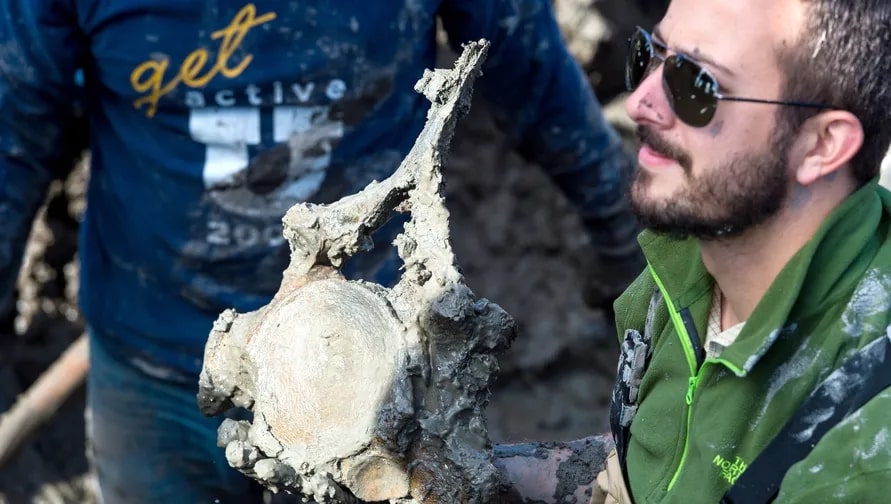 Joe was thrilled to hold one of these ancient relics in his hands and shared his enthusiasm at the uncovering of such an important part of history. He spoke of the importance of protecting these kinds of artifacts and the value of exploring our prehistoric past. Joe's passion for archaeology is sure to carry him on to many more fascinating discoveries in the future.