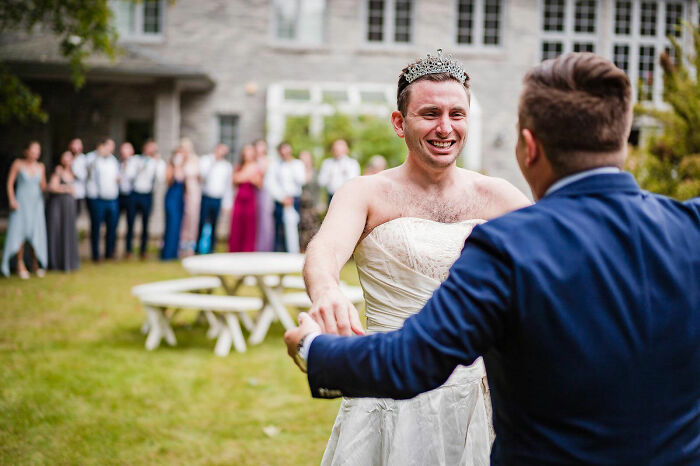 The Best Sibling Pranks that Have Been Shared Online
We all love our brothers and sisters but they do have a special way of getting under your skin in a way that nobody else can. They've seen you at your highs and your lows. They know your deep dark secrets. And they most likely have a plethora of embarrassing photos and stories to hold against you.
Siblings pulling pranks on one another is basically just a way for them to show their love. We've collected some of the most hilarious sibling moments that we could find online. You might even take some inspiration jokes to play on your own brothers or sisters.
Making a Scene on your Wedding Day
Your wedding day is one of the most important days of your life that you will hopefully cherish forever. What could make it more memorable than your sister showing up in a T-Rex costume? Apparently, the bride gave her bridesmaids the freedom to choose whatever they wanted to wear to the wedding.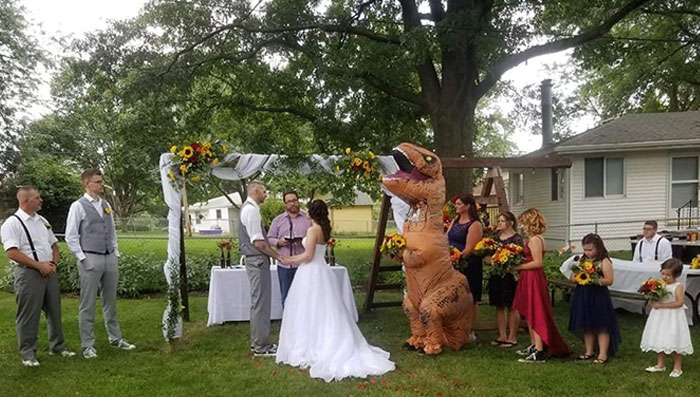 Her sister took that very literally and decided to wear a T-Rex costume to the event. We hope the bride had a sense of humor about the situation. Or else she'll be looking back on wedding photos with a dinosaur in them with bitterness for a long time.
Little Sister to the Rescue
While the little sister didn't mean to, she actually pulled a pretty good one over on her older sister. The 11 year old was commenting on her sister's work's Instagram to try to convince them to give her a raise. After all, what are sisters for?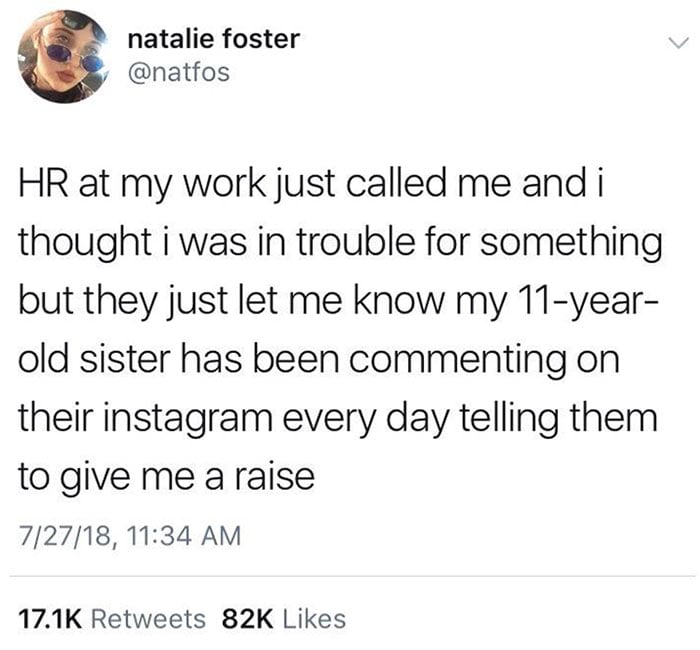 Unknowingly, she pulled a pretty good prank on her sister who got nervous when she was called into HR. Overall, a harmless prank. And we love to see siblings who have each other's backs! We're impressed that the 11-year-old was so persistent.
Best Uncle Ever
Being an aunt or uncle means you get to spoil your sibling's kids without bearing any responsibility. It's the best job in the world! This guy got to simultaneously become his nephew's hero while annoying his sister. Win, win!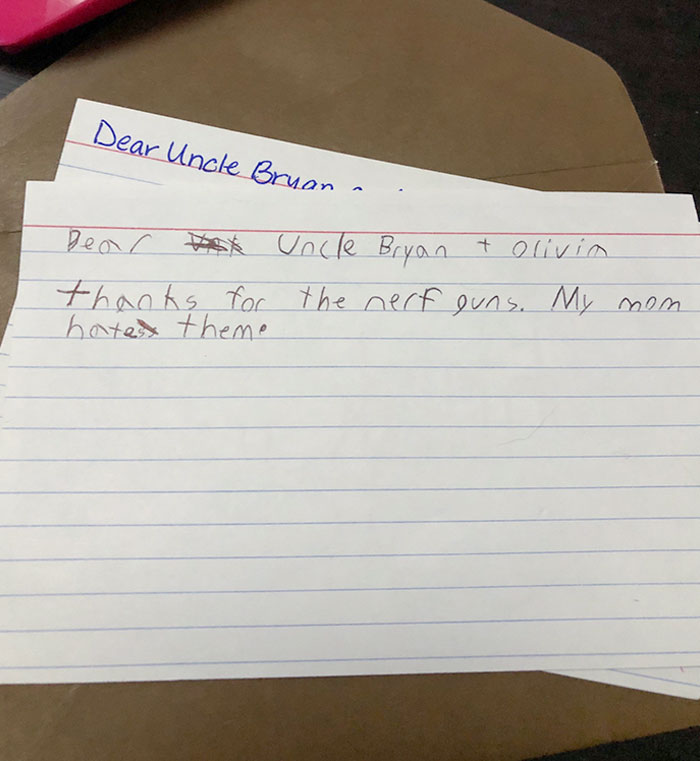 His nephew loves the new toys and so Uncle Bryan gets brownie points with him. Plus, he gets to annoy his sister without lifting a finger. Isn't this kind of the job of any sibling? Mission accomplished.
Help!
You would think weddings would be off-limits for pranks between siblings, but really there is no time that is off-limits for siblings to play a practical joke on each other. The brother of the groom knew that the bride and groom would kneel at the altar on their wedding day.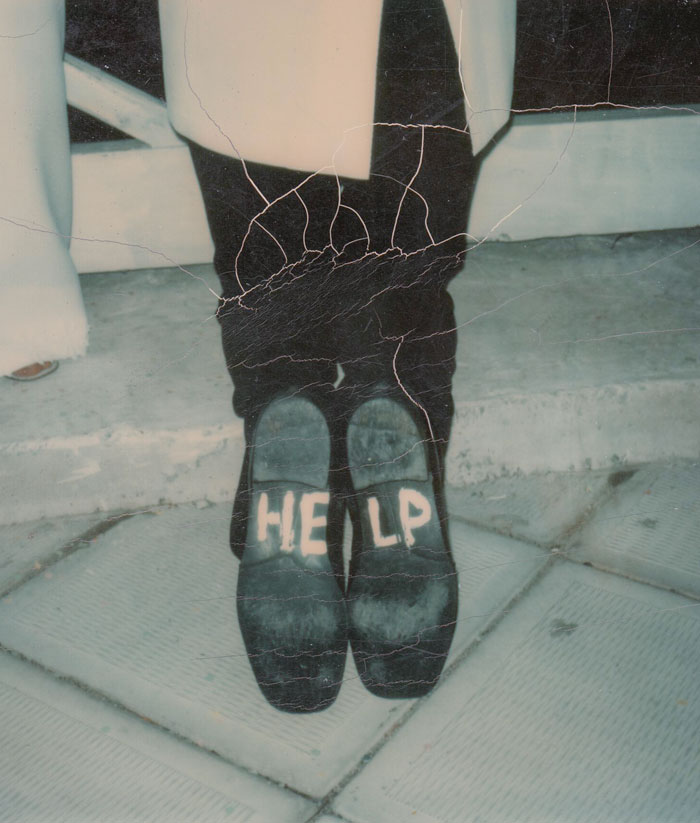 So, he decided to leave a funny little note on the bottoms of the groom's shoes. He wrote "help" across them! We hope the entire family was able to have a laugh about it and that the bride had a sense of humor. We must admit it is a pretty good prank to pull on your brother.
Baby Photos
Siblings have access to all of your most embarrassing pictures that you would rather forget. They will make it their mission to never let you live down those embarrassing moments from the past.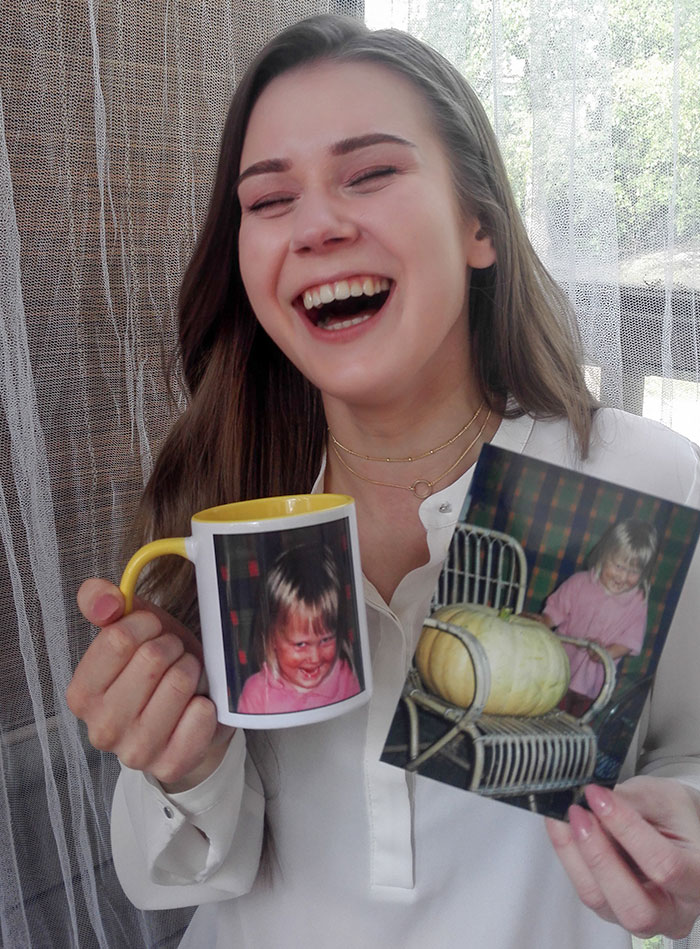 This sibling came up with a genius idea for how to remind their sister of a less-than-flattering childhood photo. She printed it out onto a mug as a birthday gift. How thoughtful! Now, she will never be able to forget this picture exists. At least she can laugh about it!
The First Look
It's bad luck to see the bride in her dress before the wedding day, so lots of couples have the ceremonious "first look" where the groom can finally see his beautiful bride-to-be! But imagine you're ready to turn around and see the love of your life when you're met with your brother in her gown!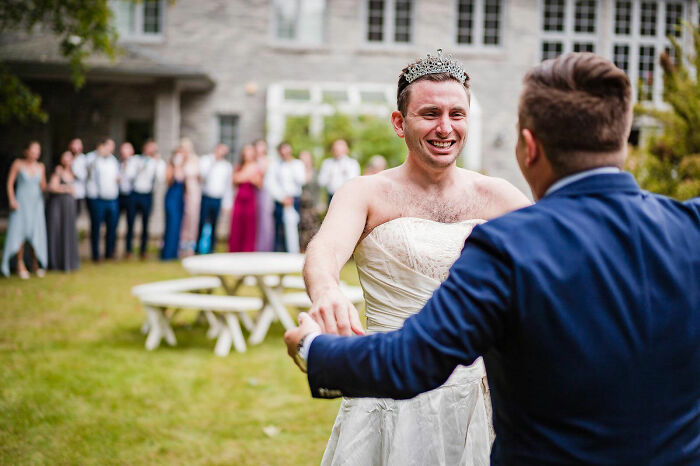 Even with a tiara to top it all off, his brother is definitely not the bride he was planning to see. But this makes for one of our absolute favorite sibling pranks we've seen so far. Hopefully their laughs helped the groom shake off some pre-wedding nerves!
A Gift you Have to Work for
This person got their little brother a huge LEGO set for Christmas. While that is very thoughtful, they had to make sure it wasn't too easy for their brother to open it. They wrapped every single tiny LEGO set piece individually.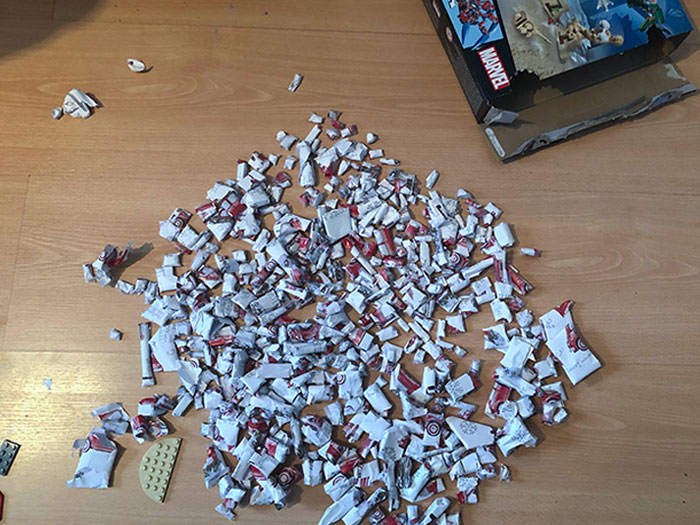 So when his brother opened the box ready to play with the set, he was met with hundreds of little pieces to unwrap. But who really loses in this prank? Because the sibling had to take the time to wrap each of those little pieces. Some pranks take some real commitment, obviously.
They Have to Learn Young
You're never too young to start pulling pranks on your sibling. It's as if kids are born with an instinct to play jokes on one another. In this hilarious example, the little sister decided to steal the stool right out from under her brother.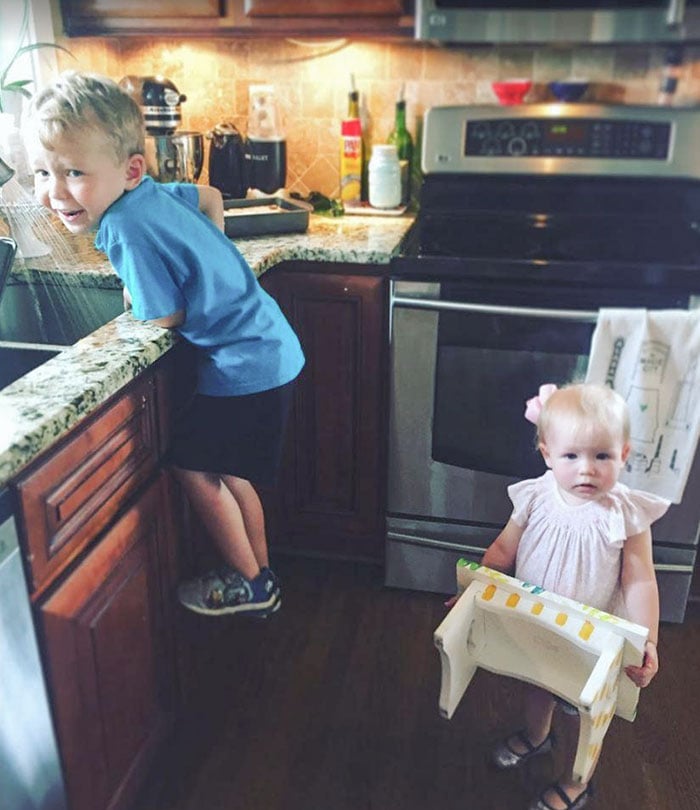 She looks totally innocent but we think she knows what she's doing. Big brother looks pretty distressed so we're sure he got back at her somehow. You really never are too young to start playing mischievous games with your siblings.
Ruthless Toothless
You can always count on your siblings to make you smile, especially in the hard times. This lady had a tooth situation that she couldn't get fixed during the pandemic. You would think that the bright side would be that she could wear a mask to cover the missing tooth in her smile.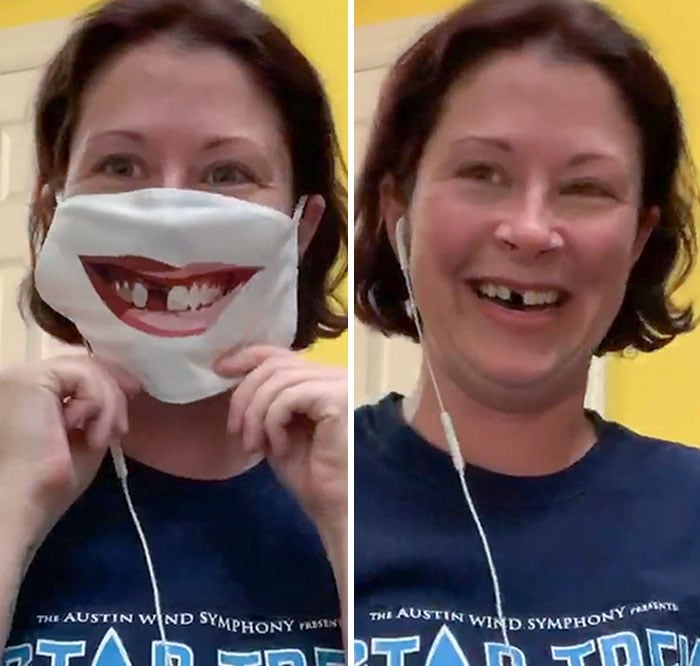 But her sibling had other plans. He made her a custom mask that proudly showed the gap in her teeth. There's very little siblings love more than to embarrass each other. But if the goal was to make his sister smile, mission accomplished.
Chocolate Surprise
These siblings teamed up to pull a pretty evil prank on their brother. They took brussel sprouts and wrapped them in chocolate to make them look like Ferrero Rocher chocolates. They even went so far as to wrap the chocolates in the classic Ferrero Rocher gold foil.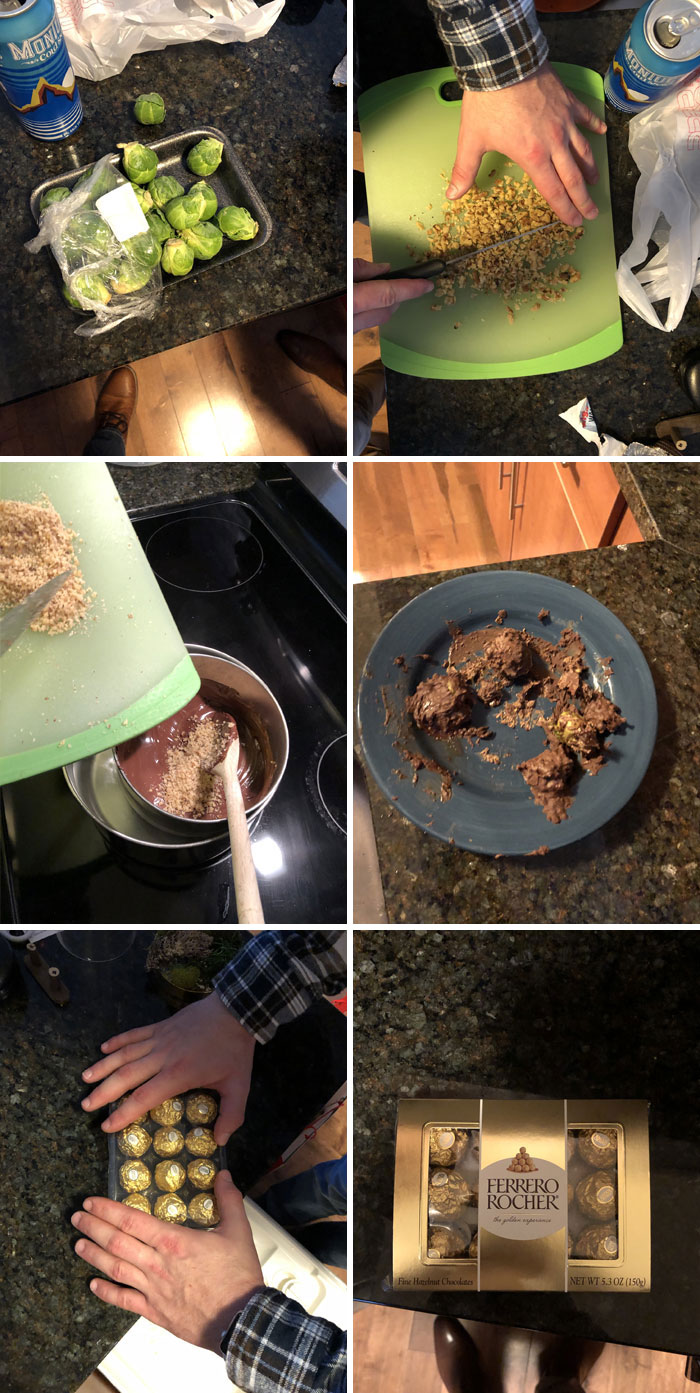 Put all together, they look almost exactly like the regular ones! Imagine receiving these as a gift and being excited to bite into a chocolate only to be met with vegetables. Yuck! They should definitely expect a prank war coming their way after this one.
The Moment Right Before the Prank
This parent caught the moment just before her daughter went to prank her son. The kid is looking down the barrel of the hose and his big sister is holding the hose kinked so that no water is spraying.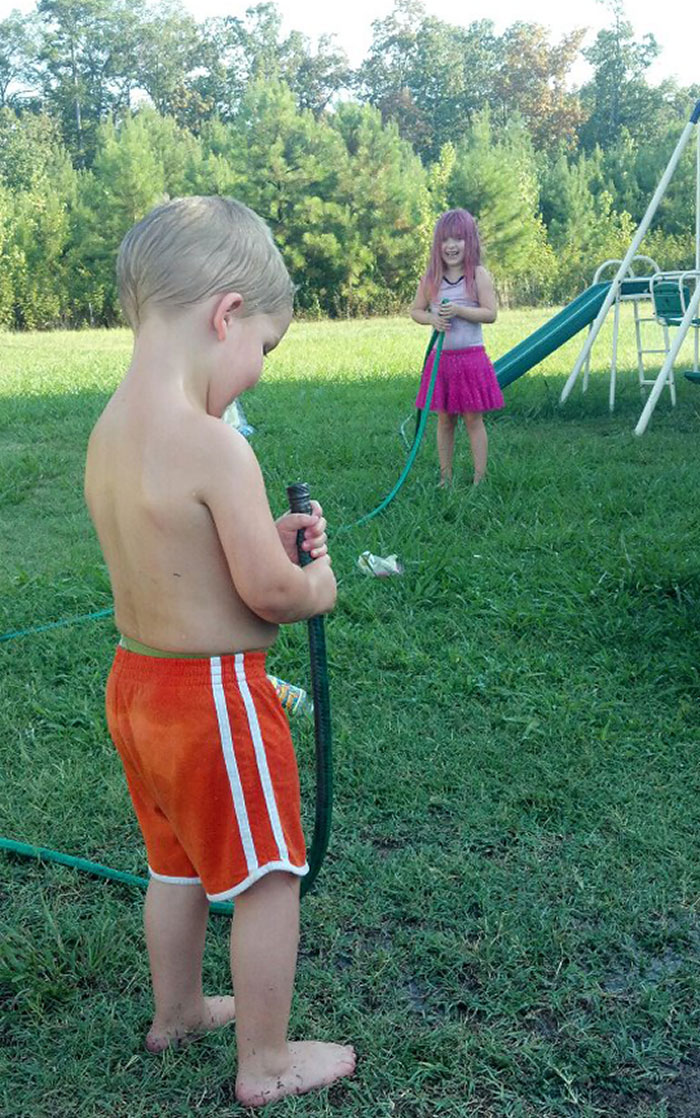 But you can see it written all over her face that she can't wait to let the hose fly and surprise her brother with a face full of hose water. What are big sisters for if not to pull pranks on their little brothers? They have to learn somehow!
Almost a Sweet Gift
This woman received what she thought was a sweet gift from her sister with a little hidden message on the inside. On the surface, it's a beautiful ring with the two sisters' birthstones in it with an infinity design. Cute!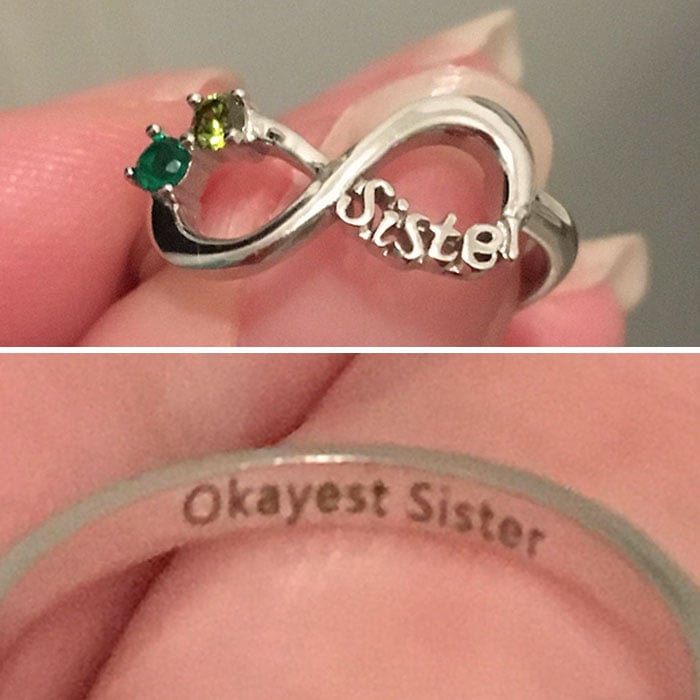 But she couldn't possibly resist adding a little joke onto the inside of the ring. She got "okayest sister" engraved on the inside just to make sure her sister didn't get a big head about the gift. These are our favorite kinds of sibling pranks. 
Surprise!
This is one of the more creative sibling pranks we've seen. This guy couldn't pass up an opportunity to remind the entire family of the time his brother was arrested so he had to get the mugshot put on mugs.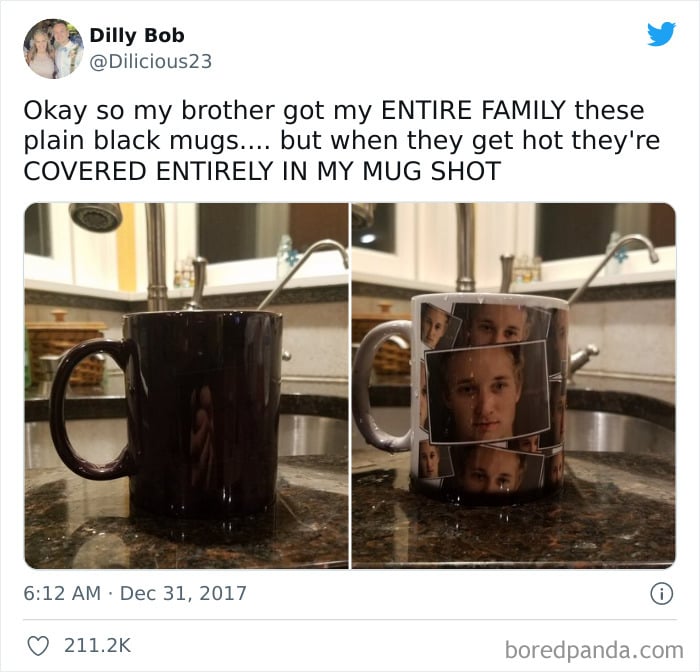 But what makes it even more genius is that the mugs appear to be normal black cups until you pour hot liquid in them. Then the mugshot is revealed. This is a pretty creative way to never let your brother forget his embarrassing moments and regrets.
The Key to Motivation
Siblings always seem to have interesting ways of encouraging each other. This brother wanted to push his sister to graduate with honors so he incentivised her by putting his pride on the line.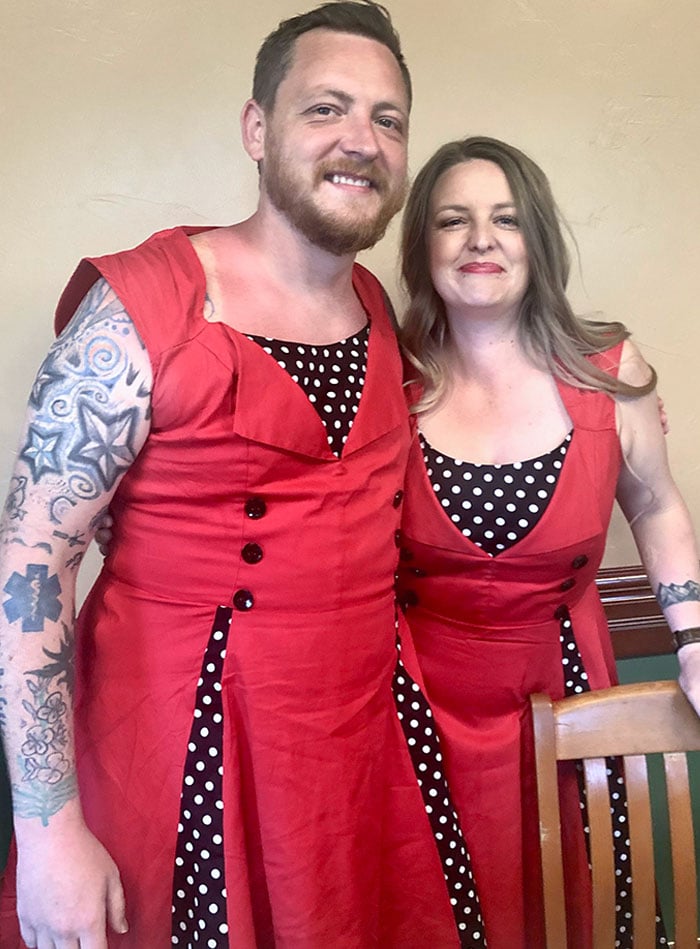 He promised that if she succeeded in graduating with honors he would wear a dress to her graduation. And not just any dress! He promised to wear a matching dress with her. It looks like she succeeded and he kept his promise. There's nothing like the notion of embarrassing your brother to motivate you to work hard.