DIY Home Decor Hacks That Will Save You From Expensive Remodeling
Linen Ladder
Not every DIY trick has to be complicated. Most people call these blanket ladders, but you can use them for towels, quilts, duvets, sheets, and tablecloths too. This creation takes two minutes and has a whimsical look and practical application.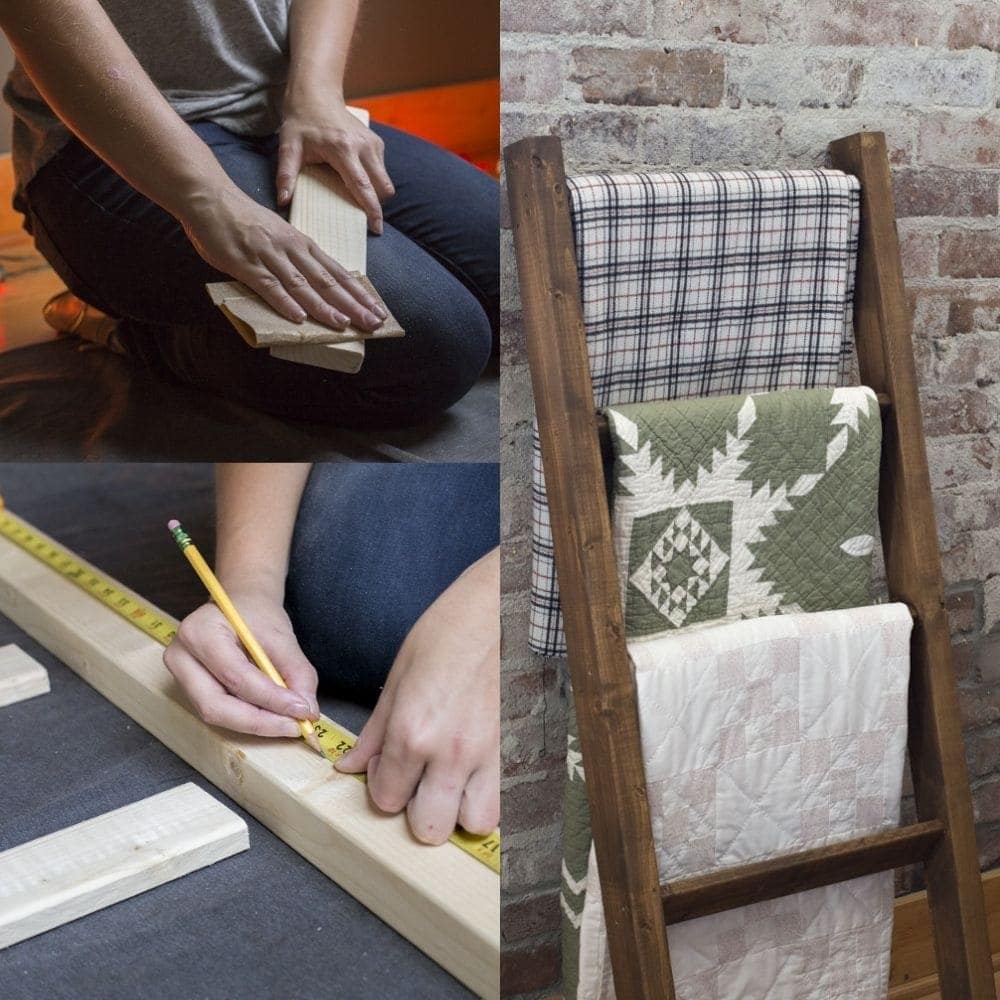 Simply lean a ladder against the wall and drape linen over each ladder rung. You can build the ladder yourself using slabs of wood or choose to paint and upcycle an older ladder. If you have small children or pets, you can attach the top of the ladder to your wall using a hook and eyelet latch.
Style Up with Wall Sconces
This DIY is a little more complex than others on our list, but oh-so-worth-it! Wall sconces are great pieces to add to your home because they have the intimate, moody lighting of a lamp, but the convenience and space-saving qualities of a ceiling light.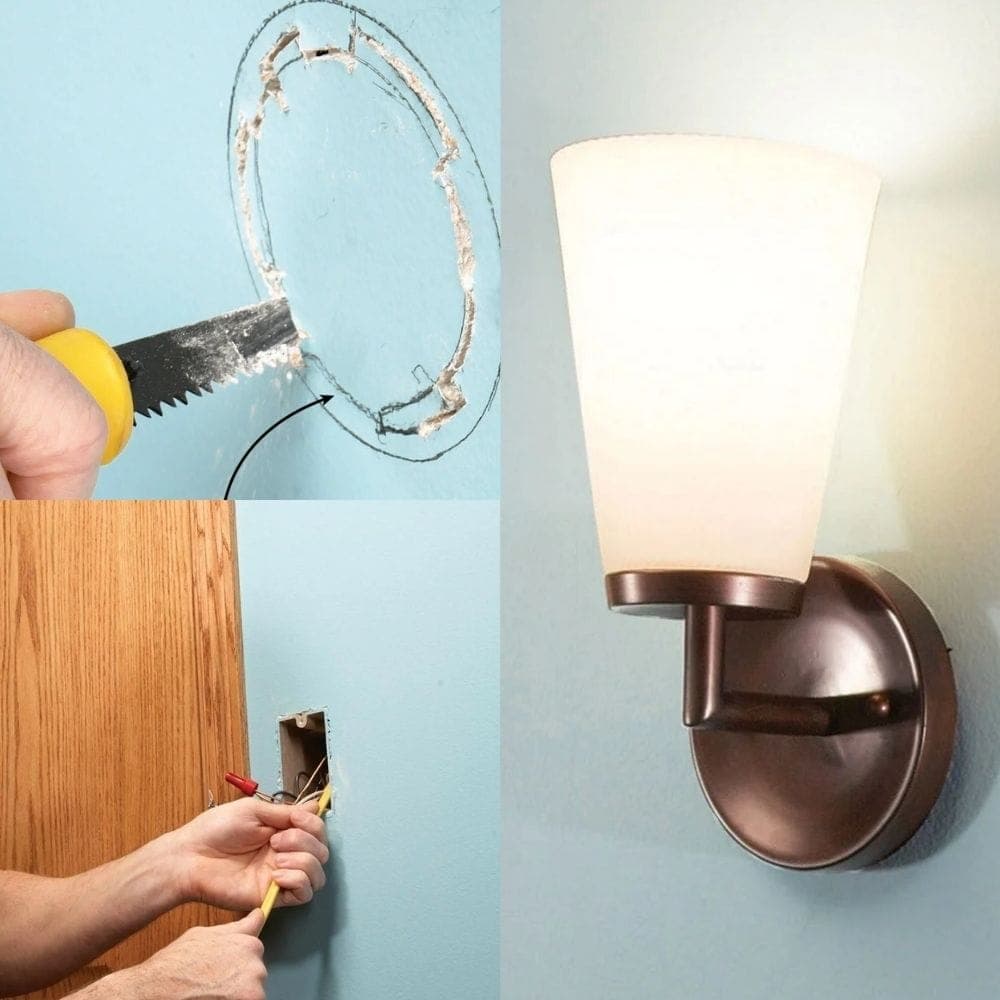 You'll likely be amazed by how simple it is to do the electrical work to add in a light fixture. And wow, will your home look so much better with these gorgeous sconces.
Spruce Up the Stairway
Most staircases are a focal point in the home, so make yours stand out in the best way possible. If your staircase has old, shoddy carpeting, rip that up and carefully remove the staples. Next, sand each of the stairs down, and re-stain or re-paint them. Keep in mind that white paint and dark stains tend to show dirt and grime the easiest. You can leave your stairs as they are now, or add a fabric runner.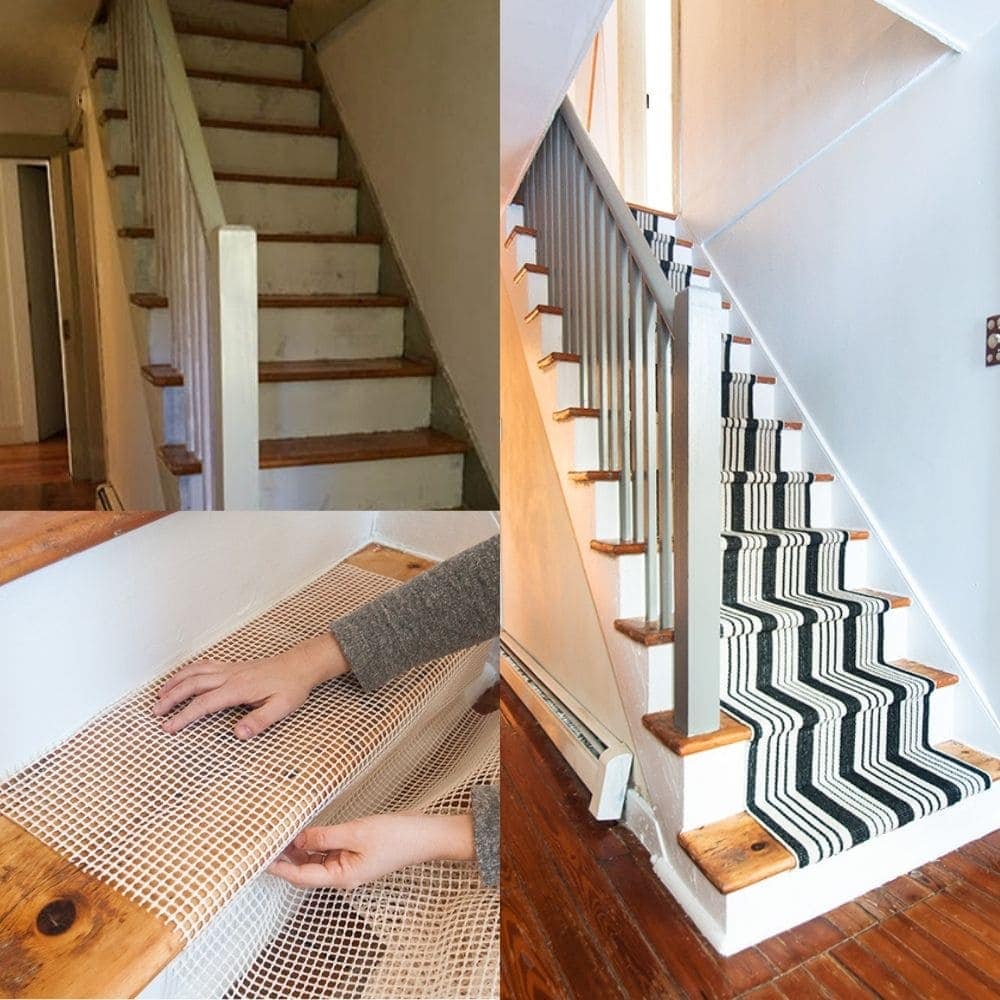 If you choose to add a fabric runner, run a mesh netting down the stairs where your runner will sit. Then, use a staple gun to pin the fabric down through the netting. You're finished!
Finish the Fireplace
If you're lucky enough to have a beautiful fireplace in your home, play it up! With a little creativity, you can fix up the fireplace yourself without having to dish out tons of cash to a third party service.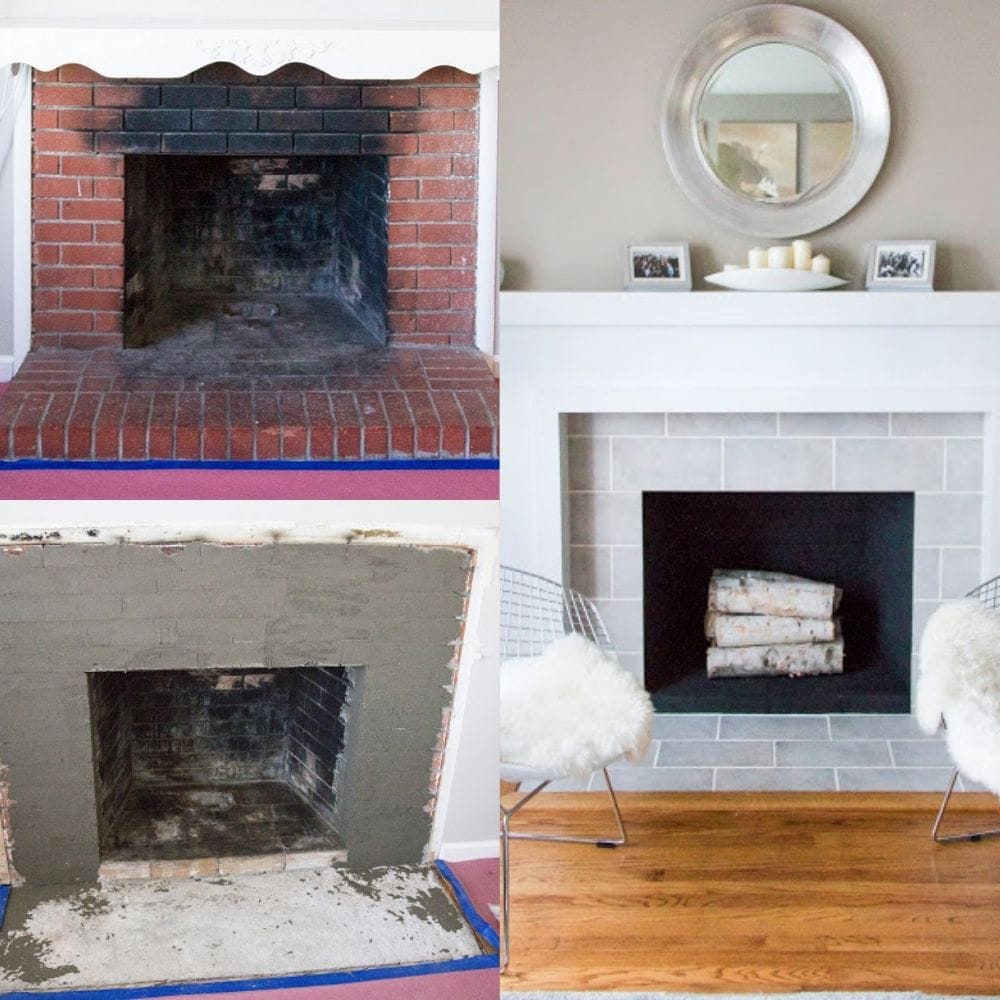 First, wash your fireplace to remove smoke and ash, plus smoke and ash stains. Paint your fireplace, replace deteriorated bricks if necessary, or do something completely new and extraordinary by adding molding laminate tile for the ultimate wow factor.
Amplify Your Appliances with Wallpaper
If you're sick of looking at your plain white refrigerator, do something about it this afternoon. Wallpaper is suitable for more than just walls, including refrigerators, washers, dryers, microwaves, tables, and cabinets.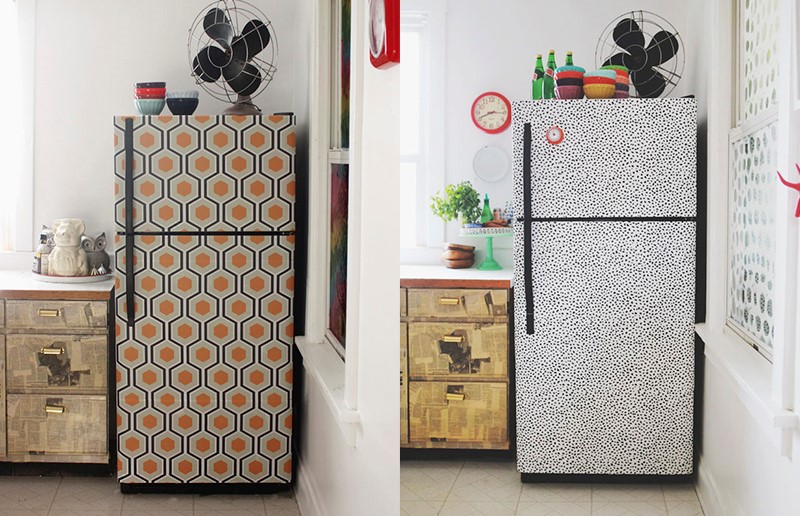 You can go as natural or bold as you wish. When it comes to your refrigerator, it's likely one of the most significant pieces in your kitchen, so however you decide to decorate, it will have a substantial impact on your kitchen's aesthetic.
Beautify the Sink Basin
Porcelain sinks tend to stain over time, or worse yet, are flat out the wrong color. If you spend your days staring at your old sink wishing it was different, don't call a remodeler quite yet. You don't even have to buy a brand new sink when you can upgrade its appearance yourself.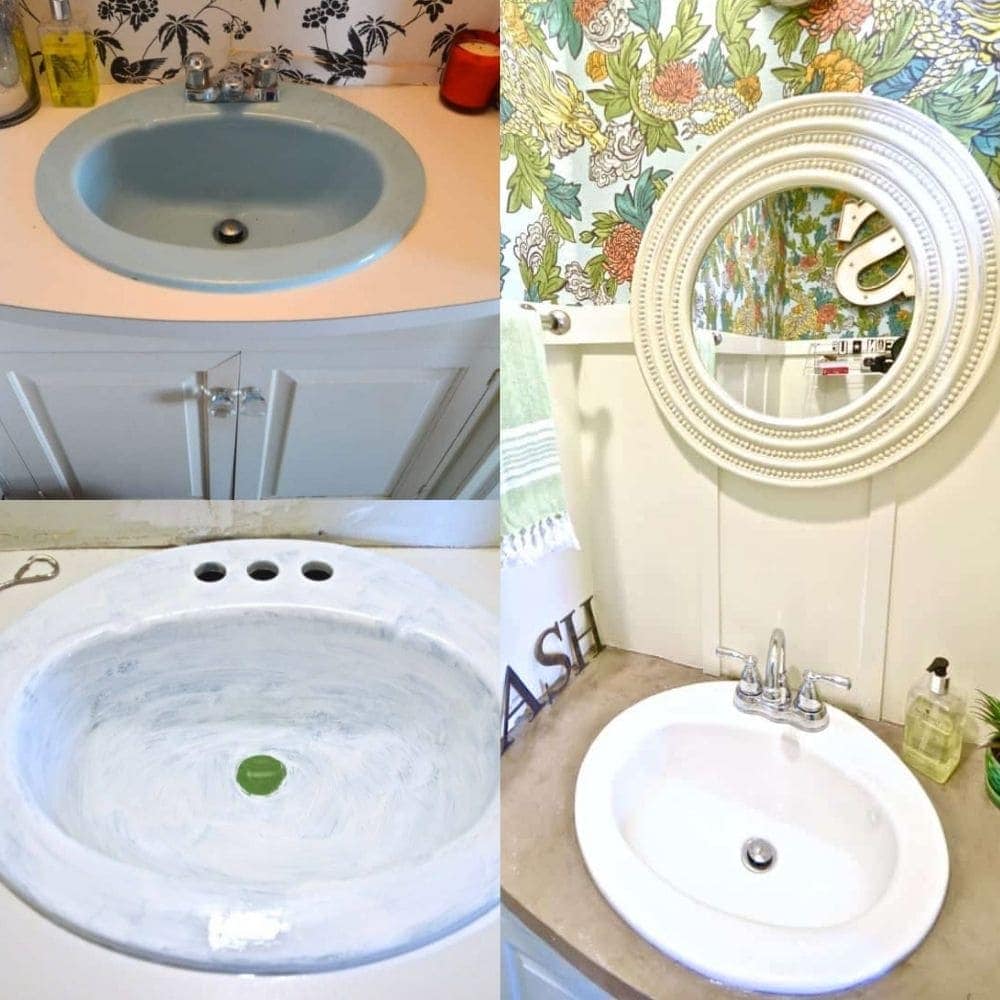 To have a cohesive bathroom, simply reglaze your sink basin with the color of your choice. It's surprisingly easy and therapeutic to do. You can also do this with porcelain bathtubs too. Go ahead and create the bathroom of your dreams.
A Fresh Front Door
First impressions matter, this project will improve your curb appeal and make front-porch-sitting that much nicer. Use high-quality paint. Gloss, semi-gloss, or matte are all excellent finishes, so pick the one that speaks to you.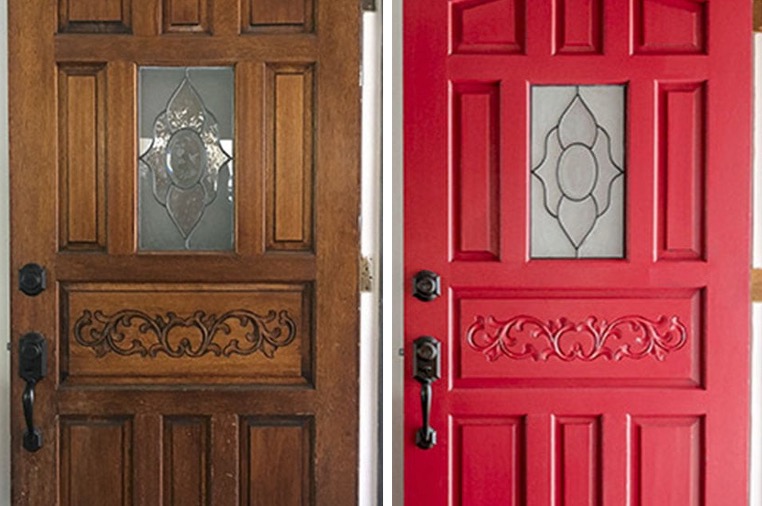 You can choose your favorite color; find a color that complements your landscaping, or a color that matches your window trim and shutters. Now paint that door and observe how much fresher your home's exterior feels.
Board and Batten Walls
This might be one of the best home improvement tricks out there! It's fun, quick, and surprisingly easy to finish. And the results are incredible. Use wood (of your desired width and thickness), crown molding, and interior paint found at your local hardware store to create this project.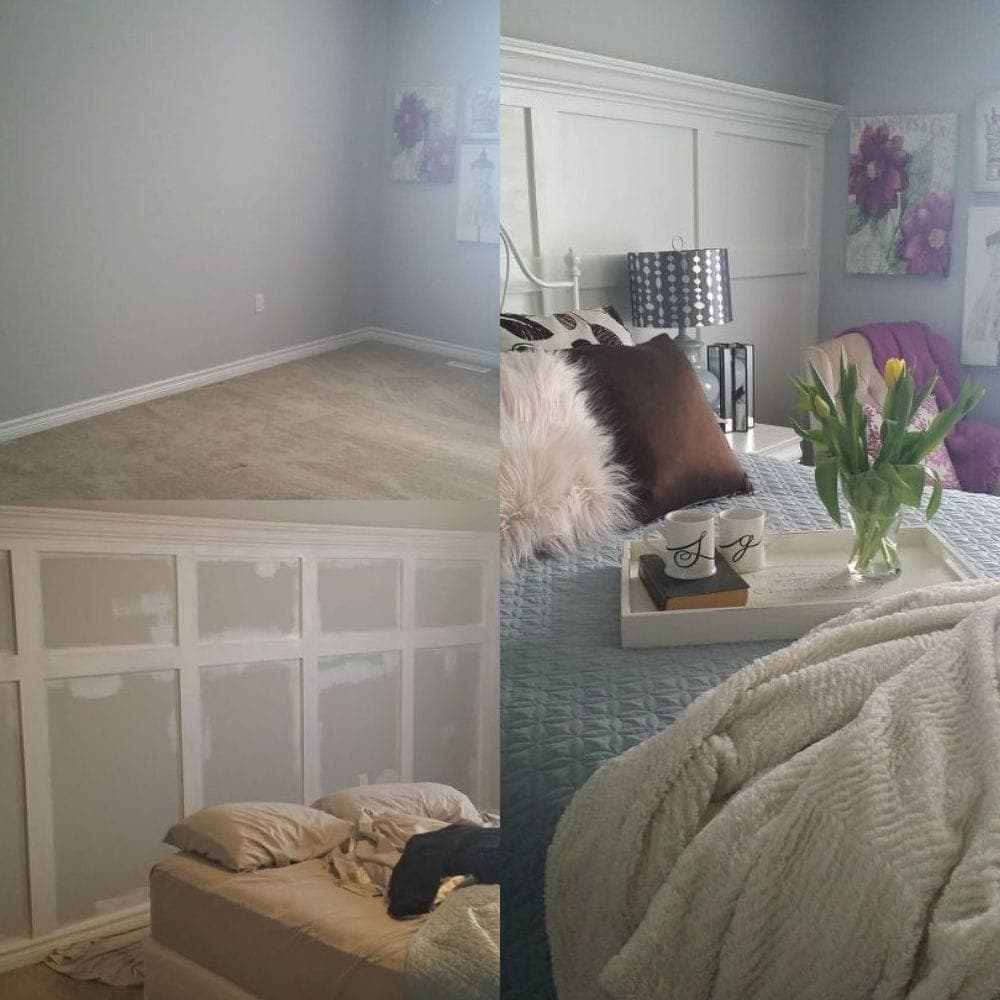 Level your wood strips and crown molding on your wall at the desired height. Glue and then nail them on with finishing nails. Finally, paint the crown molding, boards, and all of your wall that lies beneath the panels. You'll be blown away by the stunning results.
Light Up Your Lamps and Light Fixtures
This cheap and easy hack can completely change a room's aesthetic with only a couple of hours' worth of work. If your home has that dated brass, bronze, or metallic coloring, this is especially for you.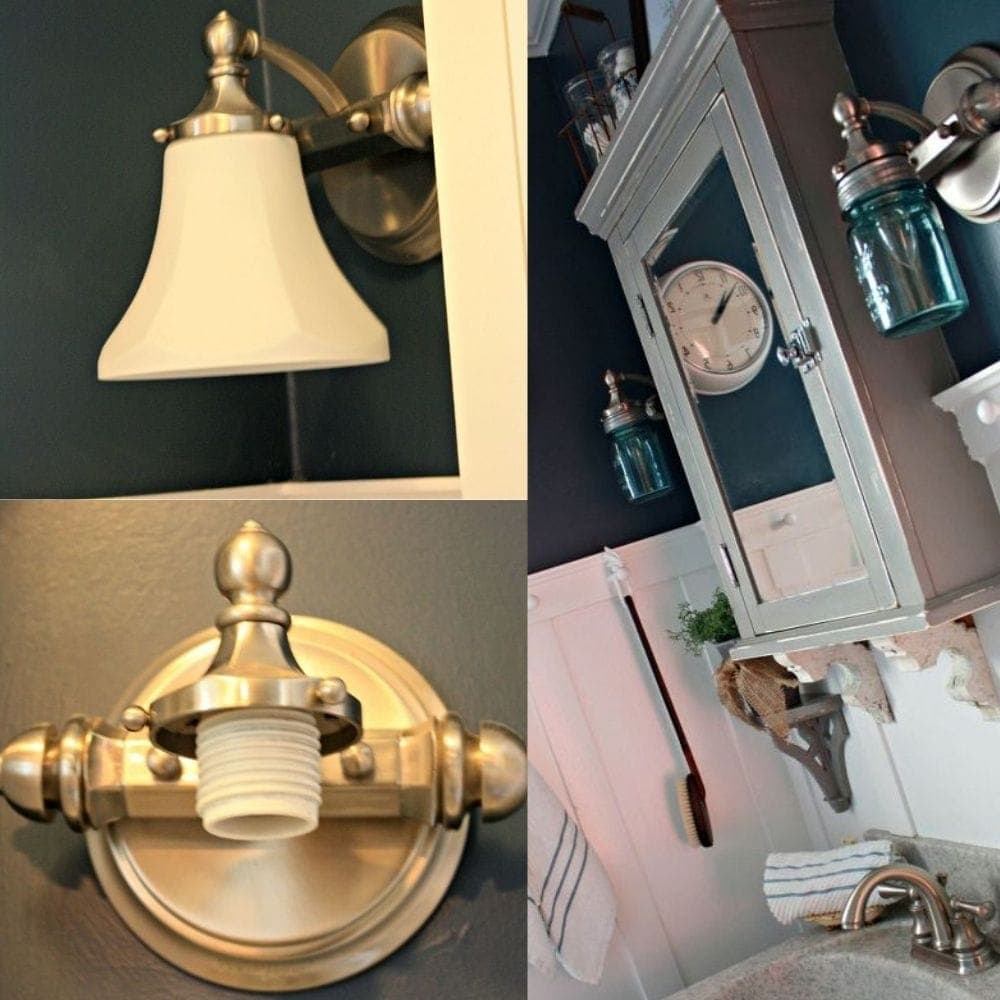 Remove the fixture from the wall, remove the light bulb, and cover the electrical parts. Spray paint a new color, allow it to dry and rehang on the wall. You can also replace the shade with something quirky, like a mason jar. And don't forget your light bulb! Replacing your standard bulbs with Edisons can drastically change the appearance.
Adding Adhesive Tiles for that Cohesive Look
Tiles are expensive to replace, difficult to lay, and not an option if you're a renter. Many older homes have very funky, non-neutral colored tiles in the bathrooms, which makes decorating the bathroom an absolute nightmare.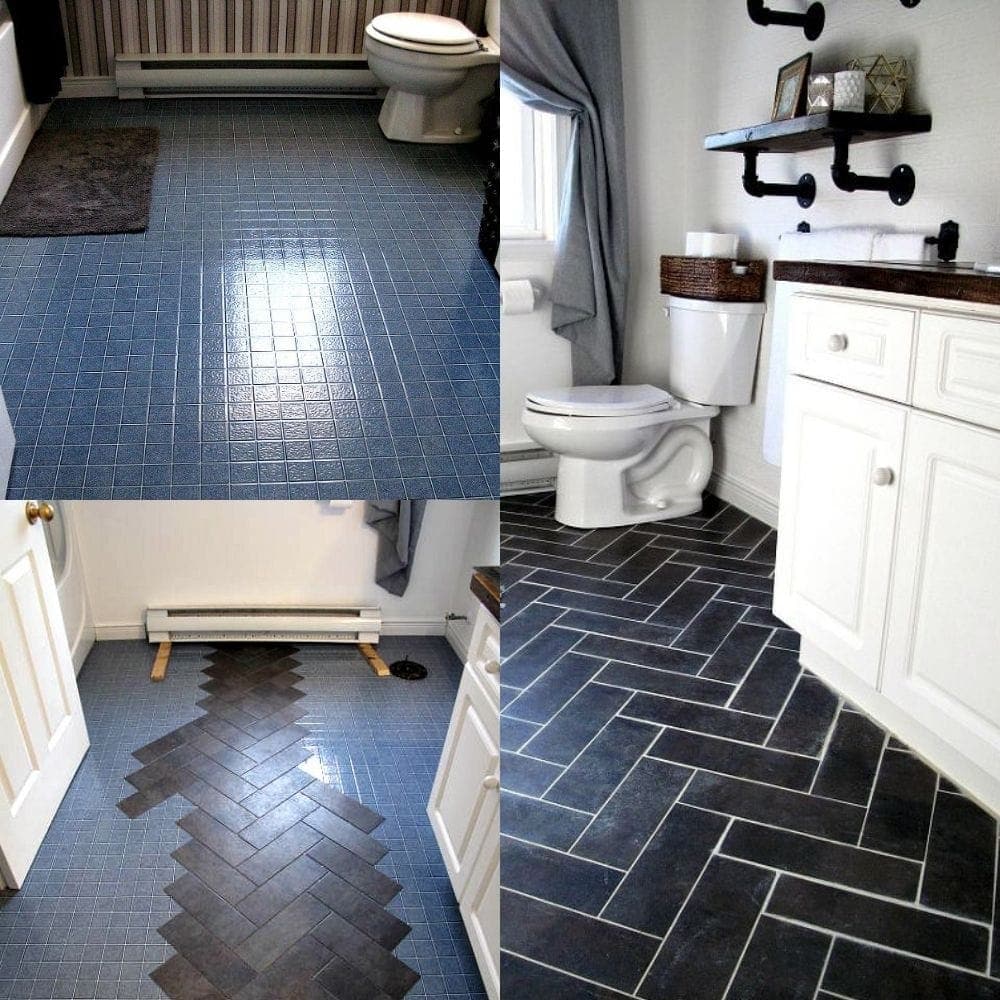 Pick yourself up a bunch of adhesive vinyl tiles and place them directly over the pre-existing tiles within your home. It's quick, easy, affordable, and mess-free because there's no grout to fuss with. Best of all, you can swap out your flooring pretty frequently without damaging your home or making a mess.
Add Customized Crazy Chandeliers
This piece will make your friends and family stop in their tracks to admire your creativity and uniqueness. This swap will make your home attractive, more 'you,' and make it appear more expensive. Very few people go through the effort of replacing this piece, so it has a lot of impact when you do.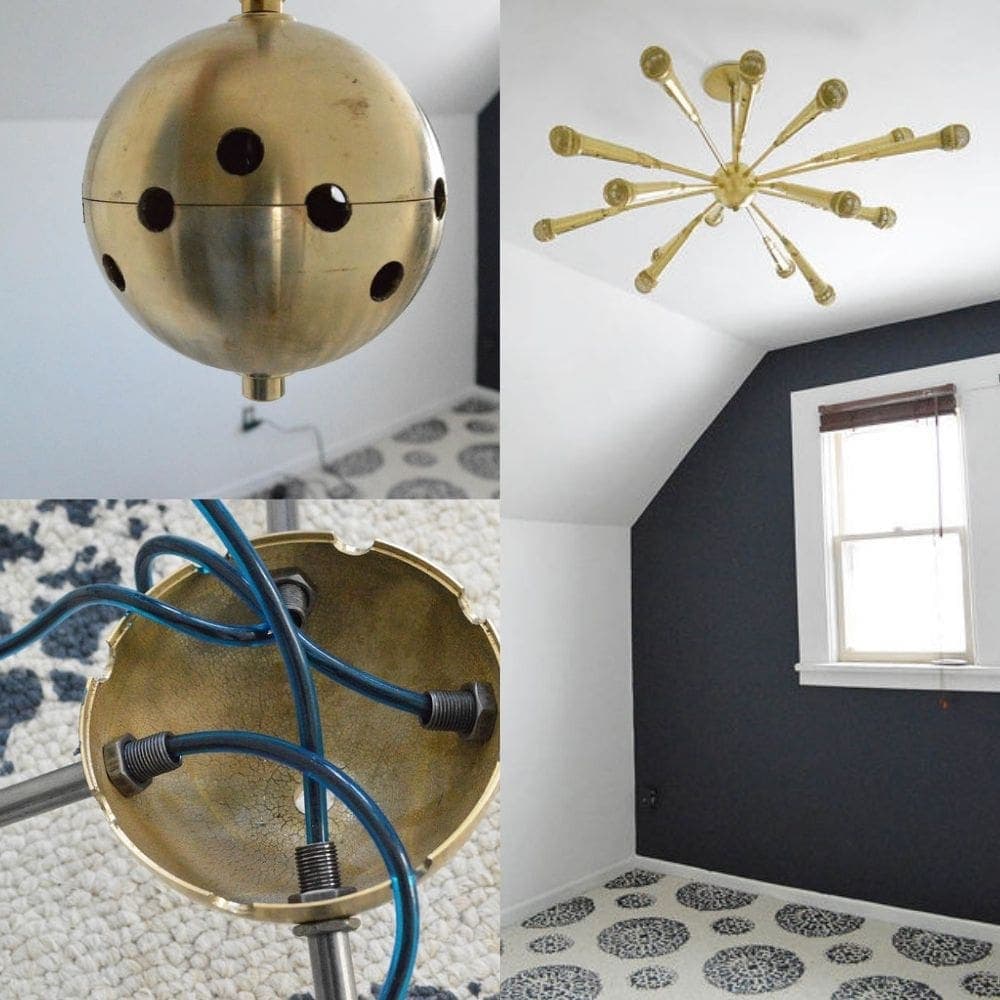 You can make a custom chandelier on your own or purchase a funky one in stores. This microphone chandelier is so much fun to look at. It appears very expensive, but it was an affordable DIY.
Legs for Counters
You can find little pieces of luxury and beauty in the tiniest details. This is one of those DIYs. Instead of spending a ton of money to remodel a space, you can add tiny details for a few dollars and enjoy a more luxurious feel.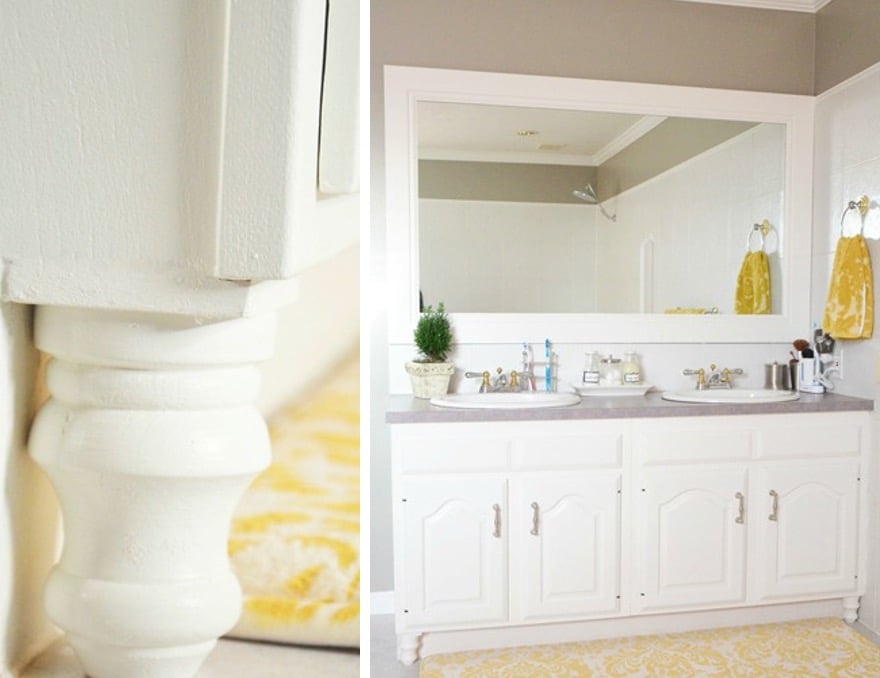 Take a wooden leg, cut it in half vertically, and attach it to the kickboards of your counters. Next, paint it to blend in with the cabinet, stain it to make it stand out, or paint it a fun and funky color to grab attention.
Sheets as Stylish Curtains
Curtains, especially long ones, can be expensive- but they don't have to be. Buy some size twin or full flat bed sheets (not fitted), and either punch holes in the tops of the sheets and attach curtain rings, or punch holes and run the curtain rod directly through the sheet.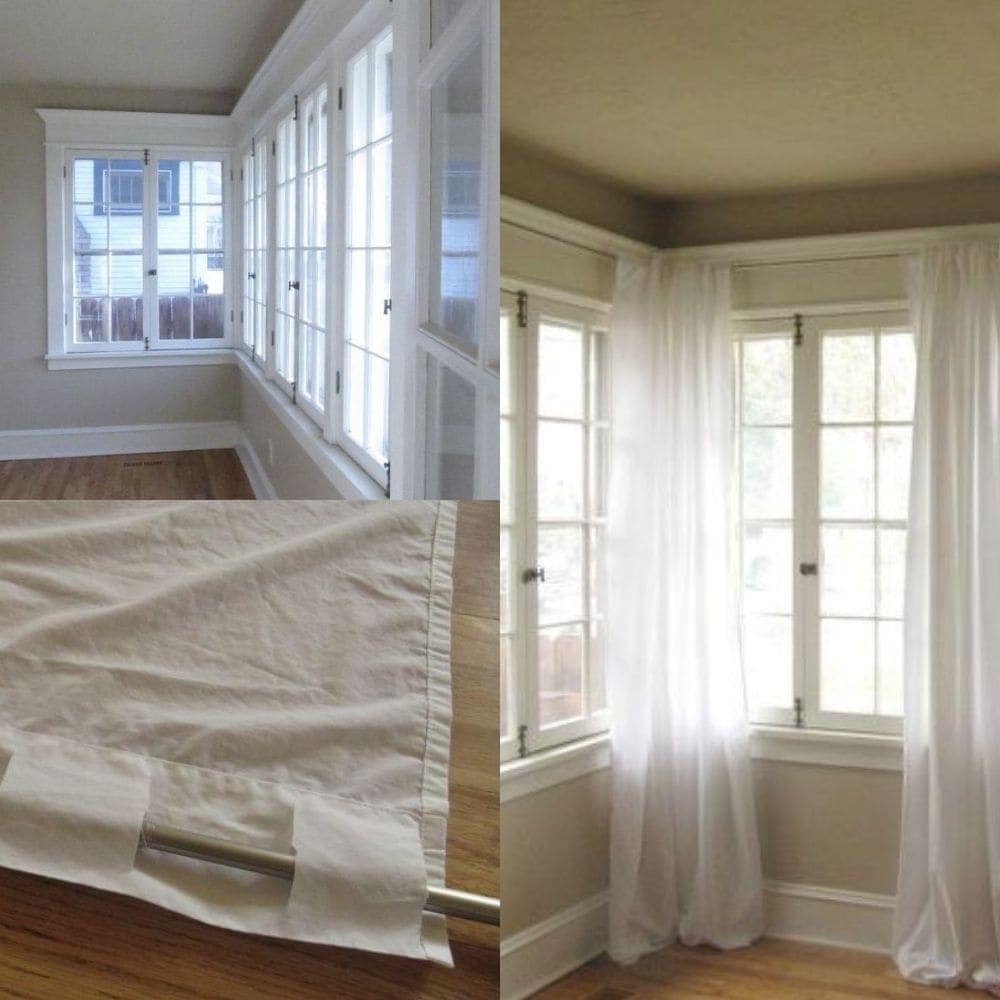 White is an obvious choice for the sheet, but you can have fun with it and choose bright, busy, or colorful designs too. These curtains are so affordable you can have extras to swap out throughout the year for every occasion.
Beautify the Bathroom
Bathrooms are so overlooked in home decor and design it should be a crime. Add a simple wooden border to your builder's grade mirror for a more finished look. Install shelves to reduce clutter and improve visibility, then organize and decorate.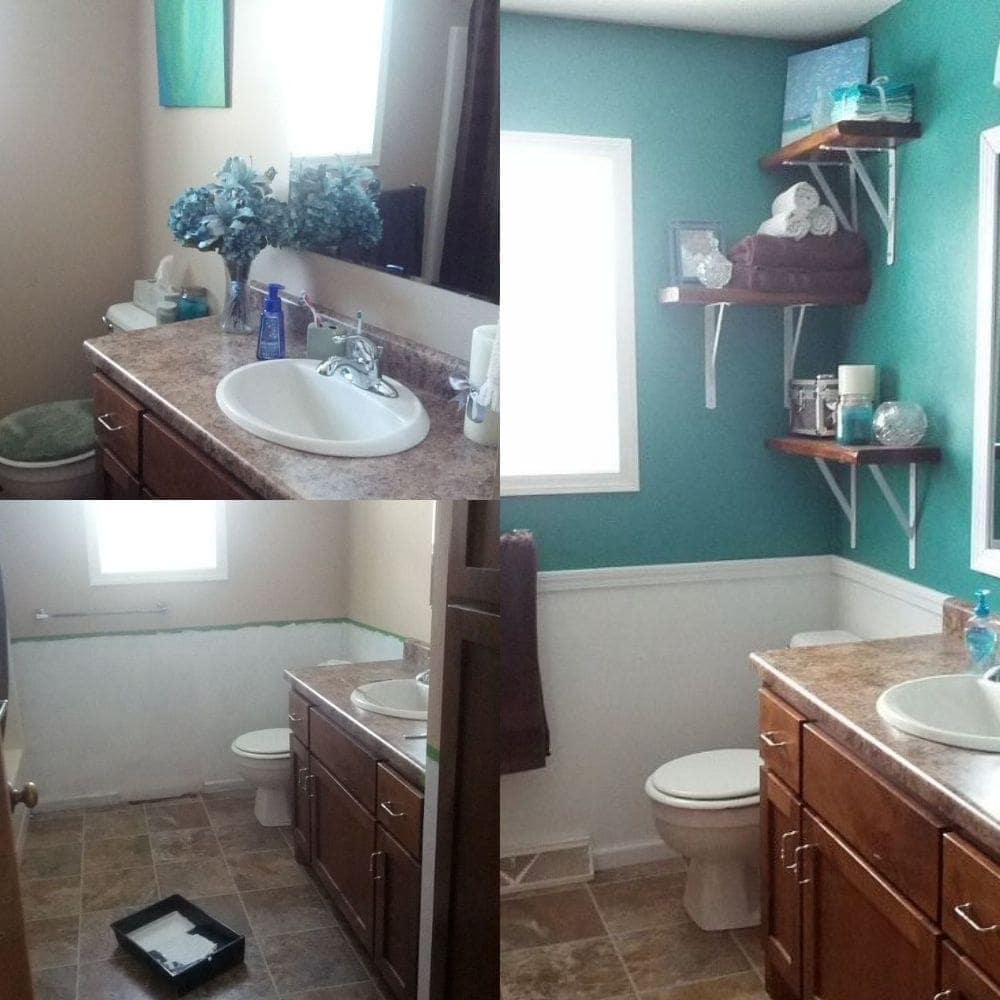 Just because your bathroom is the smallest room in the house doesn't mean it needs to be plain or boring. This is your space to be bold and experiment! Use colors you enjoy but aren't sure if they'd look good. Reglaze your tub and tiles, or repaint the walls with a fun two-tone paint scheme. If you like the colors here, you can always use them more throughout your house.
Spice It Up with Stunning Accent Stones
Your walls speak volumes about your home. They take up a tremendous amount of space in your house, so it's essential to make it eye-catching and beautiful whenever possible.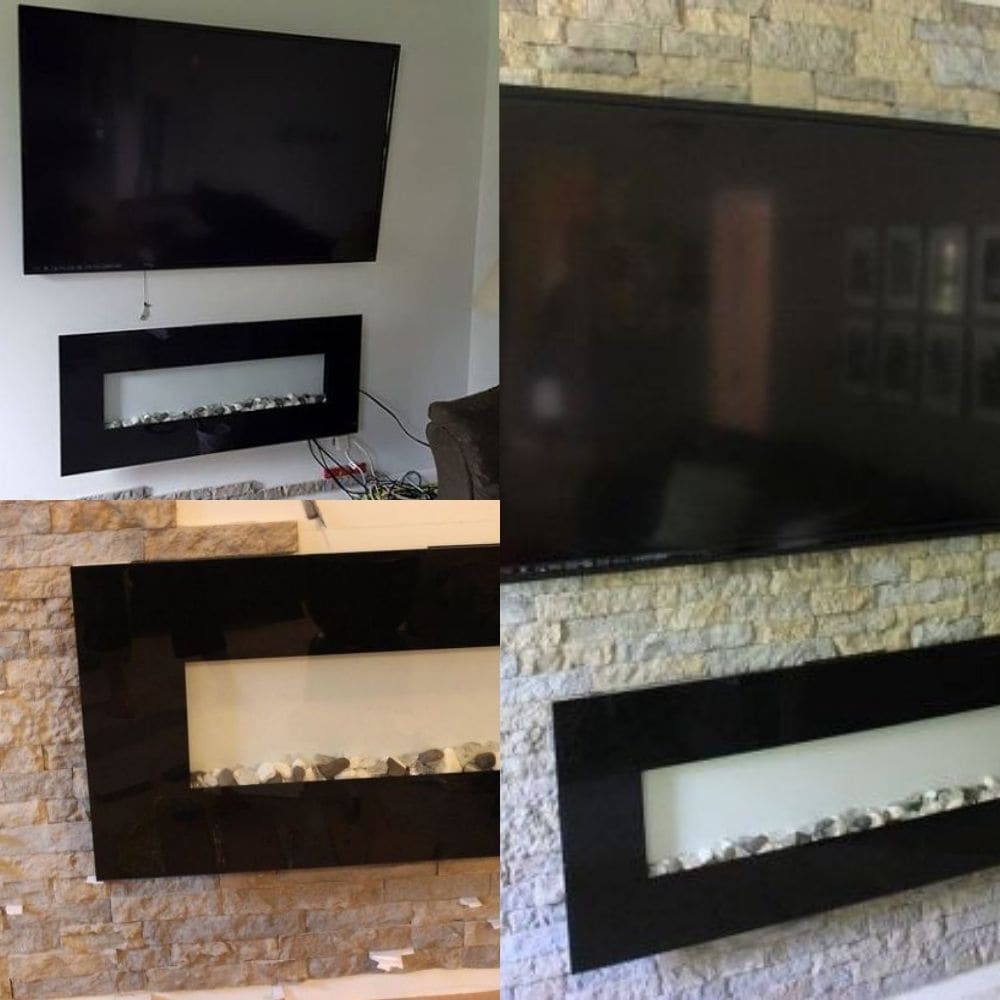 Pick up some veneer bricks, stones, blocks, or tiles at your local hardware store, and then spend a quick afternoon on this advantageous project. These veneer pieces stick right to your wall (some even adhere to already existing ugly tiles your house may have) and are lightweight. This is so easy and such a drastic change to make for cheap.
Cheap Corbels for the Kitchen
Update your breakfast island with a few wooden planks, corbels, and a little bit of paint. Install the planks and either color or stain them. Then attach your corbels to the ends of the bar over the planks, and attach them to the bottom of your counter.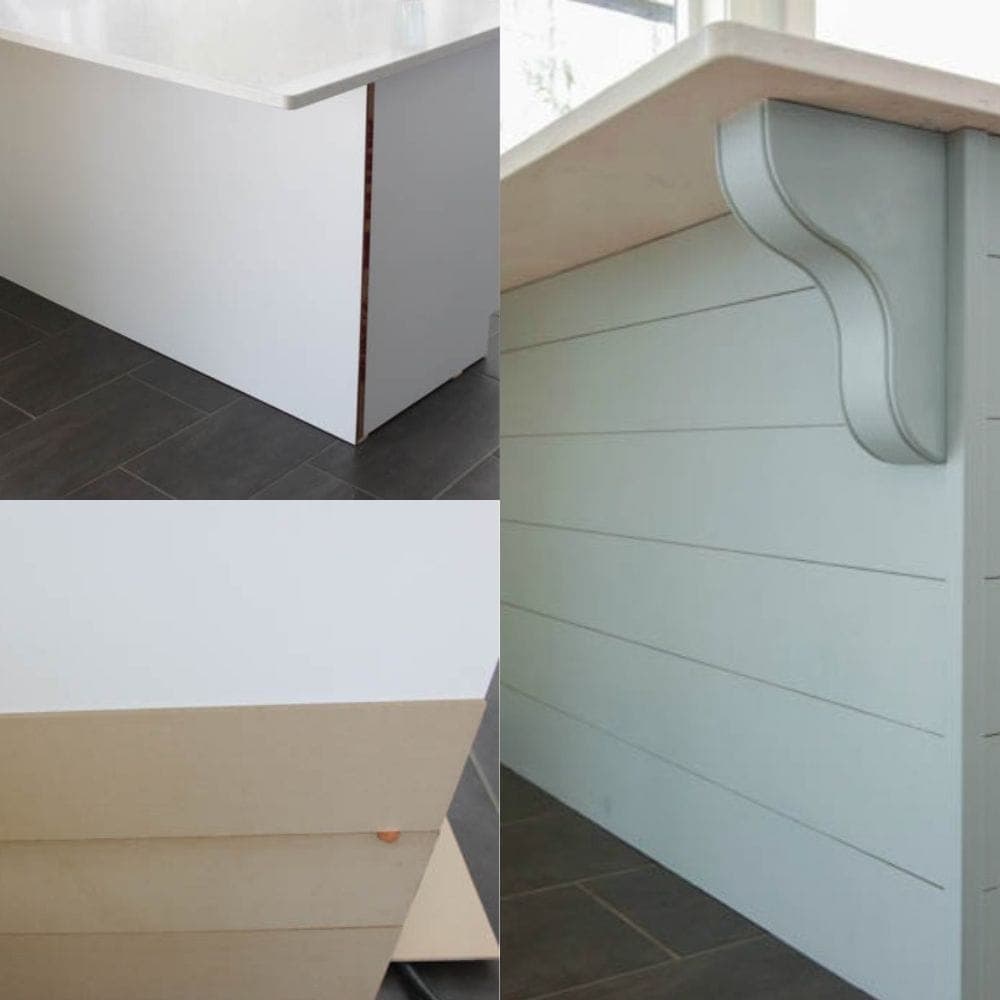 This project will take one afternoon, but the results will last forever and pack a powerful punch. These simple tweaks will have your breakfast bar looking like it was custom-made.
Faux Wood Floors
If you dream of hardwood floors but are stuck in a rental or cannot afford the high cost of natural wood floors, this hack is perfect for you.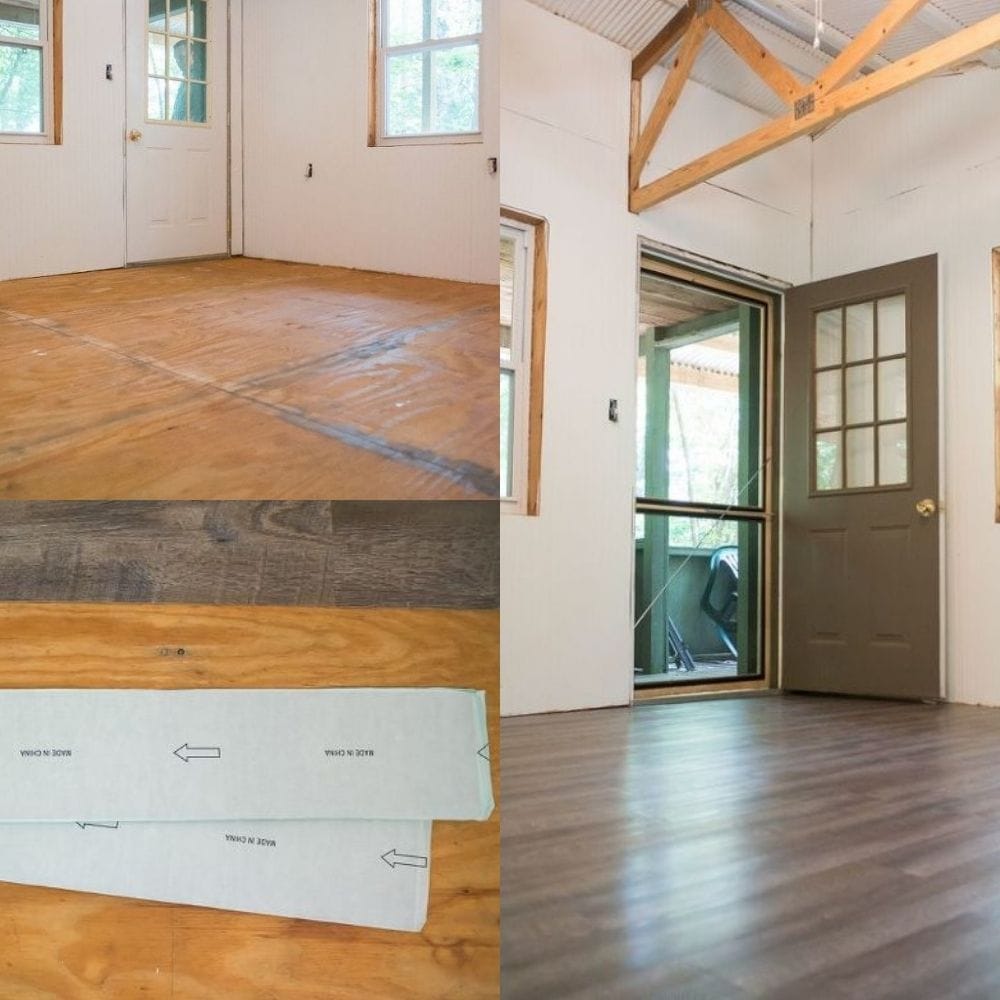 Laminate wood floors come in so many colors, textures, and plank sizes, they're the perfect addition to any home. Laminate is easy to install, easy to care for, and surprisingly durable. You'll fall in love with your faux wood floors immediately after making this affordable swap.
Door Do-Over
Almost every interior door in every home across America looks the same. Change it up with this fun and rustic DIY. This one requires some wood, paint, liquid nails, and nails (or screws), just like the board and batten project.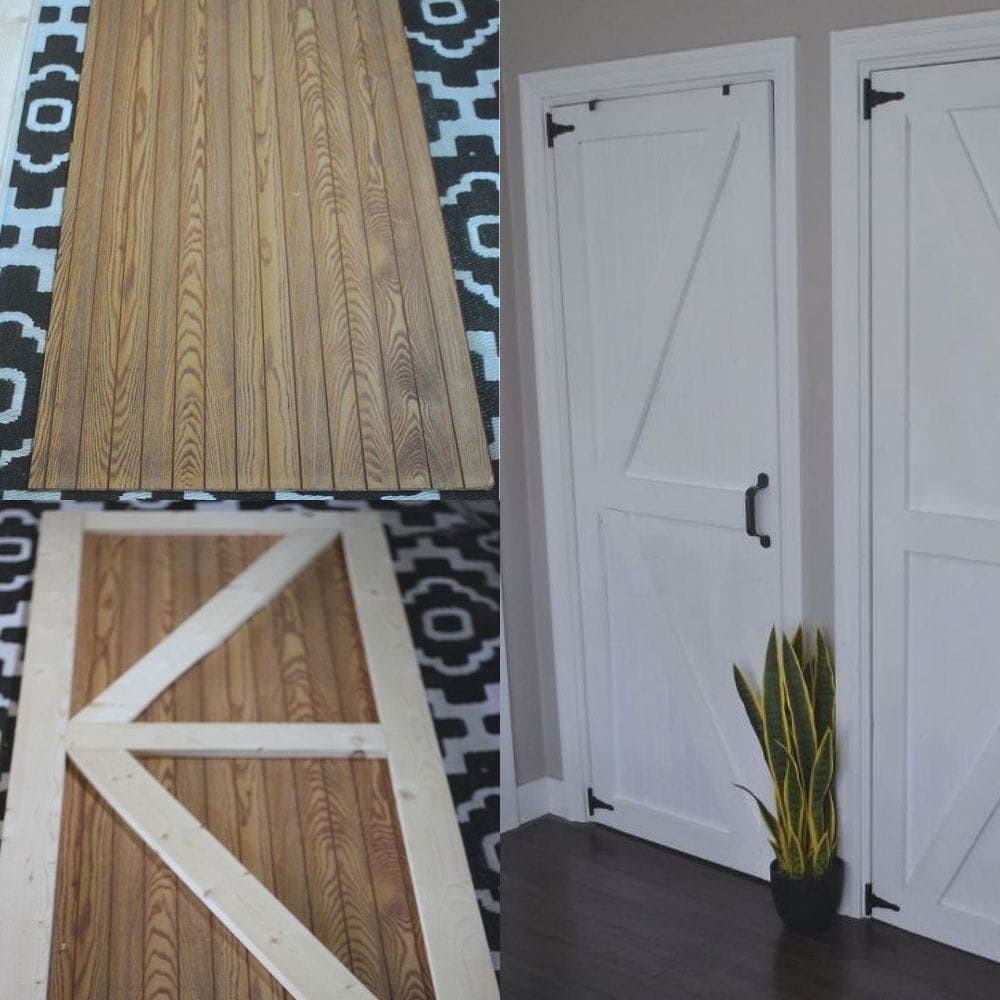 Simply attach the panels wherever you'd like then paint the entire door. For inspiration, a whimsical barn door pattern never disappoints. You can add new hardware, too, if you'd like.
Chic Concrete Countertops
If you still have linoleum or laminate countertops in your kitchen, it's time to say goodbye and move on to better things. This DIY looks significantly better and is more practical and durable too.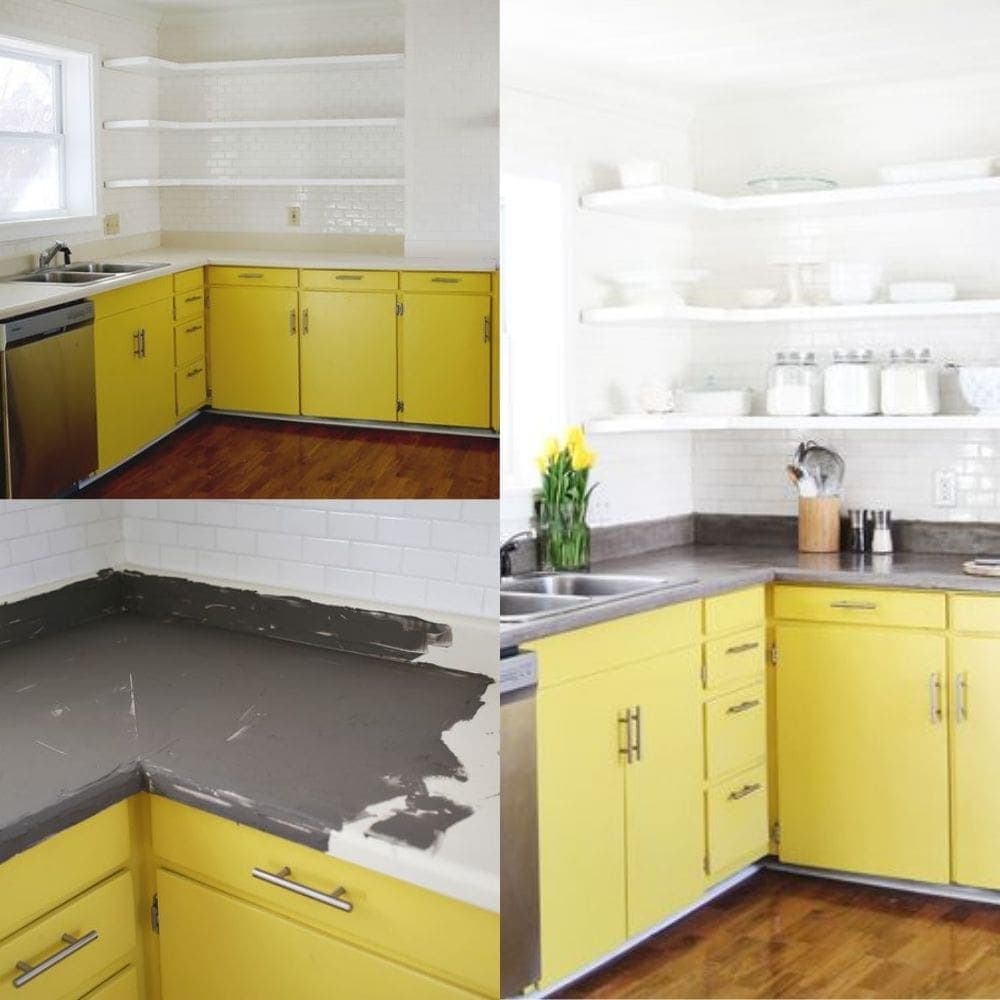 Strip your linoleum. Coat your countertop with a concrete mixture (bagged is okay), and smooth it out as best as possible. Be sure to level it out too, even if your counters weren't level before; they can be now. After the concrete dries, sand it out at least twice, and then add three coats of staining finish. The result is an excellent, chic, and industrial look that will hold up to whatever you throw at it. This countertop looks fantastic amongst any backsplash you may have, though subway tiles are probably the most common choice amongst homeowners.
Railing Restain
A stairway railing can date a house, but replacing the railing with something new is wasteful and silly, to be frank. The new railing will look very similar to the dated railing you already had, so why not paint and restain what you already have?
If you want to keep up with modern trends, stain the rail and newels a dark color, such as mahogany, and paint the spindles a light painted color, such as white or a light grey. For a more timeless look, stain the entire staircase a much darker stain color.
Marvelous (Faux) Marble Countertops
Using a marble painting kit is affordable, and if done correctly, will dupe even your most critical friends and family. You can pick a kit up at almost any hardware store and finish this project in a weekend.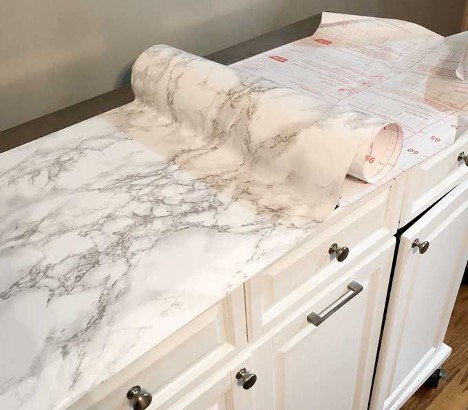 One of the reasons why we love this hack so much is because it allows you to have complete control over the shade, depth, length, and placement of all the marbling streaks in your counter. Plus, you can achieve marvelous results without having to pay for a kitchen remodeling.
Decorate Your Doors
This upgrade is so fun and unique. It'll be all your friends and family can talk about. Reupholster your interior doors for a stylized and expensive look.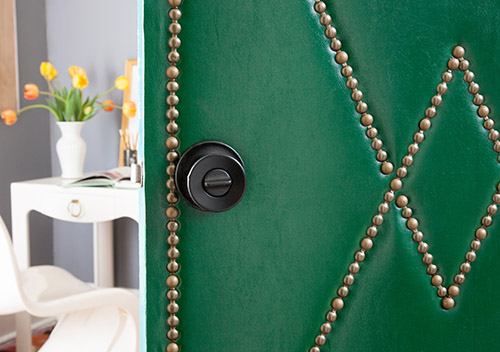 Simply remove your door (it only takes removing nine screws), coat it with a thin layer of fabric glue, attach cushioning, and cover with vinyl, a thick upholstery fabric, or even leather. Some fine detailed finishing touches could include adding studs or replacing the hardware with something more dramatic. Of course, you need to remount the door when you're finished.
Fun Paper Mache Flooring
This may be our most unique DIY. Cover your floors in paper, then in a water and glue mixture, and then polyurethane to finish it up.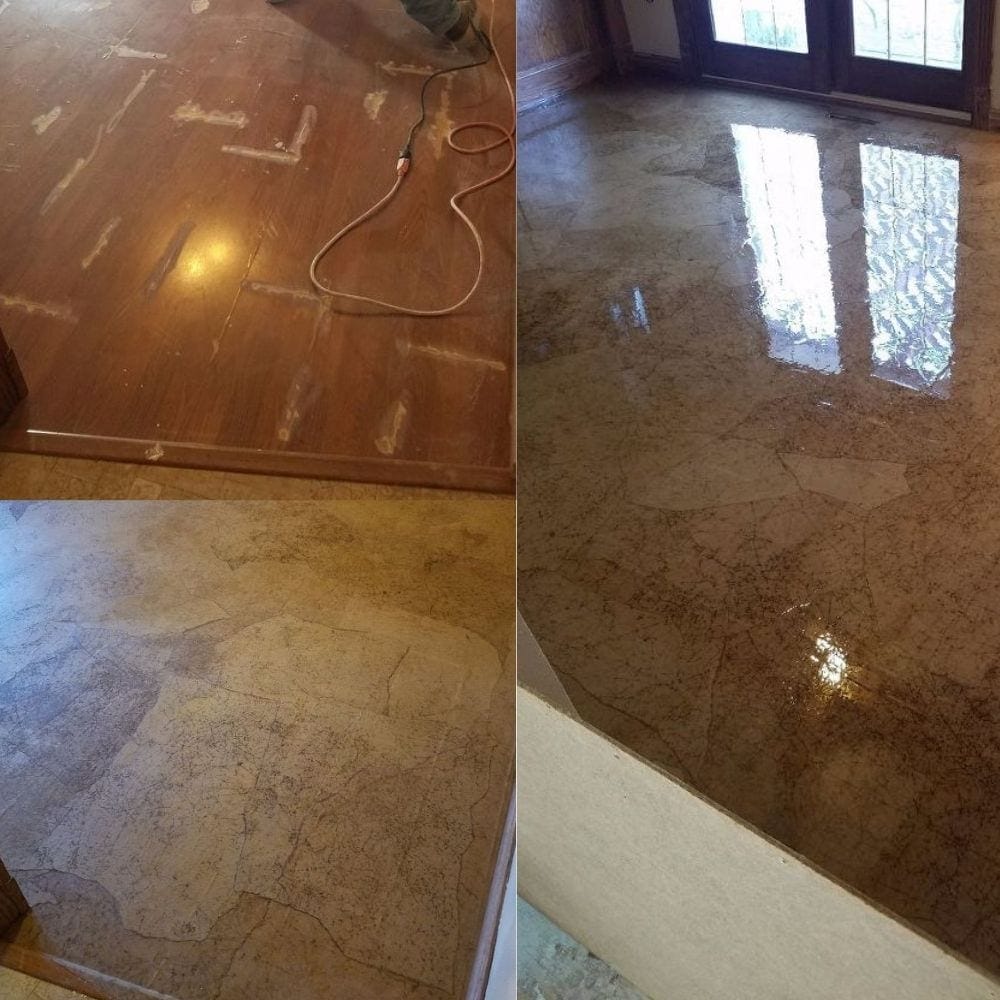 Here's the fun part, the paper can be anything you want. You can use the pages from your all-time favorite book, newspaper clippings, maps, comics, distressed or stained paper, or even pictures and paintings your children made. The possibilities are nearly limitless and so exciting to think about!
Pretty Painted Tiles
If your tiles are dated or unsightly, this should be your next project. Scrub your floors, dry them well, add chalk paint throughout the floor, and let them dry.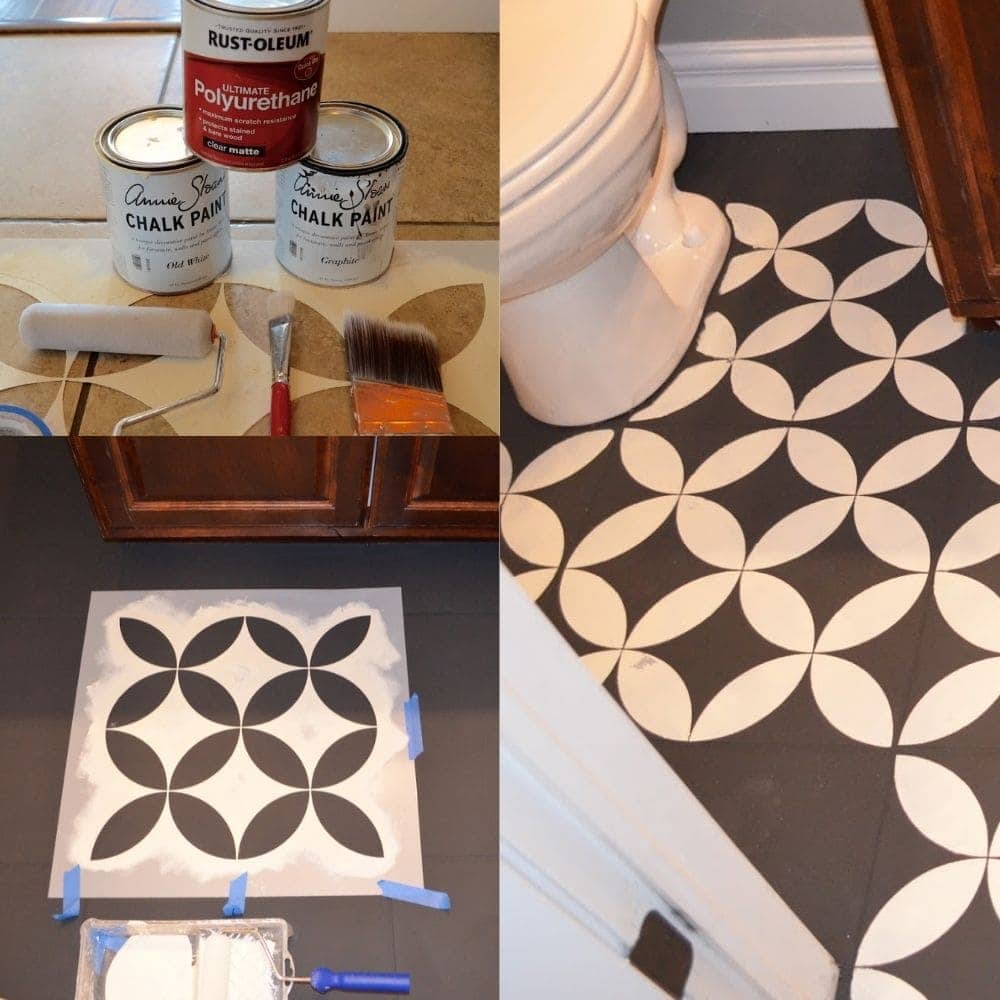 In order to add some fun, painted designs to your tiles, try finding a stencil that you love. Now, line your stencil up with the tile and carefully sponge paint the stencil. Congratulations, you've just styled your boarding tiles into a fun design for essentially free.
Colorful Countertops
Countertop styles and colors do not age well. Almost all countertops look out of date and sometimes dirty (the countertops from the 70s always seem to look like they're covered in dirt or long hair). Our solution for that is affordable, beautiful, and highly customizable.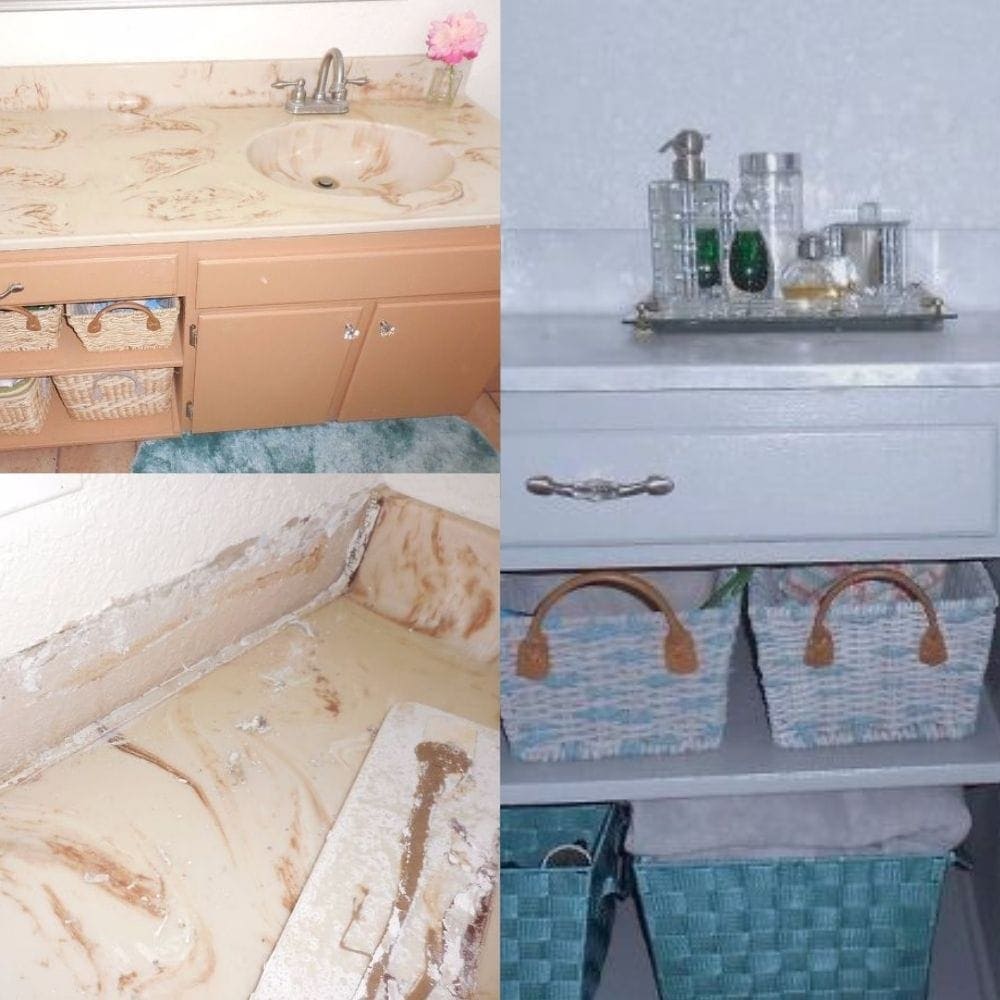 Sand down your sink, paint the counter (yes, there are paints made specifically for countertops), and then toss in some white limestone. When you're finished, paint the cabinets themselves for a big pop of "wow, that looks amazing."
Beautify the Baseboards
Add a thin and narrow piece of wood about 1-2 inches above your existing trim—the wider the gap, the more dramatic the effect. Then, paint the newly added piece of wood, the wall, and the pre-existing frame one color. This gives the rooms in your home an elevated, expensive, and sophisticated look on the cheap.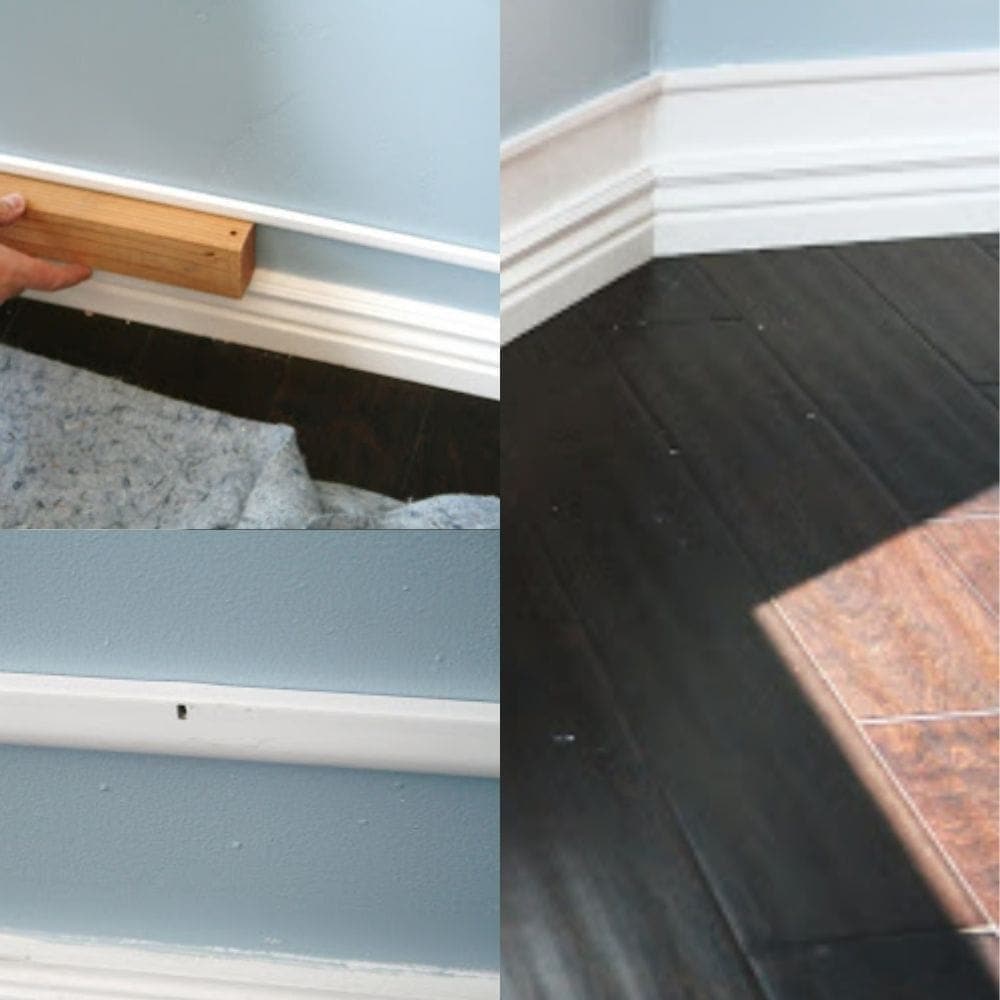 Pro Tip: Find an additional piece of wood that is the exact width as the gap you'd like to create between the existing trim and the new moldings. This saves a lot of time because you won't have to measure; you can just use this handy little piece of wood as a guide.
Marvelous Mirror Makeover
Is your bathroom mirror simply a glass mirror with no frame? Let's fix that! This cheap DIY trick will help you add in a frame and a shelf to add some personality and depth to your bathroom.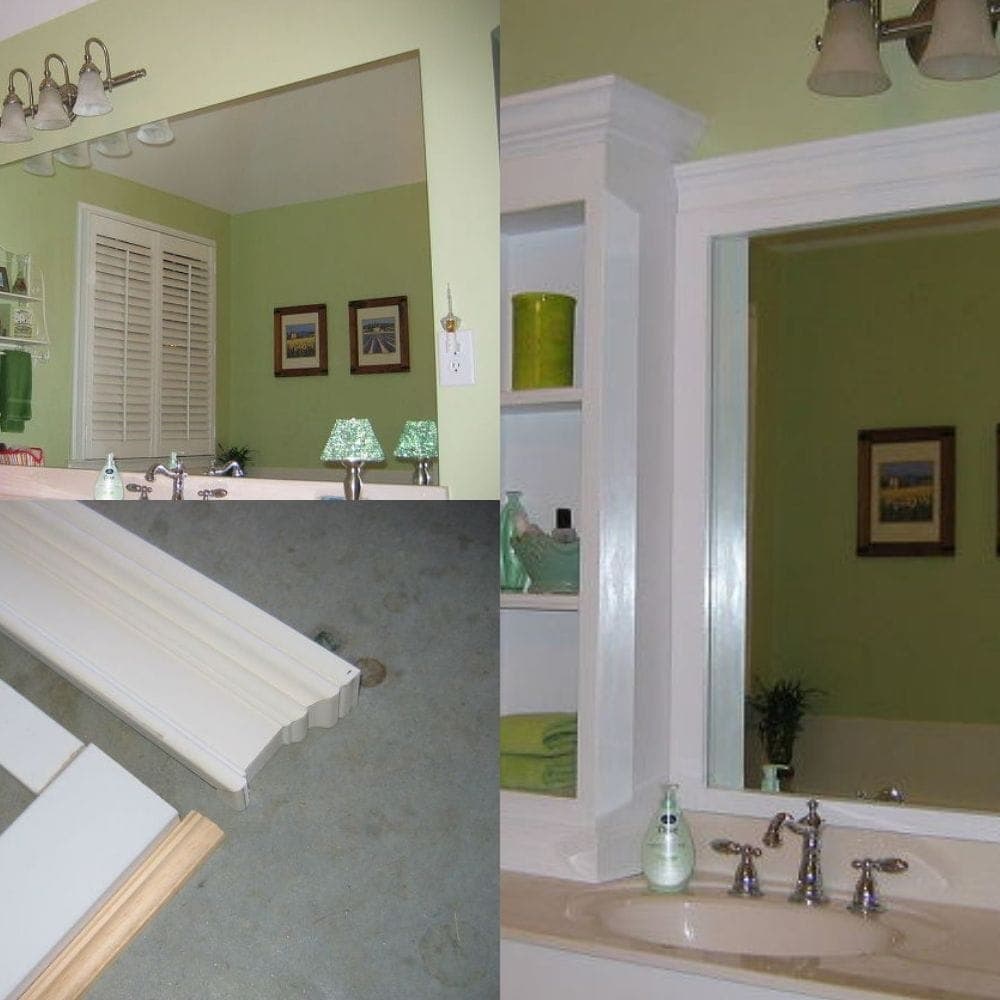 Leave the trim raw wood, stain it, paint it a bold and fun color, or paint it to match the trim and moldings in your bathroom. Your shelf can sit above or below the mirror (we recommend below to maximize your usable space). Now you can use that shelf for functional or decorative purposes.
Finish Up the Fine Details
Almost all homes built more than ten years ago have a little bit of a gap between baseboards, door frames, trim, and molding. This fantastic hack fixes that pesky minor issue and improves the finished appearance of your home instantly.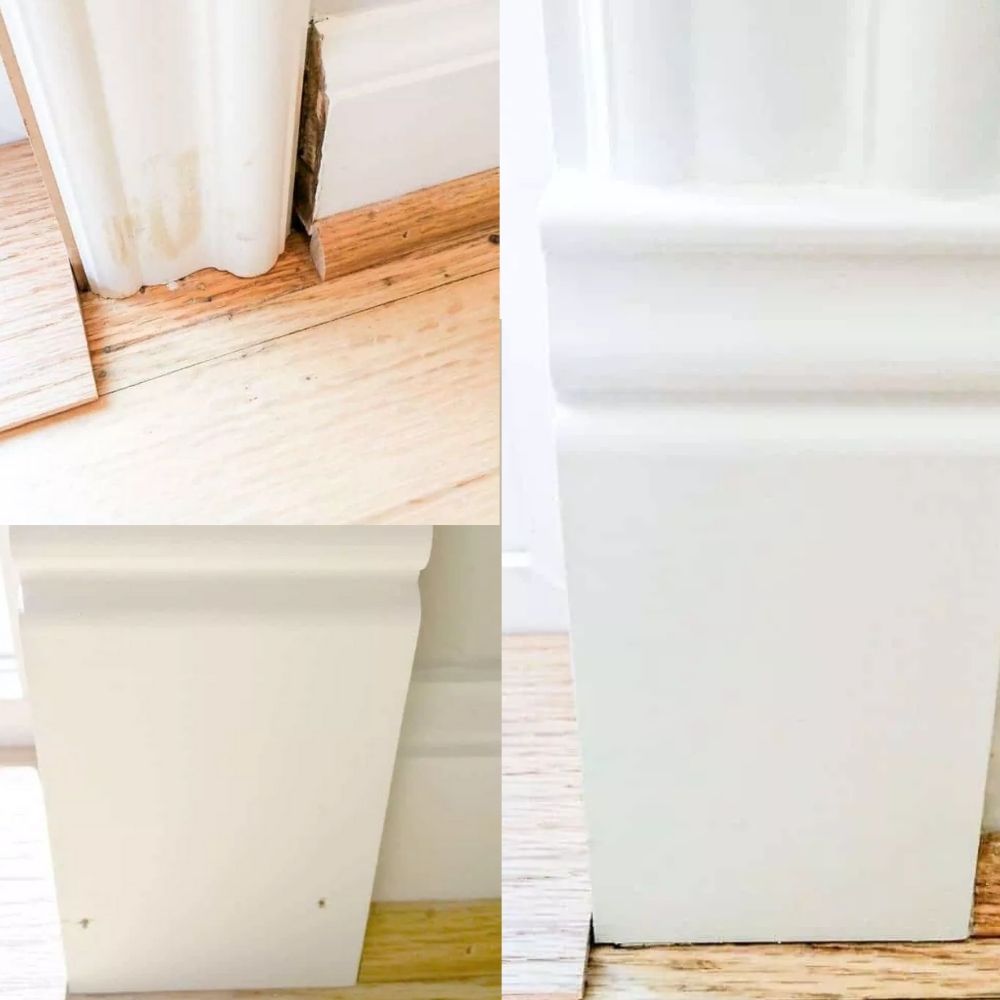 Purchase a plinth block, then cut and shape it down to fit precisely inside the gaps. You can purchase this block in various colors so it can automatically match up, or you can paint it afterward to be a more precise paint match.
Frame that Picture Box
This little hack can make your TV look so much more expensive and larger than it is and improve the entire room that it sits in. This DIY is best suited for wall-mounted televisions.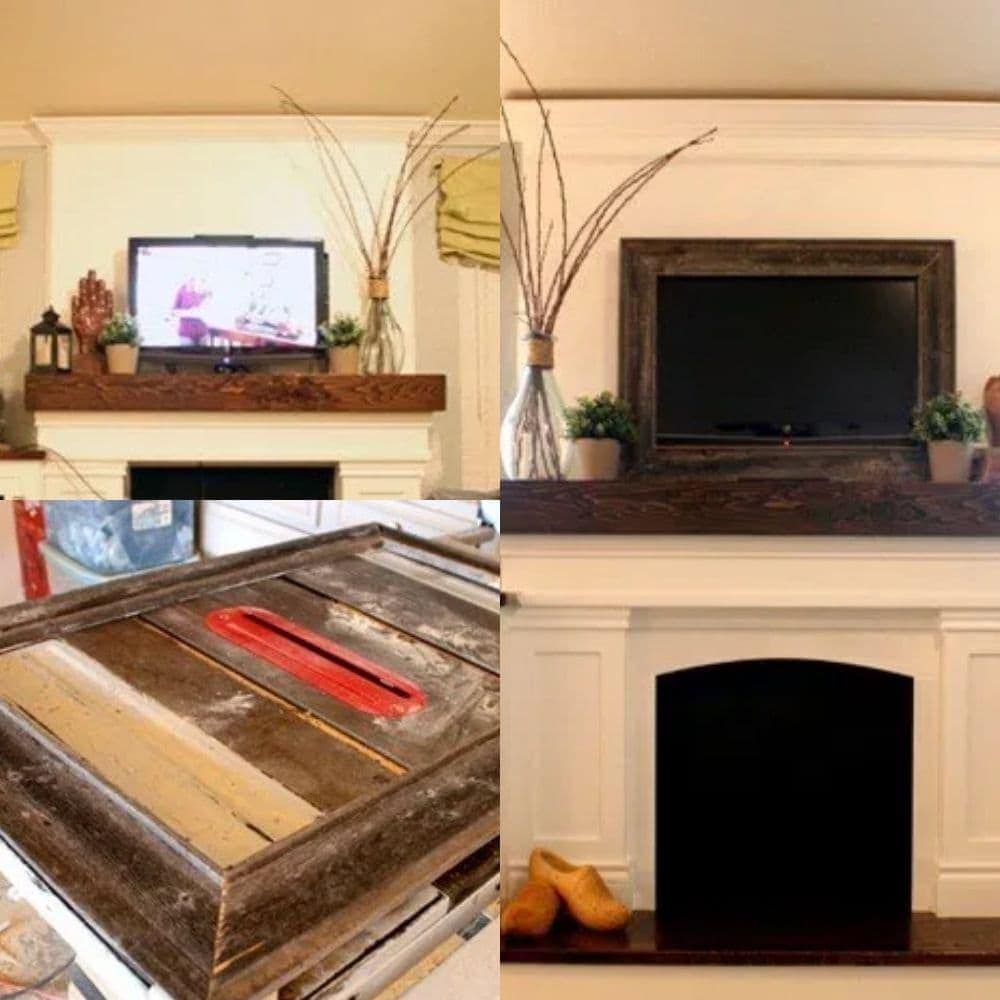 Frame your TV using wood. The wood can be stained, left raw, or painted any color of your choosing. If your television rests upon a mantle, choose a stain that matches your mantle, or use a complimentary color for maximum effect.
Ritzy Roman Shades
Generic blinds are ugly with no personality. What an unfortunate combination. This incredible hack will take your plastic blinds from bland to beautiful.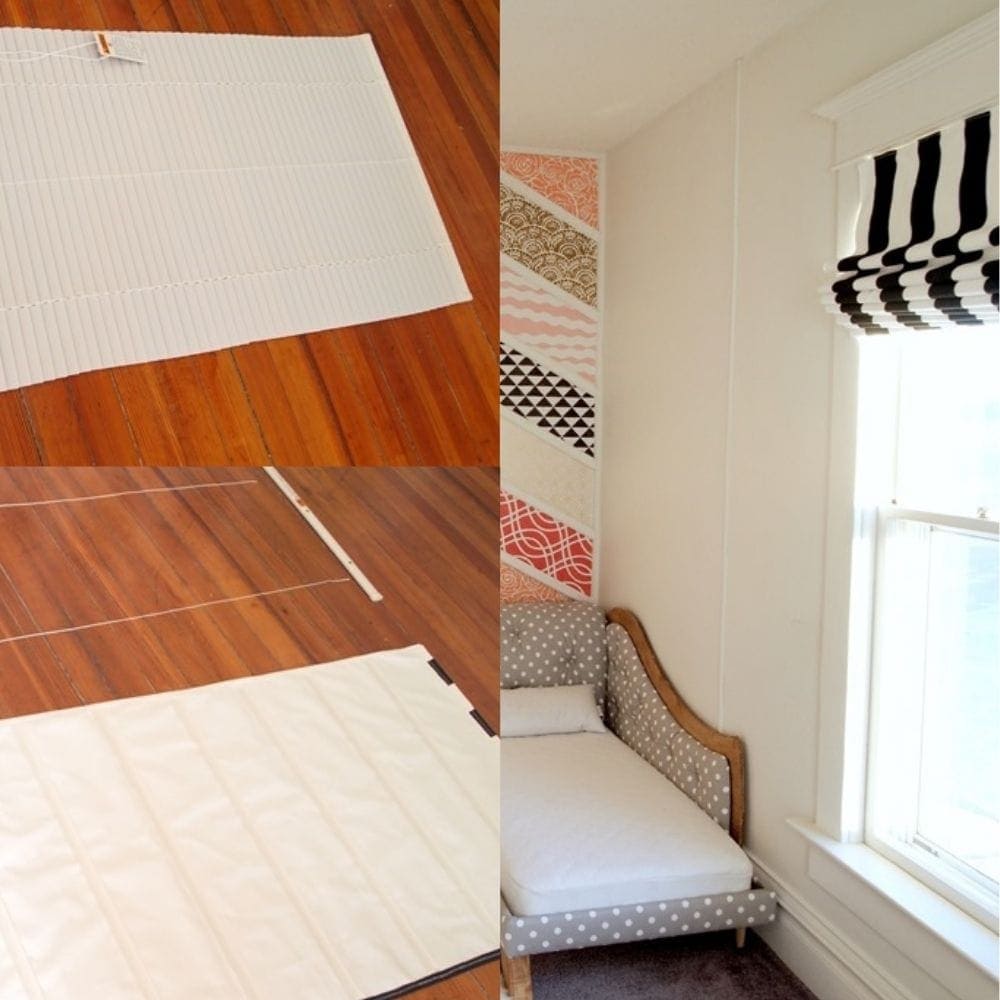 Sew your blinds into long pieces of the fabric of your choice to create snazzy Roman shades. You can use solid colors, patterns, or prints for your material. These Roman shades will change the entire vibe of a room.
Can the Cabinet Doors
Your dishware is stunning and one-of-a-kind. Why are you hiding it all behind some primary builder's grade kitchen cabinets?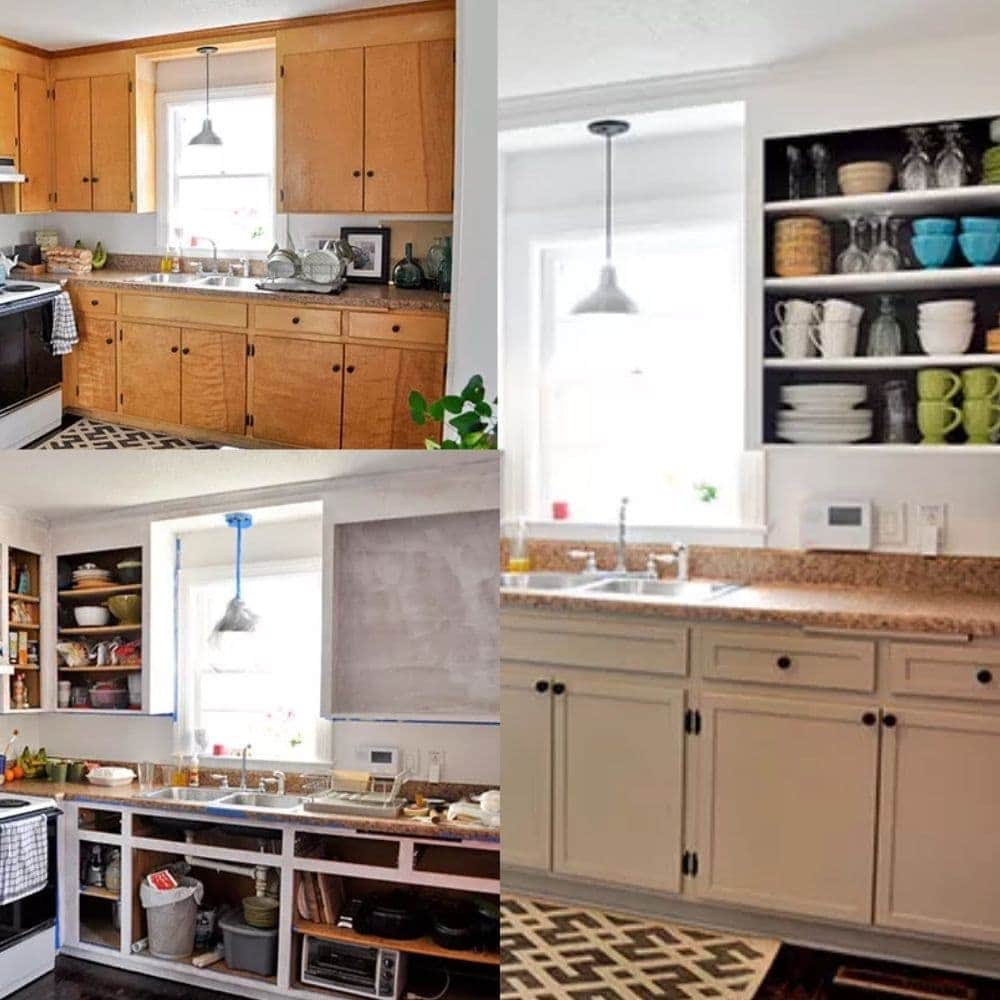 Remove your cabinet doors, paint the interior of the upper cabinets, then paint the lower counter doors. Replace the lower counter doors. If you're feeling adventurous, try replacing the hardware on the lower counter doors. What a win! Now, you've got this bright and airy kitchen that looks way bigger and shows off your dishwares' unique personality.
Wooden Walls
If you feel that colorful accent walls are a bit overdone, then this DIY is for you. Using barn wood, pallets, or even lumberyard wood, create an accent wall. You can leave this wood raw or stain it to enhance the drama.
Don't forget that wood can be hung vertically, horizontally, or even diagonally, depending on how unique you want your space to be. Once your wall is complete, you can leave it bare or add shelves, pictures, and other decorations to it.
Fixture Fix-Up
Now is your chance to replace those dated and unsightly brass fixtures. Well, sort of. You don't need new fixtures; you just need some paint and an afternoon. Remove the glass and bulbs, cover the interior with plastic and painter's tape, and cover the surrounding ceiling with plastic and painter's tape.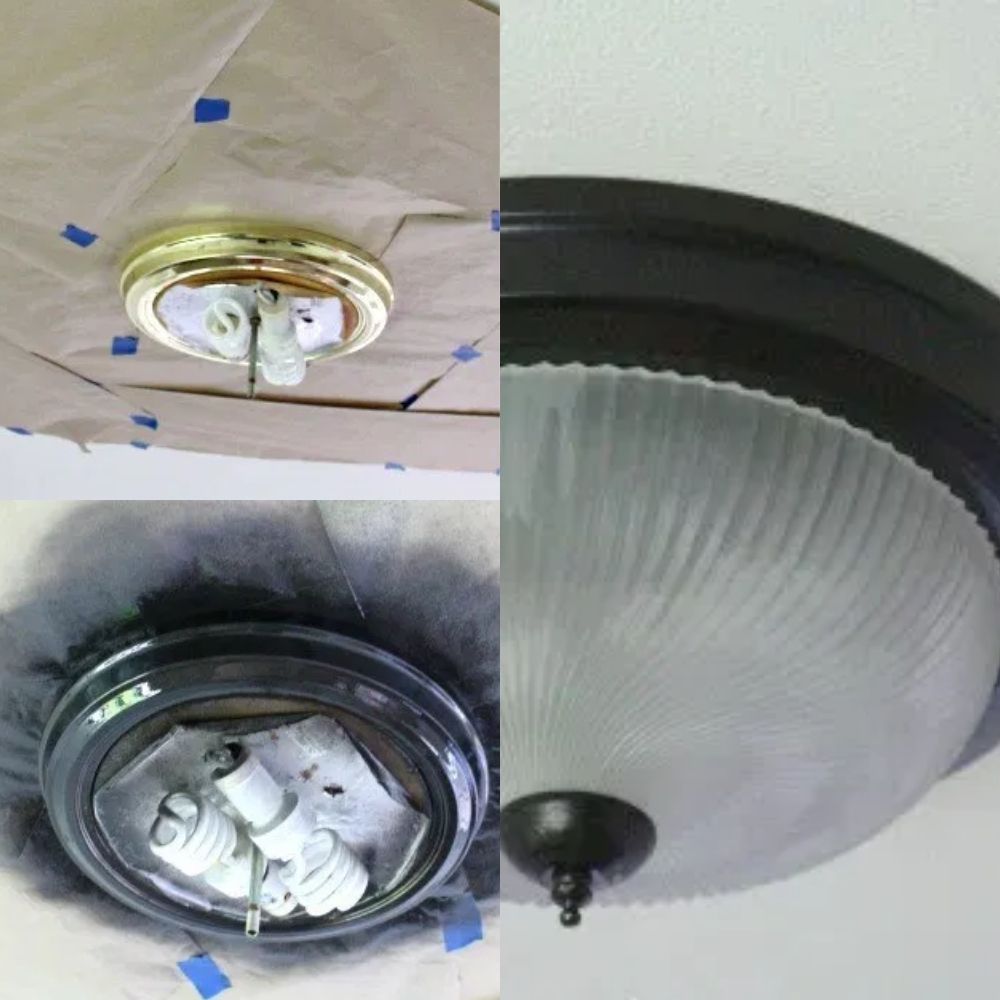 Spray paint (yes, really, it's not only affordable but fast and also provides a much more even coat) the fixture twice, letting the paint dry each time before removing the paint and plastic. Then, add your glass and light bulb back. Enjoy!
Open Concept Closet
Remove the door(s) of your coat closet. If your closet is wider than the doorway and the stud spacing allows for it, remove the front wall of the closet as well.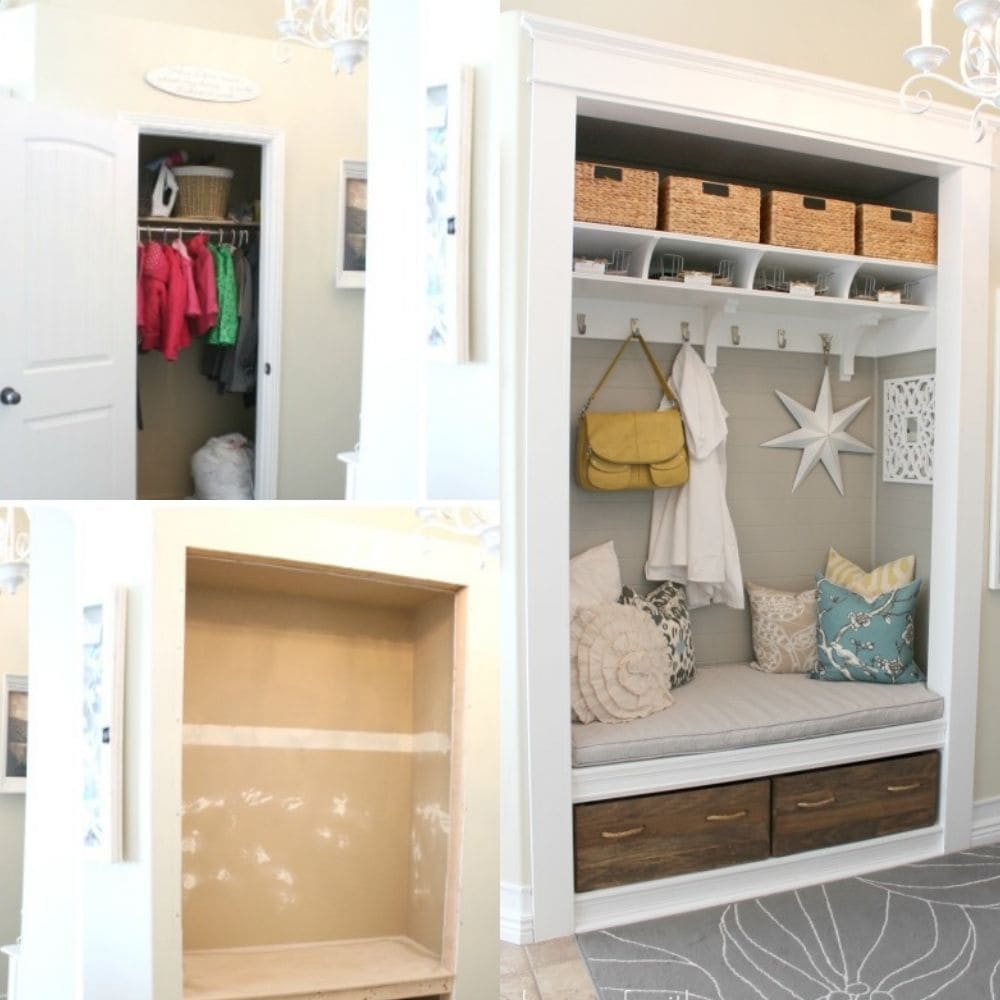 Repaint the closet's interior, remove the dowel bar, then add more hooks, shelving, and drawers. This little space is now perfect for taking shoes on and off, staying organized, or even reading a book.
Faux Wallpaper
This hack is not ideal for renters, but homeowners on a budget will love it! This is a fun twist on accent walls and wallpaper.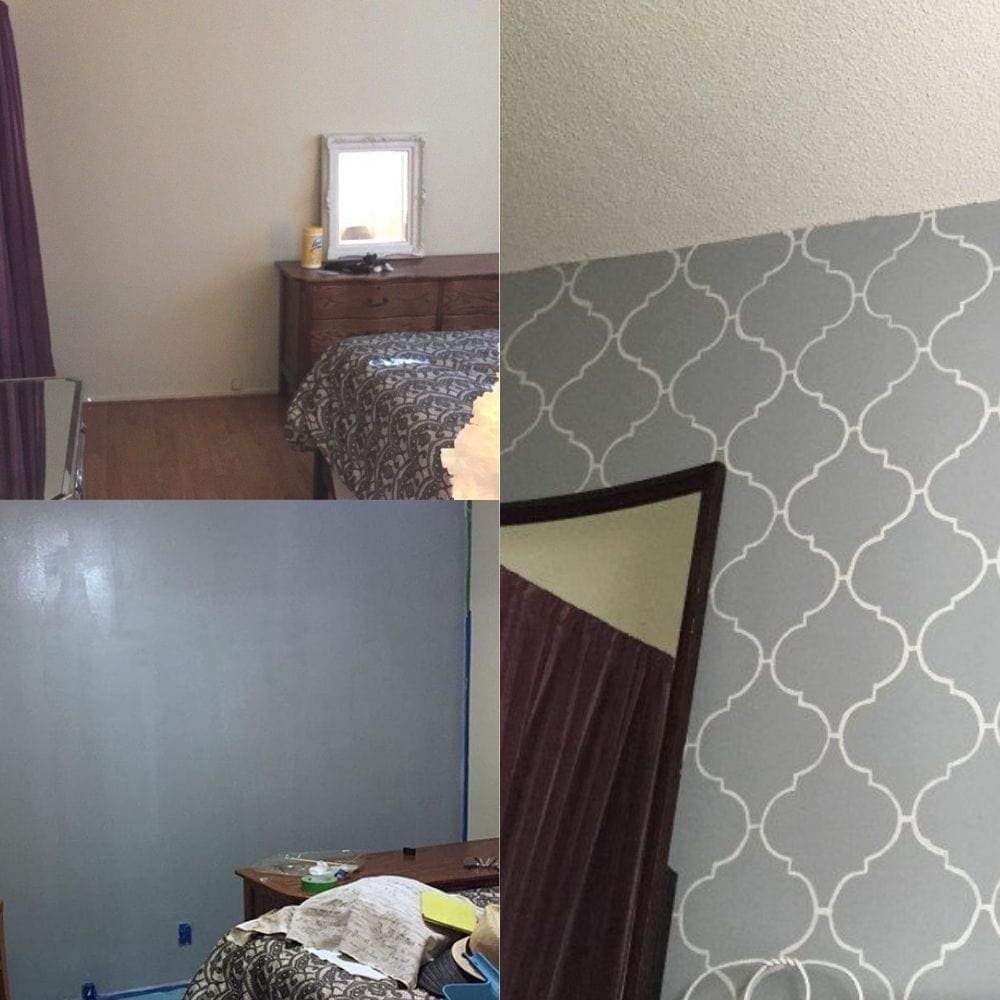 First, paint your accent wall a solid color, and allow it to dry. Next, find a stencil online or create one yourself. Using this stencil, paint over the wall once again, using a different color. Monochrome and complementary colors are equally attractive options here. This DIY is a fraction of the cost of wallpaper, and it's so relaxing to create.
Removable Wallpaper
This hack is geared more towards renters. If you want to add some style and color to your space but can't do anything too drastic or permanent because you are renting your home, then opt for a cheap, removable option.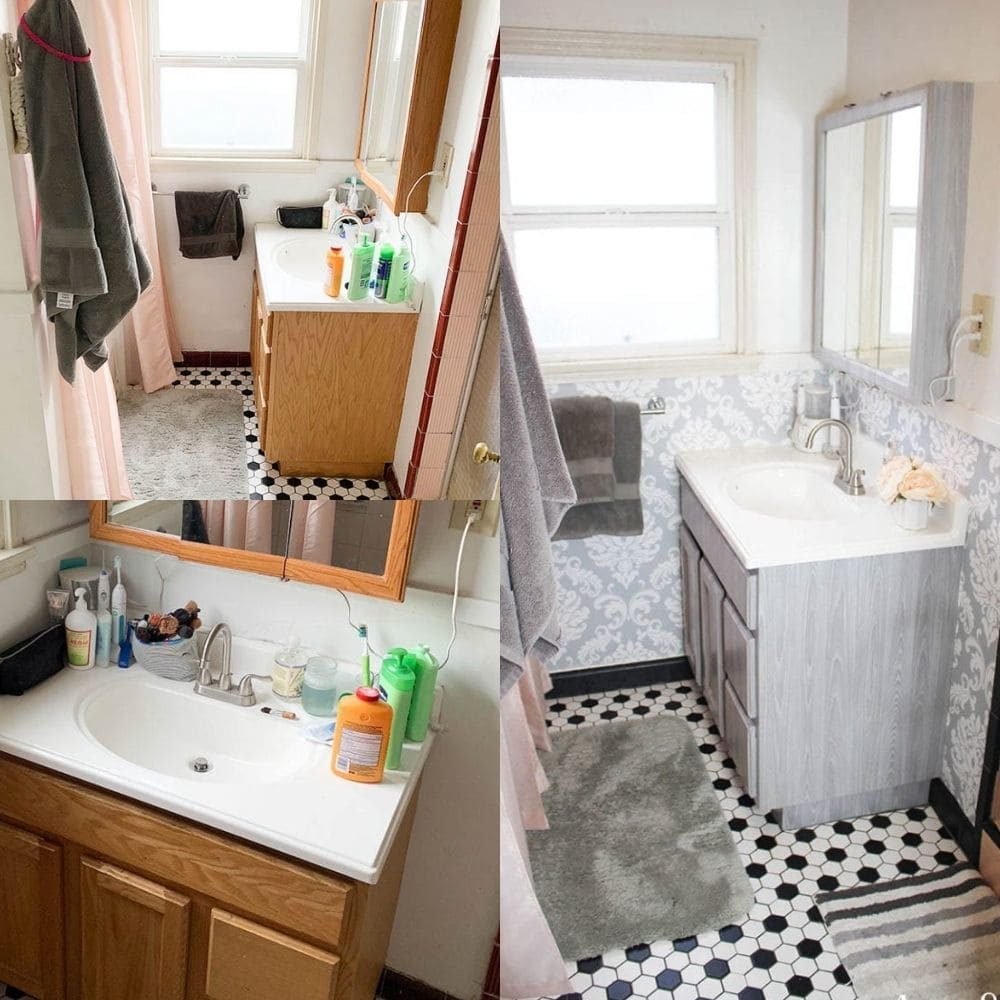 Use contact paper as wallpaper! It's cheap, relatively easy to install, and best of all, removable without leftover residue. The styles, patterns, and colors are limitless, and you'll be sure to fall in love with your fresh new walls.
Furniture Facelift
This DIY allows you to repurpose a dresser in your home or pick up an ugly but cheap one from a local yard sale or thrift shop. Now this super cool piece of furniture can live in your kitchen as a rolling bar cart, island, or attractive storage solution. Add rollers to the bottom, repaint or restain the entire dresser, add new hardware if you'd like, add an extendable leaf, turn some of the drawer pockets into shelves, and have fun with it.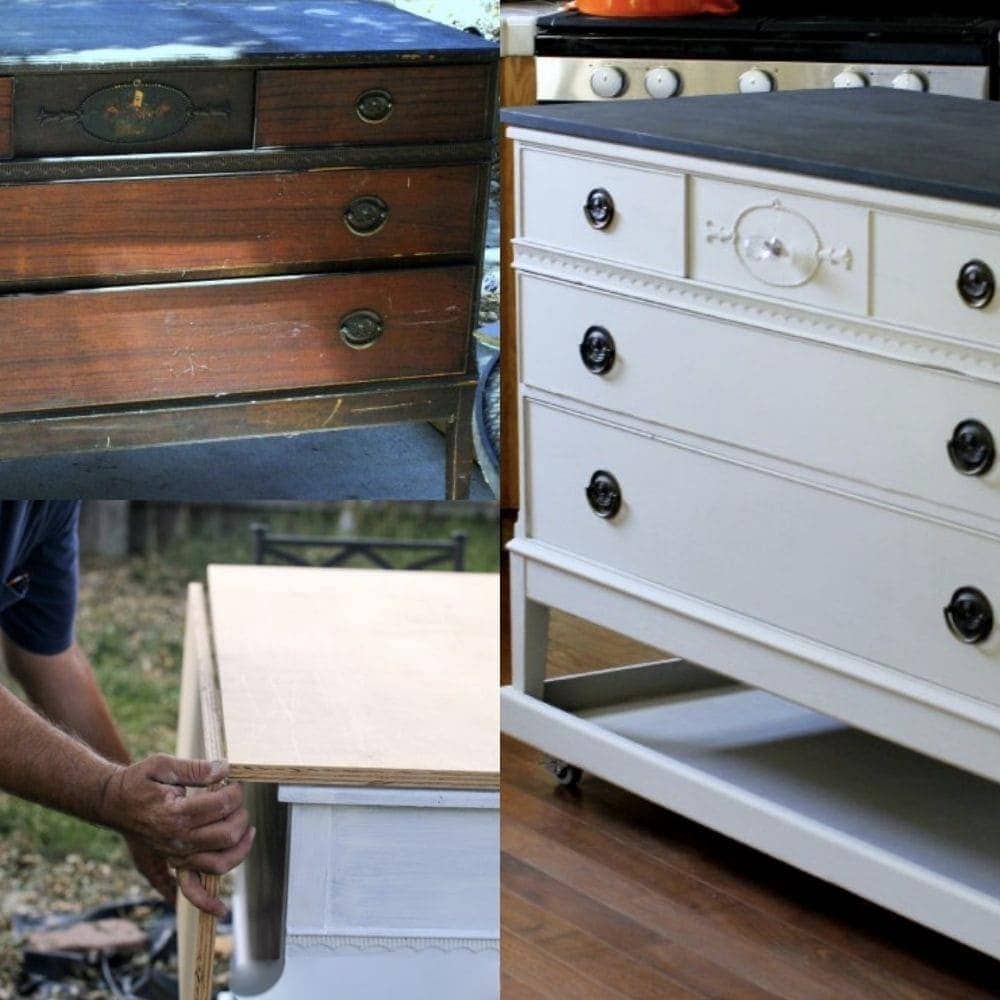 These rolling pieces of furniture are especially beneficial to those who need more counter space and those who have specialized kitchen gear, such as cake supplies, extra pots and pans, sausage stuffers, an assortment of blenders, coffee makers, and more.
Reupholster Seats
Reupholstering your chair seats can be a DIYer's favorite project. It's easy, fun, and transformative for your space. Be warned, once you reupholster one chair, you'll unlock your powers, and you'll have to fight the urge to reupholster everything you own.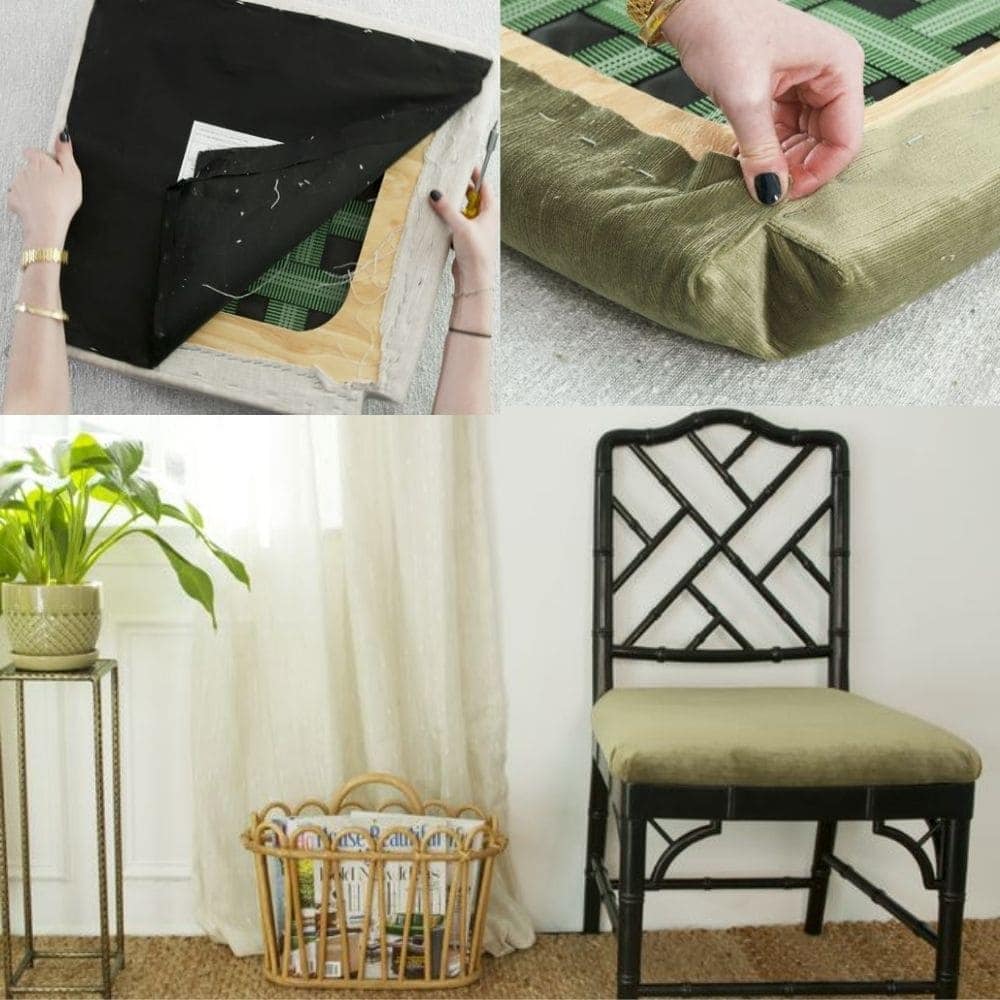 Reupholstering is cheap and easy. First, flip your chair over and remove the seat. It should come out with just a few screws. Then remove the old fabric; it's okay if it tears during the process. If the chair is riddled with lots of staples, take the time to remove some or all of them. Next, lay your new fabric face down on the ground, place your seat upside down on top of it, and staple the fabric onto the seat. Trim off the excess material as you go and make sure that you keep the fabric as taut as possible for a clean, polished, and professional look.
Sponge Painting
Sponge painting is back in style and as fabulous as ever. Today, people are aptly calling it marbling paint. We think it looks beautiful. This is an excellent alternative to expensive textured or patterned wallpaper.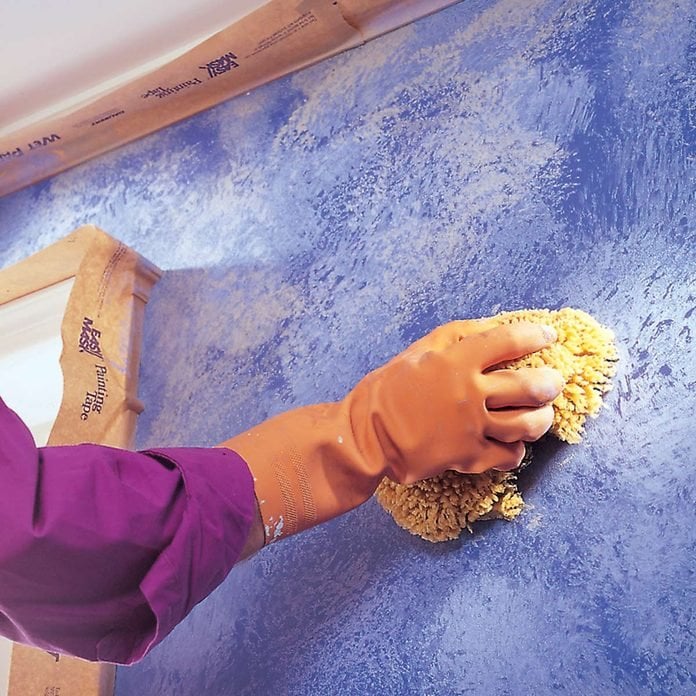 Paint your walls and let them dry. Grab a porous sponge, dip it into a completely new, complementary color, or white, and then your original wall color. The result? Beautiful, uniquely painted walls.
Swap Out Your Door Hardware
Simple changes, such as replacing your old, dated door knobs with something new, can make a big difference.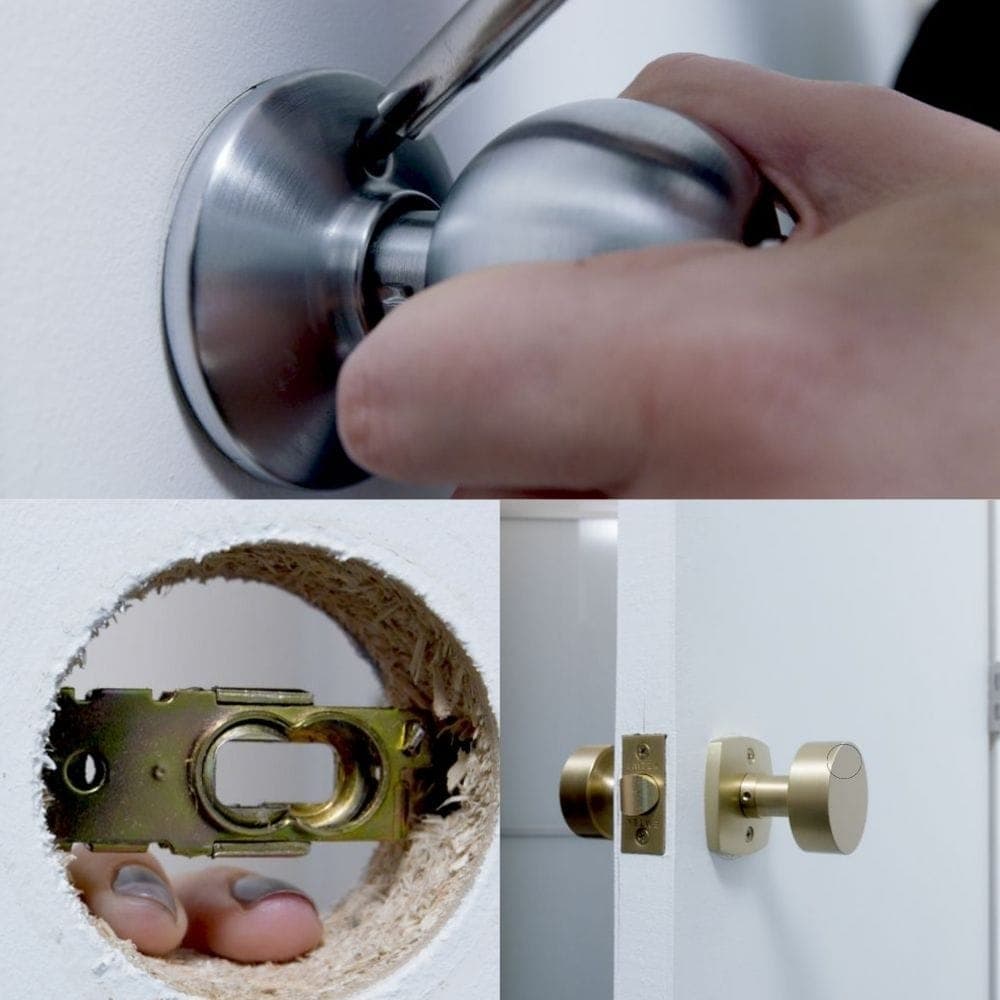 If you want to replace exterior door hardware, now is a great time to replace the screws used to hold the hardware. Swap out the standard 1-inch screws for 3-5 inch screws. This will make your doorway significantly stronger and your home safer for increased peace of mind.
Make an Entryway Cabinet for Keys
Spare yourself the trouble of turning the house upside down trying to figure out where you left your keys. This beautiful cabinet will give you a place to keep them, and it will make you smile every time you enter and exit your home.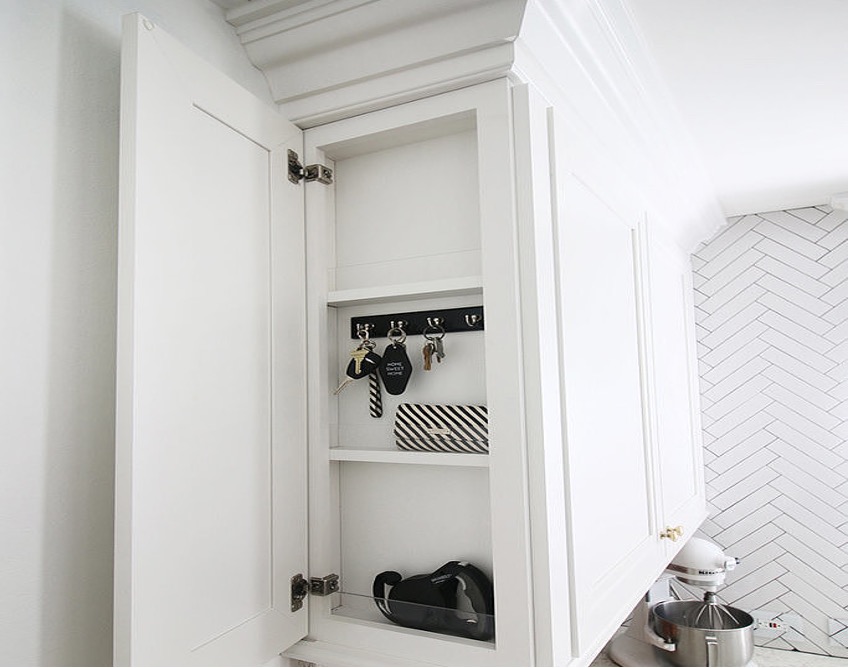 Here's a simple hack that will give you a sense of security and confidence: Have a small cabinet built specifically for the storage of keys. There's no better place for it than the entryway. You'll love having this safe haven for your keys.
Transform an Old Ladder Into a Shoe Rack
Did you know that a ladder can make a great shoe rack? If you have an old ladder that does not serve you and your family anymore, turn this household item into something that's as useful as it is creative.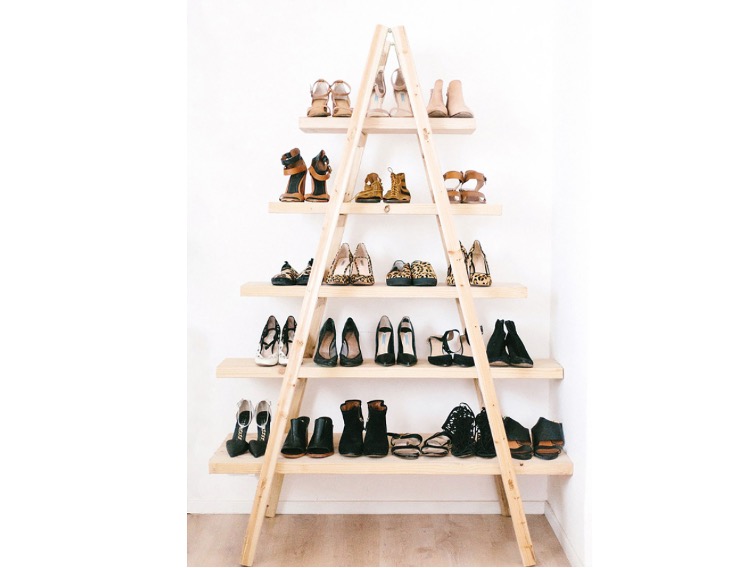 Repaint it with your color of choice, then all that's left to do is to place it in the perfect spot. Aside from saving time and money, you get to repurpose an old tool instead of throwing it away. You're welcome!
Use Teapots as Vases
Teapots are undeniably cute, being so stout with pretty shapes and designs. It's their cuteness that makes them perfect substitutes for vases. The photo below should be all the proof you need.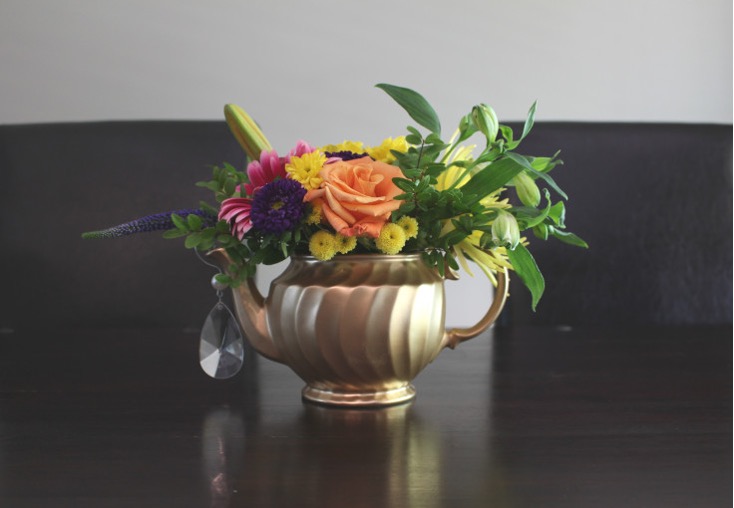 What a lovely transformation! From a plain teapot to a bright vase filled with blooms, this decor guarantees that you'll have a colorful day. It makes a nice table centerpiece too. You cannot go wrong with this chic home decor idea that will surely welcome your guests with warmth.
Use an Ironing Board as a Table
This home decor hack works better if you can get a traditional wooden ironing board that doesn't have a padded surface. Instead of letting your vintage ironing board hide in the storage room, treat it to a simple and easy makeover by using it as a table.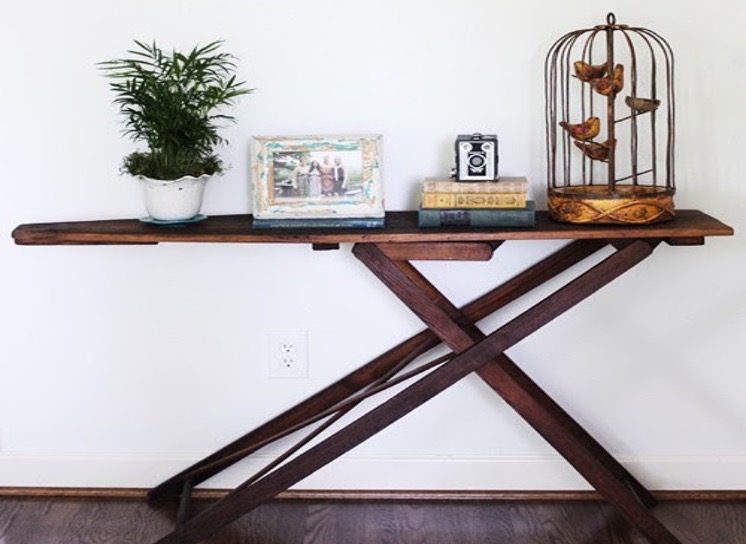 As seen in the image above, an old ironing board can be refreshed with new paint and positioned in the living area. We like how it blends nicely with the plant, books, and a family portrait.
Utilize a Wheelbarrow as a Drink Cooler
We didn't realize this was possible until we saw this photo. A wheelbarrow as a cooler? You read it right! This makes an ideal hack for outdoor parties and backyard barbecues. A wheelbarrow can be filled with blocks of ice to make an instant cooler.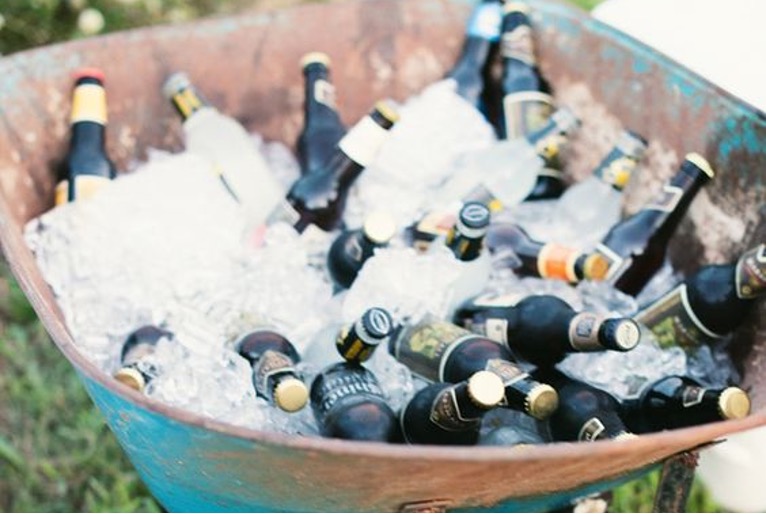 If you want it to look nice, you can refresh it with a new coat of paint. Note that its original worn look will look beautiful too, especially if you like a rustic or industrial style.
Turn Old Necklaces into Curtain Ties
Sometimes, creativity is all it takes to step up your home decor. Instead of discarding necklaces that you don't wear anymore, repurpose them as tiebacks for your curtains. This project is easy as pie.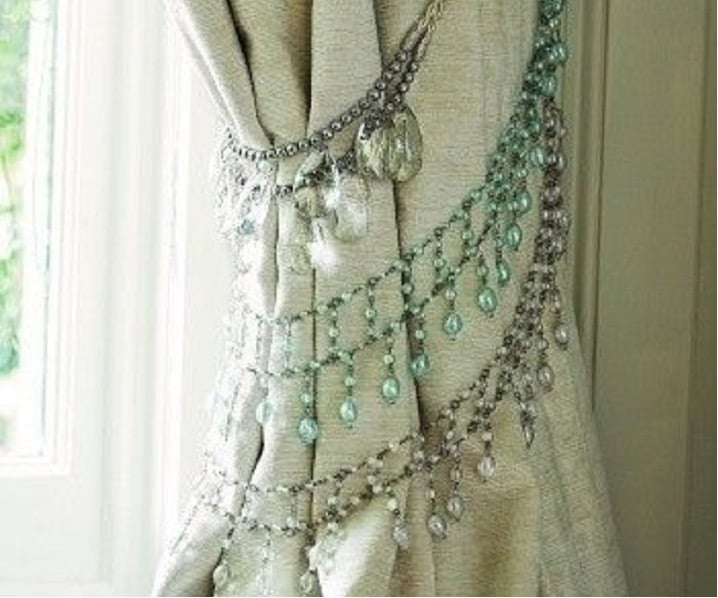 As seen in the picture, the layers of vintage necklaces add a hint of glamour to a plain curtain. As you can see, home decor can be a lot of fun, and the ideas are unlimited. 
Loving these ideas? Keep reading (and don't forget to take notes) for more decor hacks that will definitely spruce up your home!
Use Jute Rope to Hang Your Curtains
Jute rope is known for its natural, strong, and durable characteristics, making it the ideal material for packaging. Did you know that it is also an amazing addition to your interior décor, especially if you aim for a nautical look?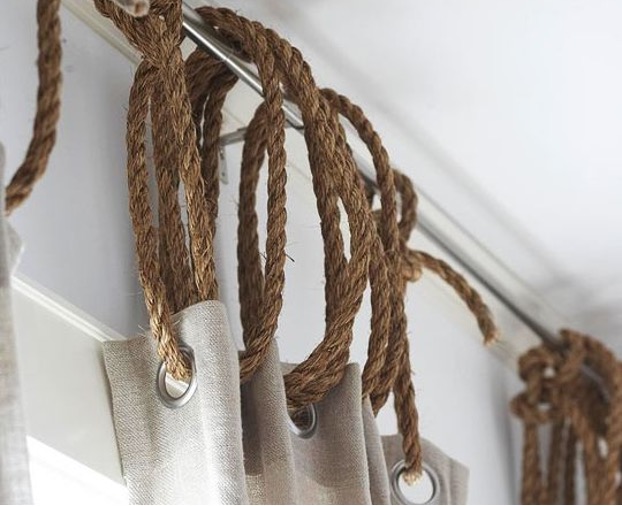 Jute rope does an excellent job of holding up curtains. You can use it to make curtain ties or in place of the rings used to hang your curtains. We bet you'll agree with us when we say this decor hack is both rustic and fantastic, right?
Hang a Mirror on the Wall with Rope
Here's another rustic touch to make your home decor dreams come true. Give a dated bathroom mirror a stylish new look by hanging it on the wall using some rope. This DIY project is one of the most creative ways to decorate your home or even your office.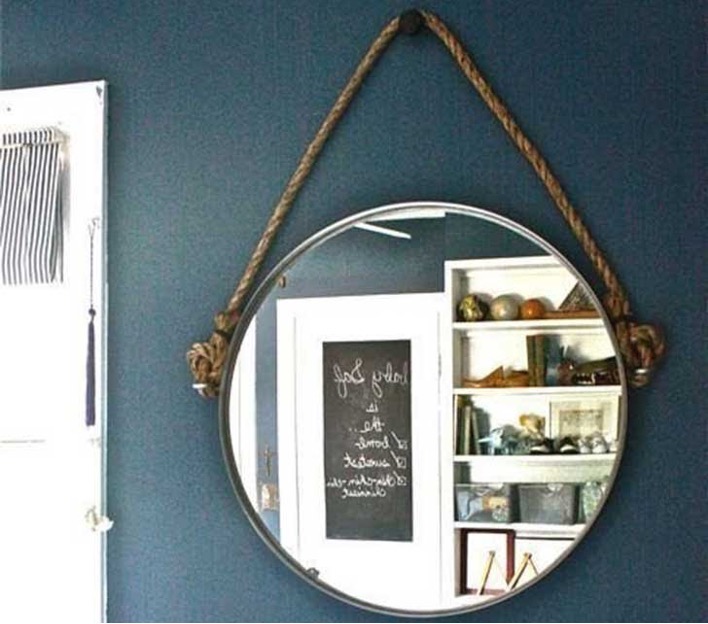 This crafty idea is chic and inexpensive, allowing you to give any space a stylish makeover that can be done within minutes. It will surely impress your guests.
Update Doors with Ceiling Medallions
If you ever want to update some of the doors in your home, take inspiration from the lovely, ornate moldings of Parisian apartments. Consider ceiling medallions, panel moldings, and a fresh coat of paint.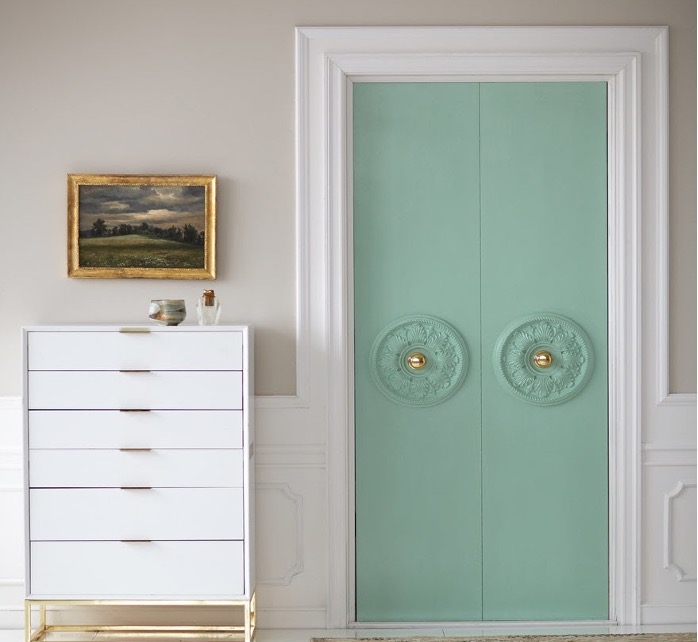 You can use these medallions as fancy decorations and center them around the doorknobs. You don't have to live in the City of Lights to enjoy its lovely style. In fact, you can recreate this chic look at a rate that won't break your savings.
Partly Paint Your Walls
Got a small room and no decor ideas for it? No problem. Bring out your artsy side and partially paint the walls of your cute little room. By leaving the top portion of the walls the same color as the ceiling, your room will look more spacious.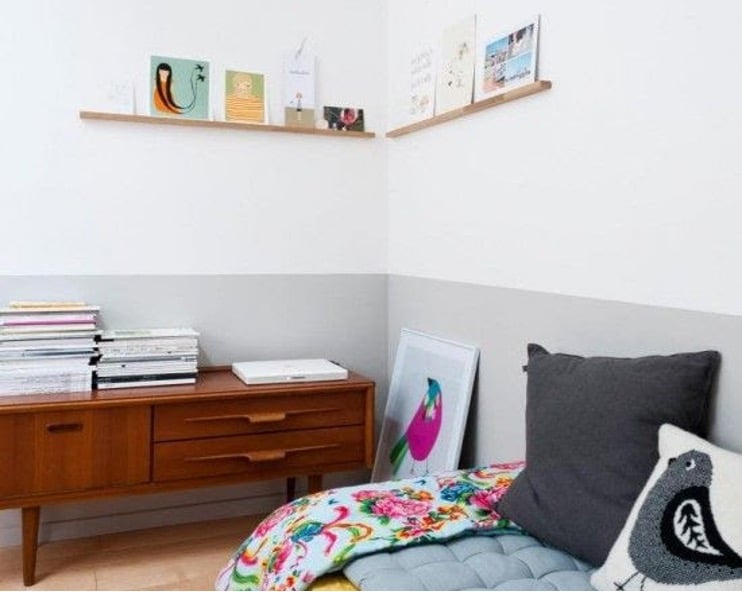 This is an easy hack you can apply if your home has low ceilings. Did we mention that you also get to treat your walls to a few fresh coats of your favorite paint color?
Refresh the Legs of an Old Sofa
If you've been planning to update your old sofa, try painting its existing legs or replacing them altogether. These small details are often ignored, but when given time and creativity, a new set of sofa legs can boost the overall ambiance of your living room.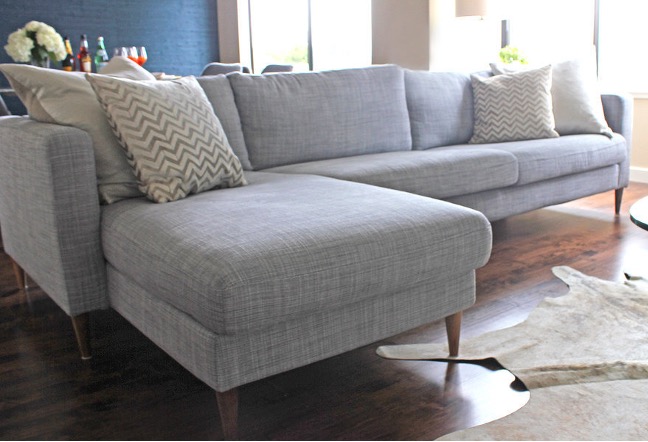 A sofa is one of our comfort zones. It serves us when we want to relax and when we want to spend quality time with our loved ones. So, it should feel like a sanctuary after a tiring day at school or work.
Spruce Up Your Bed with Nailhead Trim
Nailhead trim never goes out of style. This timeless detail adds an elegant element of interior design to all manner of furniture pieces. This is a home decor hack that you can apply to headboards, coffee tables, cabinets, chairs, and sofas.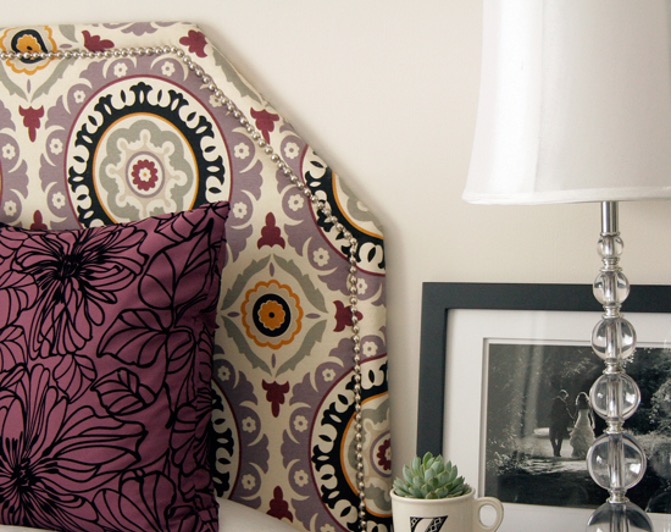 Simply add some nailhead trim to the edges of your chosen furniture item to highlight its existing shape or create an accent piece. As the photo demonstrates, nailhead trim is like jewelry for furniture. It can make any piece look more luxurious!
Style Your Headboard
Say goodbye to a dull and plain headboard with this easy and fast decor trick: Just drape a special piece of fabric over it. Whether you go with a scarf or a throw blanket, just make sure it's lovely and has a pop of color. A scarf with bright colors and patterns can add life to a boring headboard.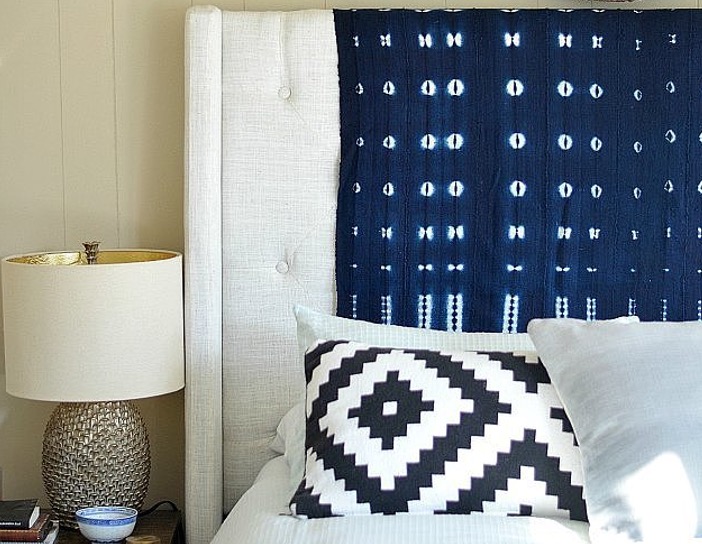 The picture says it all. It's time to bring out your well-kept scarfs and put these lovelies to good use. Now, you can sleep with ease and wake up with a smile on your face.
Refill Your Old Cushions
Through the years, sofas and couches tend to look crumpled and deflated. After getting so much use, the filling gets compacted, making your couch look (and feel) less than cushy! Let's admit it – the once full and soft seat and back cushions just don't feel comfortable and don't look as pretty as they once did.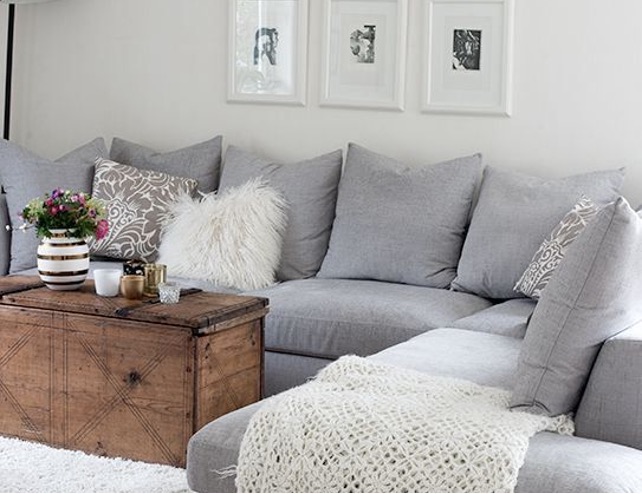 Here's a simple solution: Check if the old cushions have zippers. If so, all you have to do is open them up and refill them to your heart's content. If there are no zippers, you may be able to get expert help in refilling the cushions.
Furnish a "Dead Space" with a Bookcase
The term "dead space" refers to areas of your home that aren't being utilized to their full potential. These dull areas are usually found in hallways or the corners of your home. Don't just ignore them. Use your inner artist instead to brighten up your space.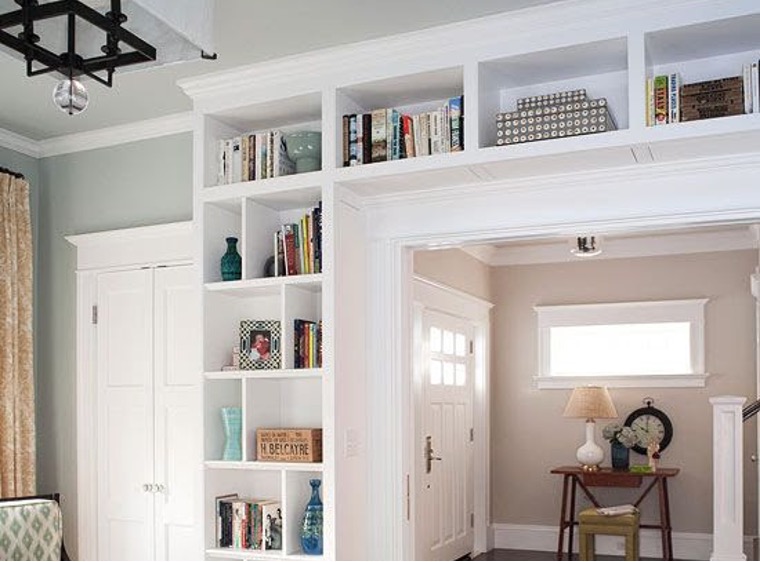 A great way to fill these dead spaces is to add high and narrow bookcases. Another easy fix is putting your favorite potted plant or scented candles on display. Rest assured, there's a way to breathe life into all the dead spaces in your home. Get creative!
Candles in the Fireplace
This décor hack is as simple as they come for those of us who have a fireplace that is not functional but still want to add that cozy feeling in their home space. Find a fireplace candelabrum or create your own arrangement of candles in the fireplace.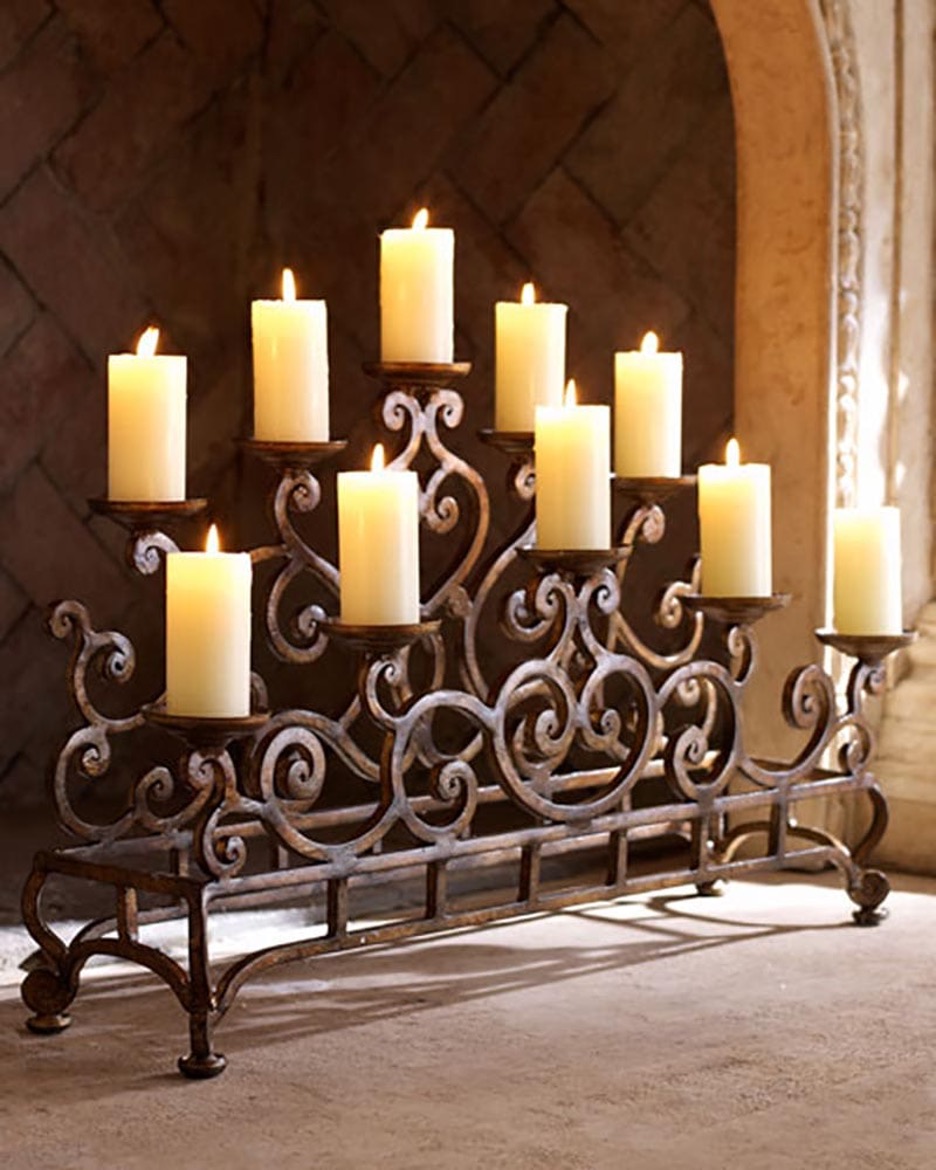 We'd recommend electronic candles first and foremost, but real candles are always a nice addition. Just make sure someone is always in the room with them!
Do It Yourself Chalkboard Fridge
This hack is especially fun for those who want to add a bit of whimsy to their kitchen and their refrigerator. It should be noted that people who have kids will likely have some extremely excited children on their hands with this hack.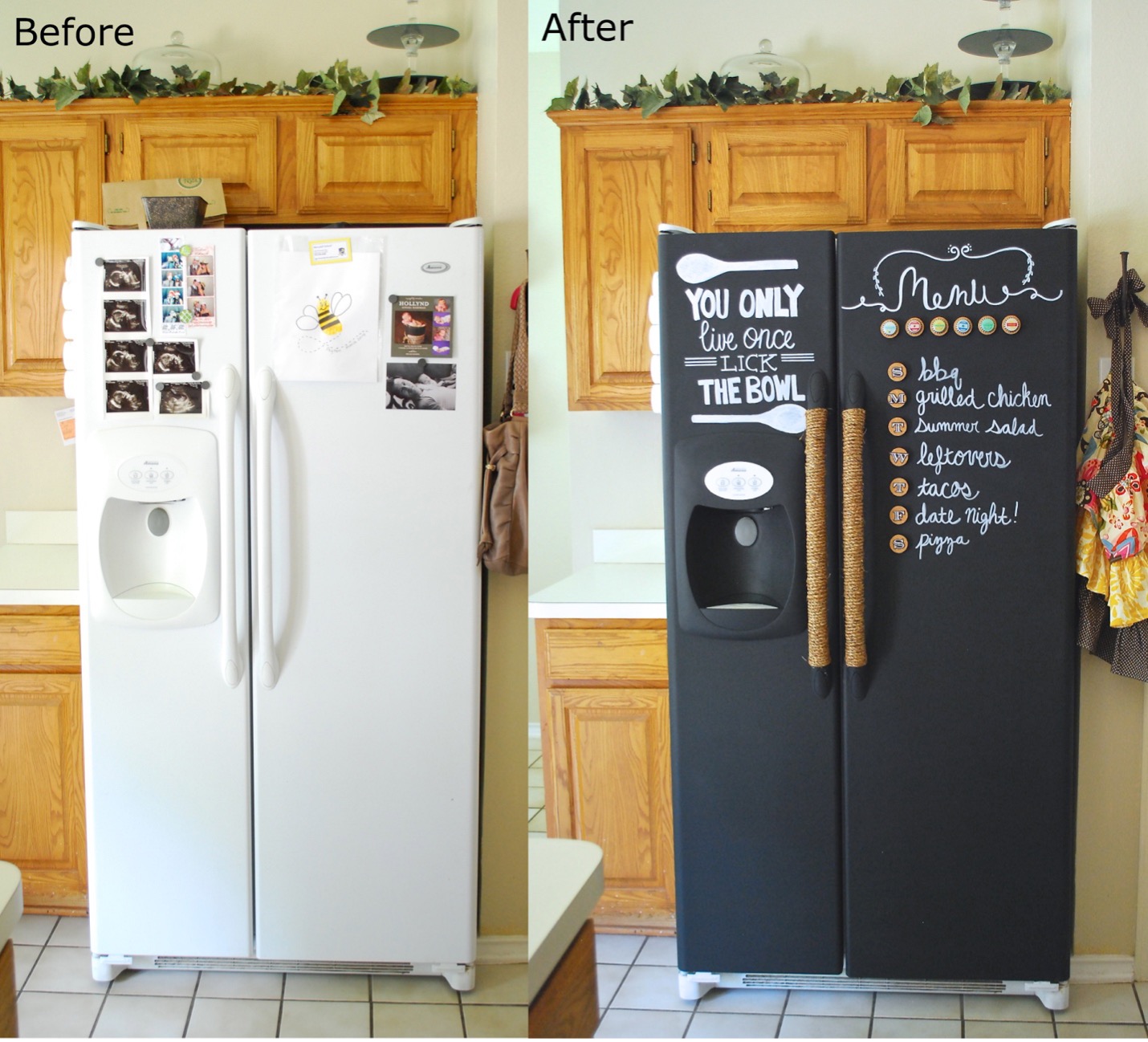 All you'll need is chalkboard paint, a foam roller, twine, a chalk pen, super glue, and painter's tape! It really is that easy. Be sure to wait 24 hours before using or priming your chalkboard. Feel free to use real chalk or chalk pens.
Spice Racks as Bookshelves
Use your old spice racks (or purchase some) and create your own bookshelves, record-shelves, for family photos, candles, or anything else you can think of. Spray the spice racks whatever color best fits your home décor.
Personally, we'd go for a pop of color, but black or white look clean and cut for any home. This hack is practical and space saving.
Rustic Towel Hanger
This hack isn't only rustically fashionable but also practical. You can use these as coat hangers, towel hangers, purses, hats, you name it!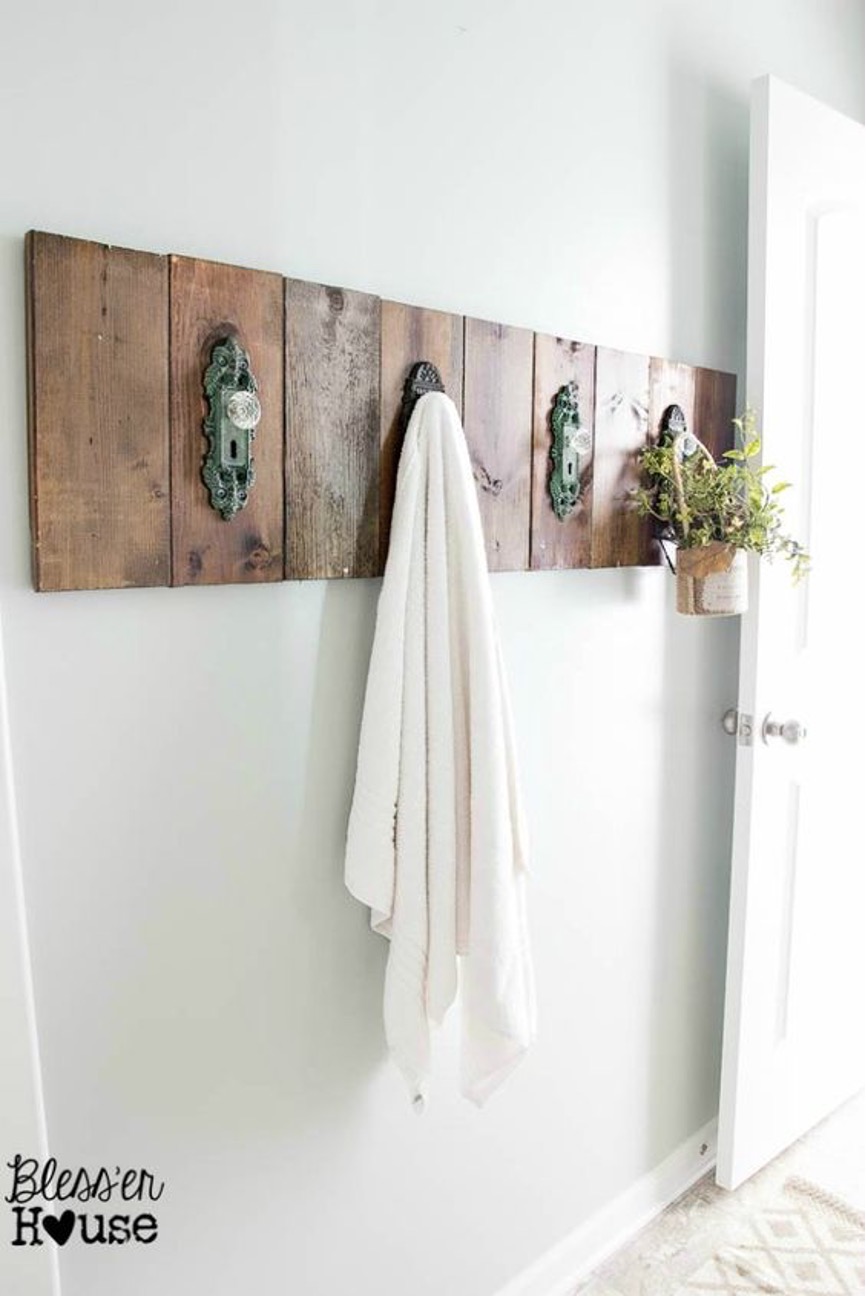 Scour for some vintage door knobs at garage sales or flea markets and repurpose them into stylish towel hooks. Buff out and varnish your desired size and shape of wood and attach your doorknobs. Voila!
Oval Rope Mirror
Add a twist to the classic wall mirror with a makeover using only thick rope! This décor hack is suitable for both experienced DIYers and those just beginning. Glue rope around your mirror to create a nautical themed look in your home.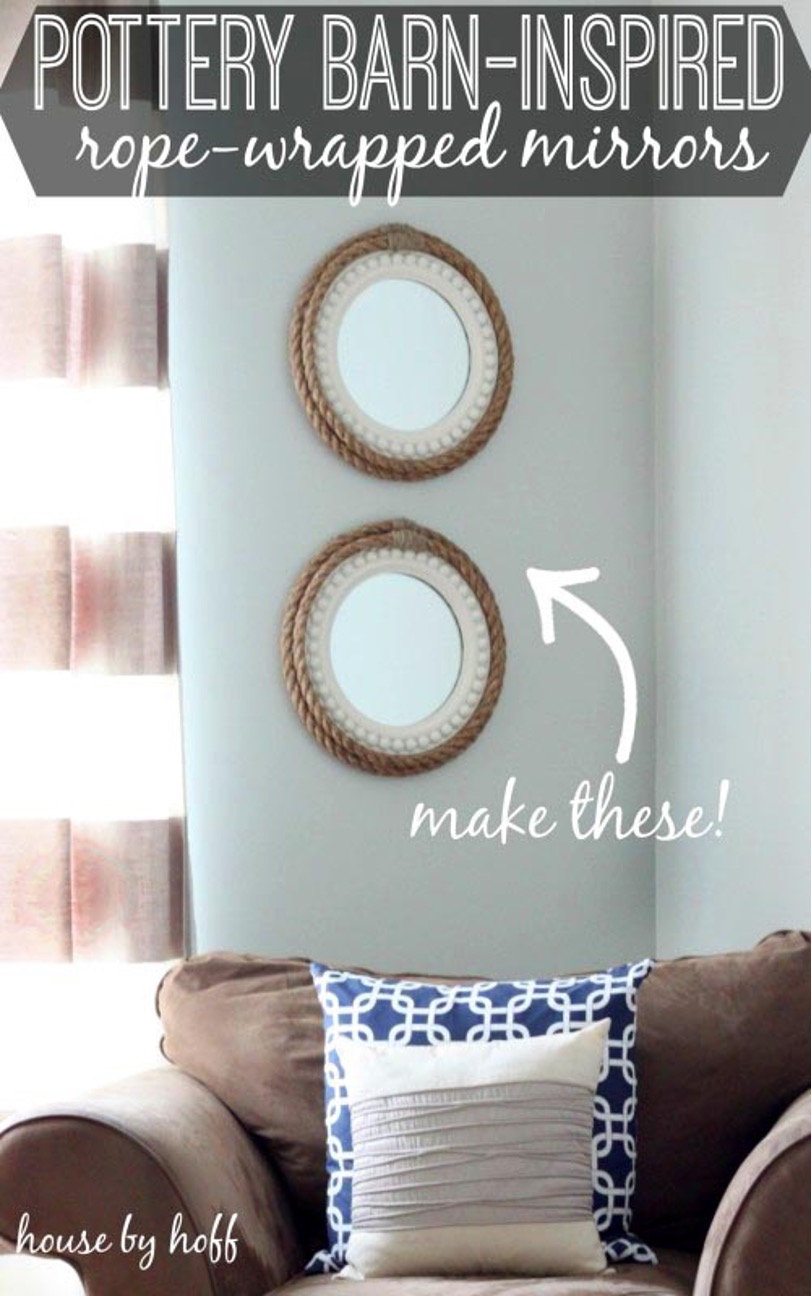 You can hang the mirror by the rope or simply hang it up as a regular mirror, depending on what suits your aesthetic best.
Mix and Match the Dining Room Chairs
Buying a brand spanking new table set is costly and not always the best option for your wallet or your home's aesthetic. That is why this hack is so spot on.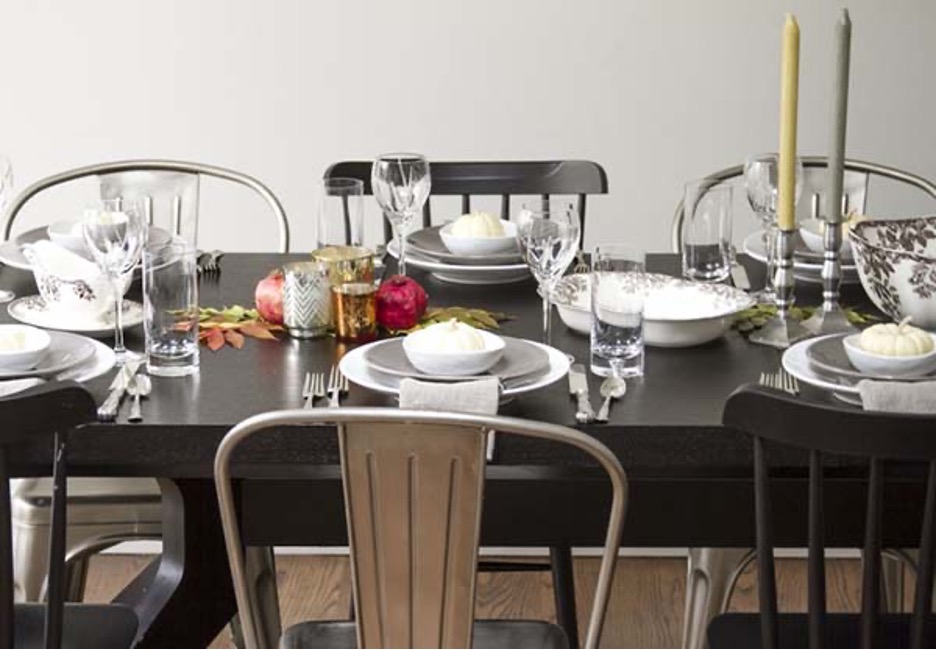 Mix and match your dining room chairs for an eclectic look that is chic, affordable, and modern. You will keep your home from looking stuffy and boring while also pinching pennies to use on something more useful.
Redesign Your Old Coffee Table with Decoupage
This décor hack is simple and fun, all you need is a map pf the world and a bottle of lacquer. It adds playfulness to your home (especially if you're a lover of travel).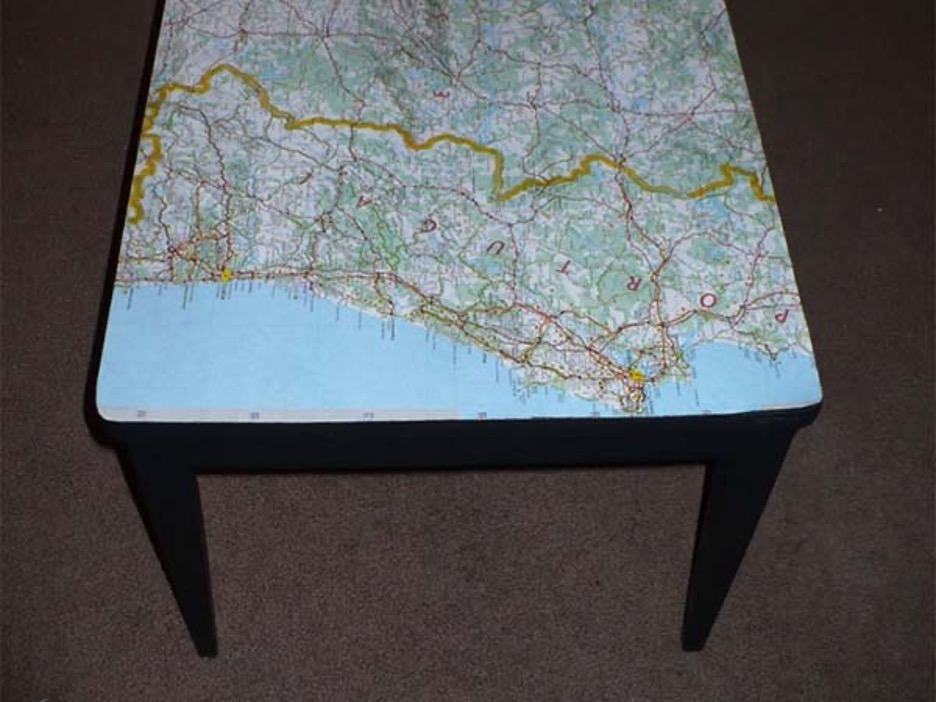 This is a very popular decoupage technique and for good reason. It creates a more interesting dynamic in your home, you simply cannot go wrong.
Wall Organizer
This home décor hack is perfect for the artist-types, the students, a playroom, or anything of that nature. It is fairly easy if you're the sewing type and is ridiculously adorable.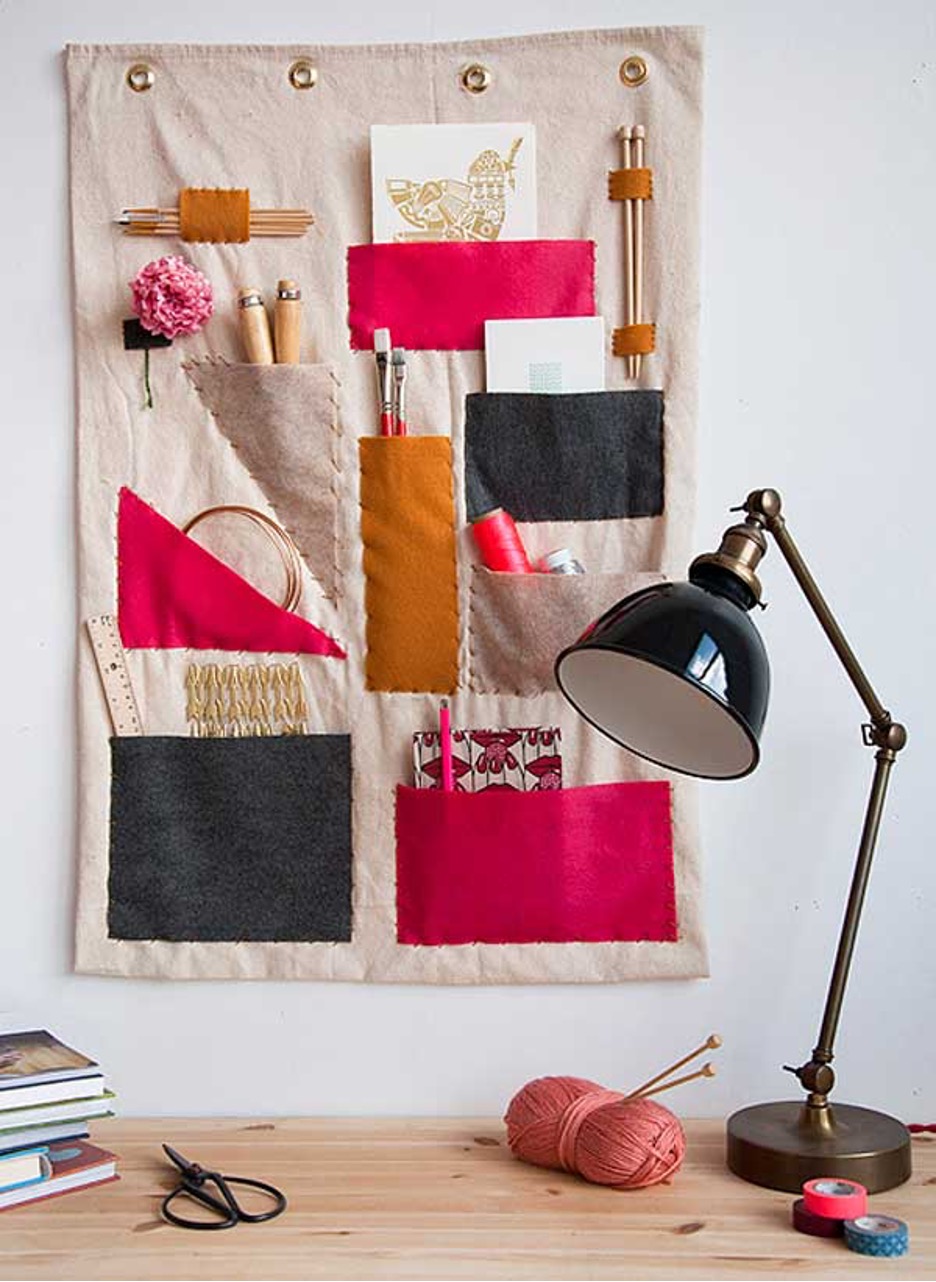 This is a great way to keep your tools organized, add the right pops of color, and pull the room that you or your loved one is working in. Plus, it takes very little supplies!
Add More Mirrors to Create Space and Dimension
Create the feeling of more space within your home with the addition of large mirrors. It is no secret that mirrors add light and depth to a room, but did you know that it also helps to visually expand a room?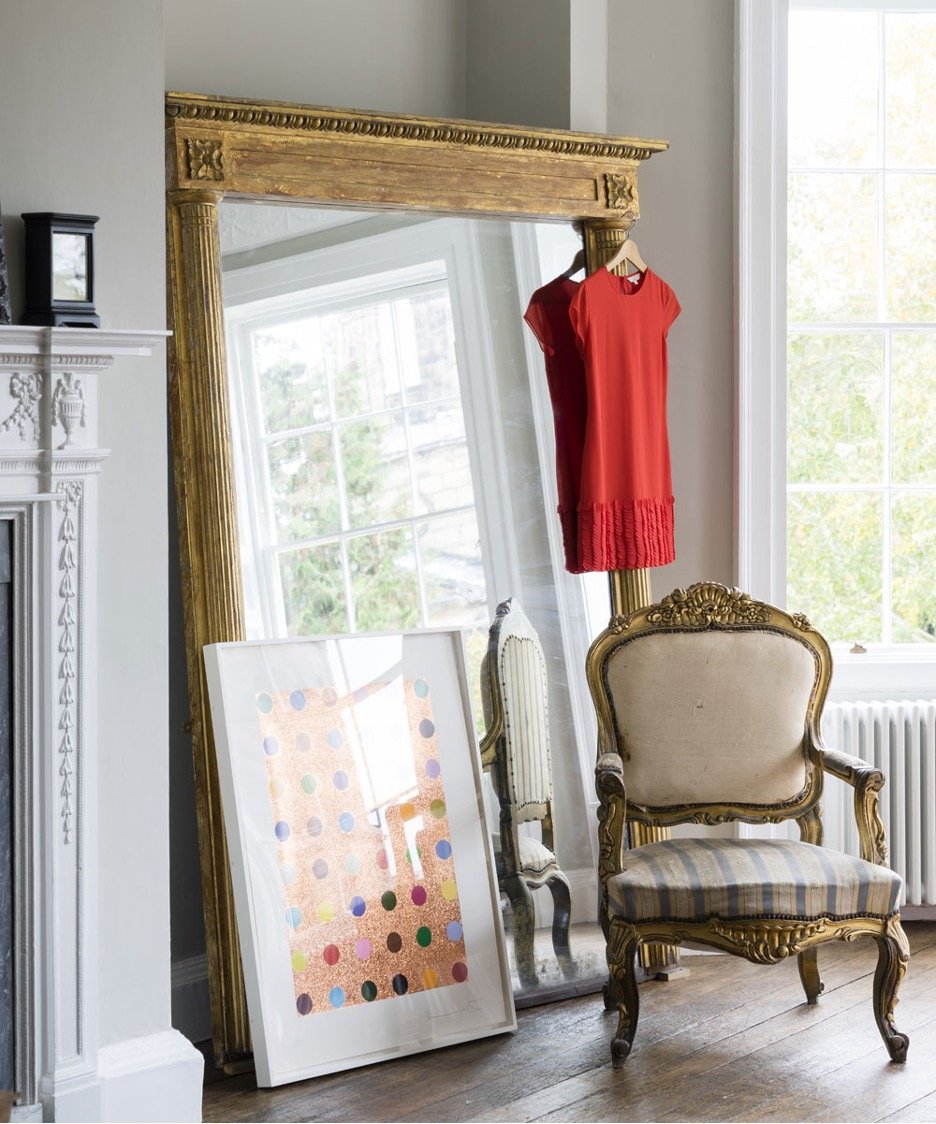 Furthermore, we have yet to meet a person who is against having one more way to view themselves, so perhaps your guest will thank you for the extra opportunity.
Add Designs and Patterns to Closet Doors
As a fellow DIYer, I'm sure you've deduced that wallpaper is not simply for the wall. Spruce up your room and add a splash to the center with some brightly colored wallpaper.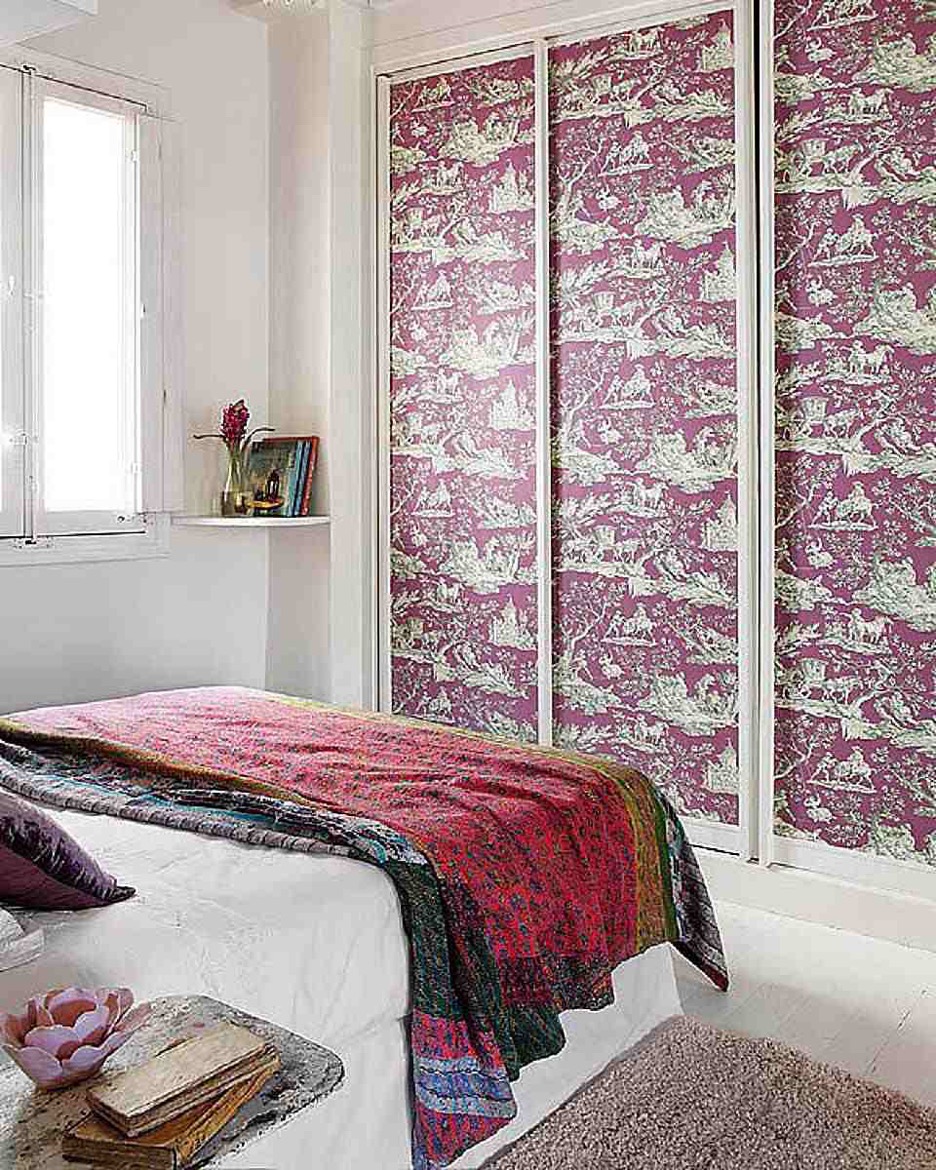 Instead of going bold on the walls, add one big boom of a focal point and really tie your room together. This allows there to be a gorgeous focal point without absorbing the entire room in it.
Take Your Hats Out of the Boxes and Closet
I'm sure we all would like more opportunities to wear our hats, but seasons are a reality, and we cannot wear our gorgeous caps all year long. However, that doesn't mean they can't be displayed!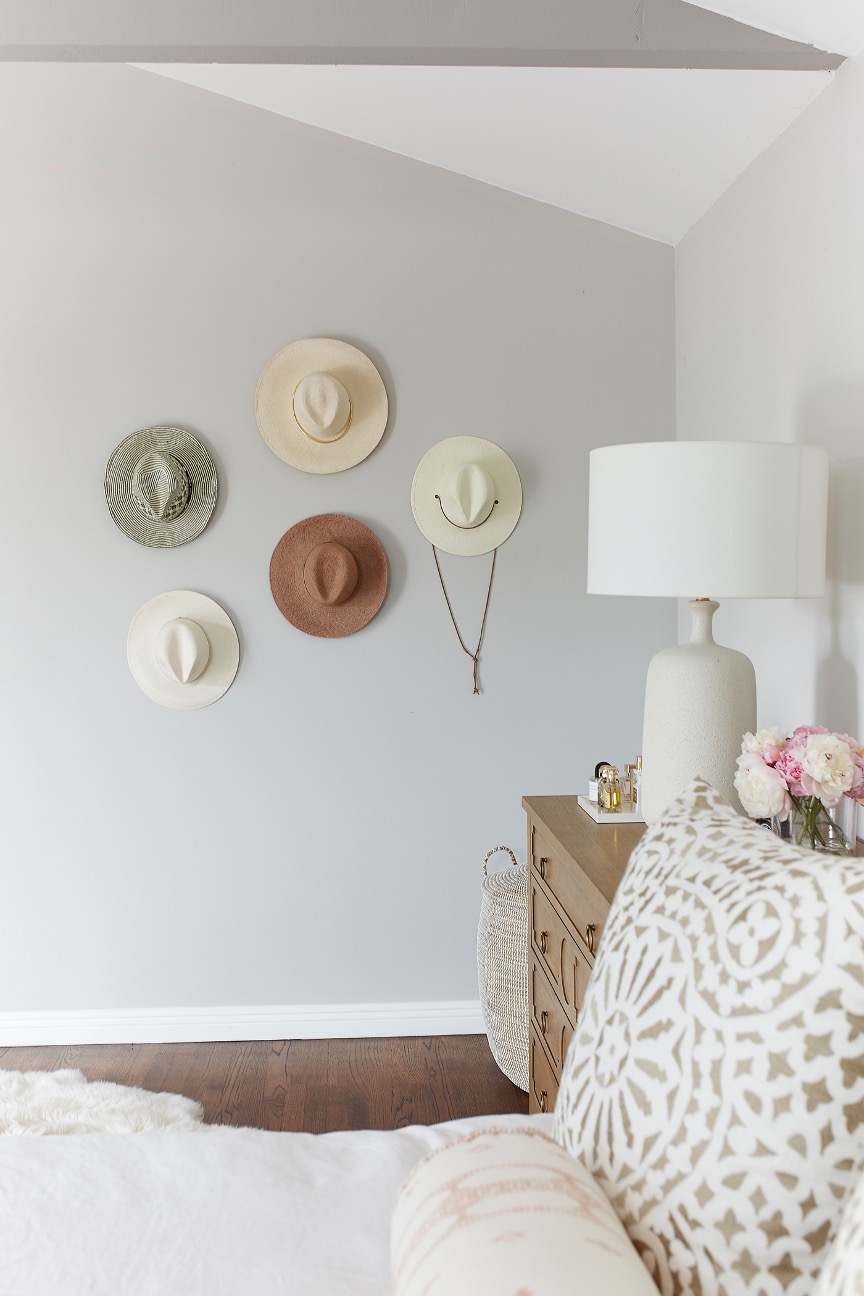 Instead of keeping the, hidden behind doors, hang them on the wall. It will add wonderful texture to your walls and is a simple DIY task that changes the energy in your room immediately.
Under Cabinet Lighting
It truly is amazing how much some strategically placed lighting can add to a room and pull it together. The other good news? You can add this is practically any room in your home and it is very simple!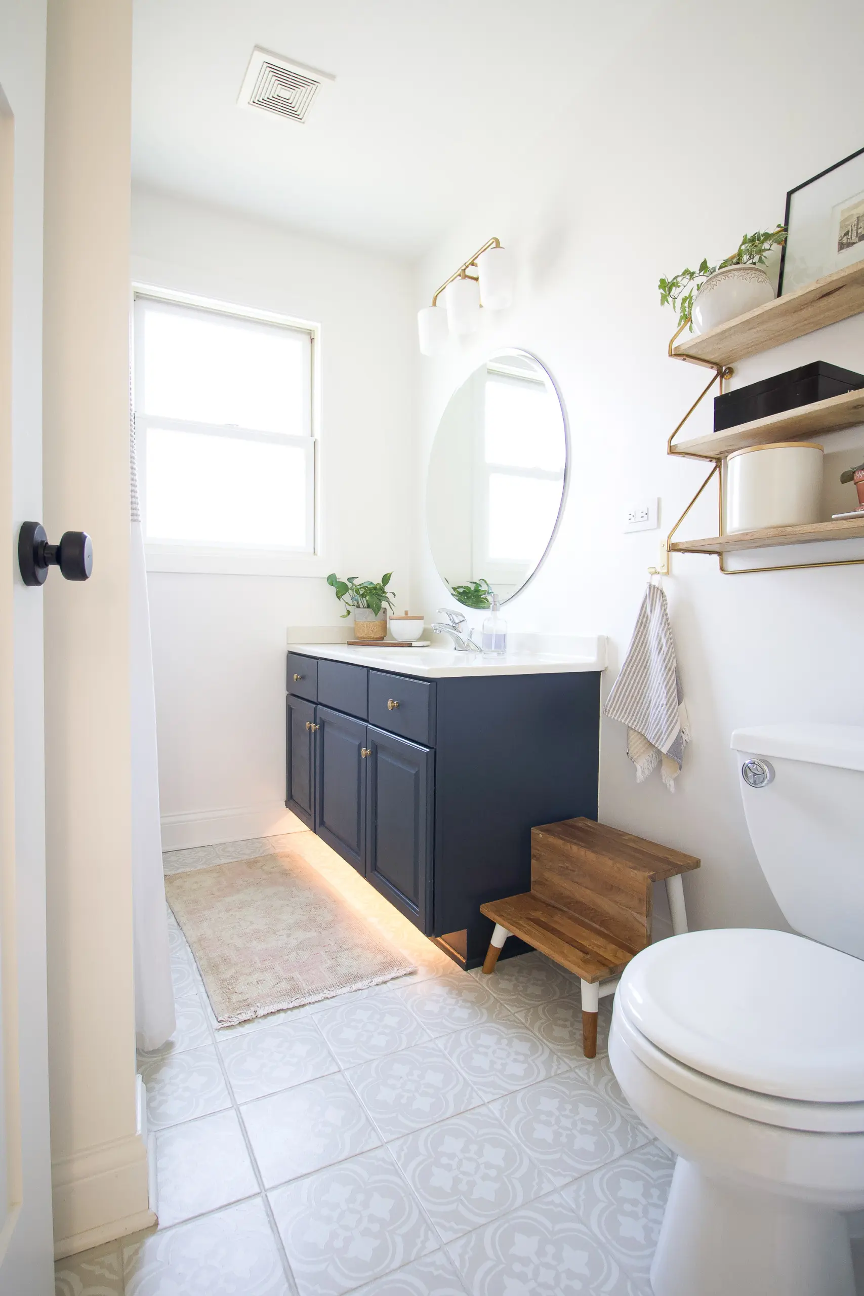 All that is required is a light strip hidden below your bathroom sink, in the kitchen, or in the bedroom. This home décor hack is also easy on your wallet. Win win!