A World of Borderline Wonders: A Look at the World's Most Interesting Country Borders
Let's explore the world and discover some of the strangest, funniest, and most interesting borders that exist! From ancient empires to modern nations, one fact remains: boundaries have been an integral part of civilization since its dawn. Some borders are sources of disputes while others can be downright hilarious.
So let's wander around the globe to see what types of intriguing boundaries we can find!
Borders: They're (Not) Fishy!
Visiting the Poland-Ukraine boundary is an adventure, especially with its long expanse of 535 km! But rather than dreading the turbulent history of this area and its various shifts in boundaries throughout time, you can look forward to unique border markers along the way.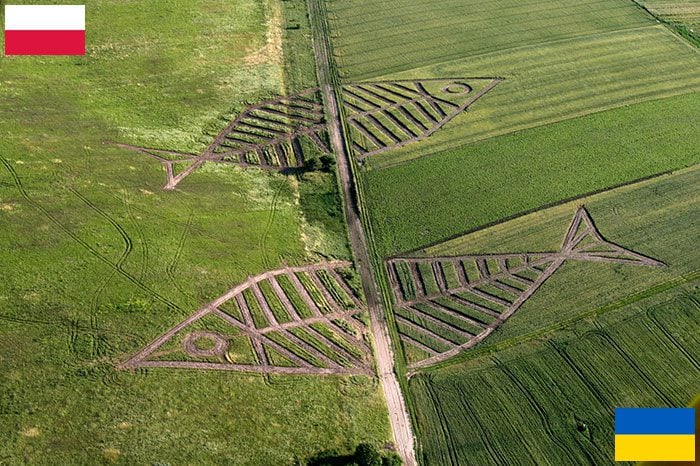 Find out if these giant fish geoglyphs created by Polish artist Jaroslaw Koziara are as interesting as they sound – a symbol of unity that speaks louder than words! See for yourself why visiting this boundary doesn't have to be "fishy".
Get Ready to Tri-Border Hop at The Triple Frontier!
Watch out world travelers, there's a new destination to add to your list – the Triple Frontier! Located in South America, this unique landscape is formed by the convergence of three countries: Brazil, Argentina, and Paraguay. The Iguazú and Paraná rivers serve as natural demarcations between these nations at the tri-border junction point.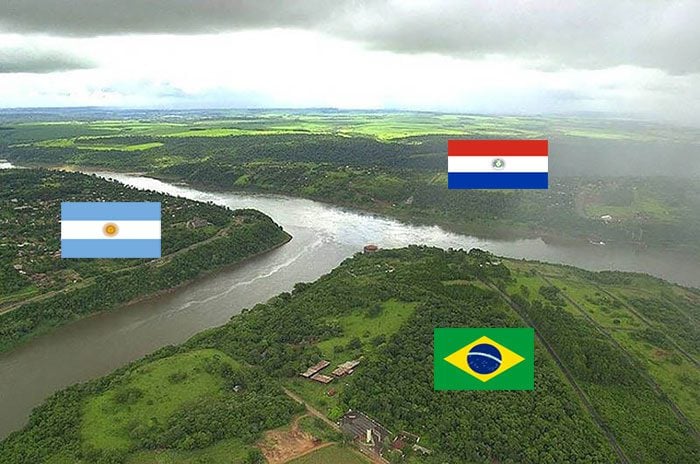 Not only is this spot fascinating from an aerial perspective, but it's also quite bustling with activity below! Three distinct border cities bring a variety of culture from each nation together for sightseers' enjoyment. Plus, you can't miss the impressive Itaipú hydroelectric dam nearby – an incredible feat of engineering that will leave you awe-struck.
National Pride Soaring High at the Eastern Upper Lusatia!
When you witness the gorgeous landscape of Eastern Upper Lusatia, you'll feel national pride soaring high like a bird in the sky! This natural paradise falls within Germany, Poland and the Czech Republic's share of the breathtaking Western Sudetes Mountain range.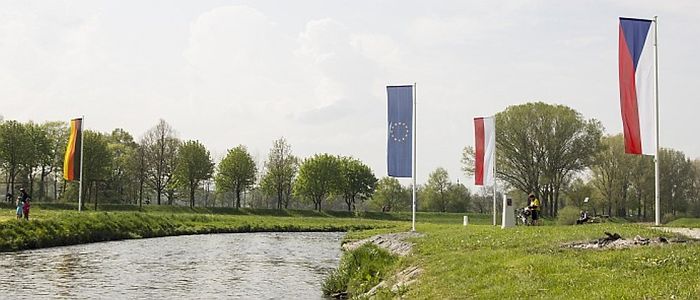 What's more? All three countries meet right here in a remarkable tripoint. It's an unforgettable sight that demonstrates how cultures can come together to create something special – something that not only looks stunning but also represents hope and unity!
A Picture-Perfect Borderline - The Maasai Mara & Serengeti Way
Do you remember those old paintings with majestic landscapes and a human standing in front of it, just as if to say 'This is mine'? Well, this charming gentleman here has adopted the same stance but with much more grandiosity and pride.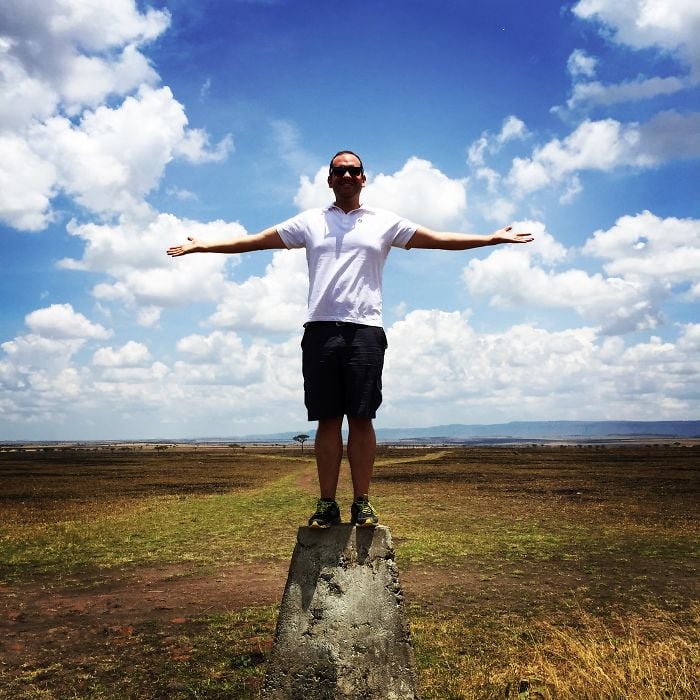 He is standing on a stone marker that separates two huge national reserves – the Maasai Mara and Serengeti National Park. These two parks act as the borderlines to Kenya and Tanzania respectively. Talk about picturesque borders!
A Spectacular Sight: The Mária Valéria Bridge Uniting Two Countries
Look at this wondrous sight. It is of the majestic Mária Valéria Bridge that serves as a link between the cities of Esztergom in Hungary and Štúrovo in Slovakia. Spanning an impressive 500 meters across the mighty Danube, Europe's second-longest river, it stands proudly as a symbol of unity.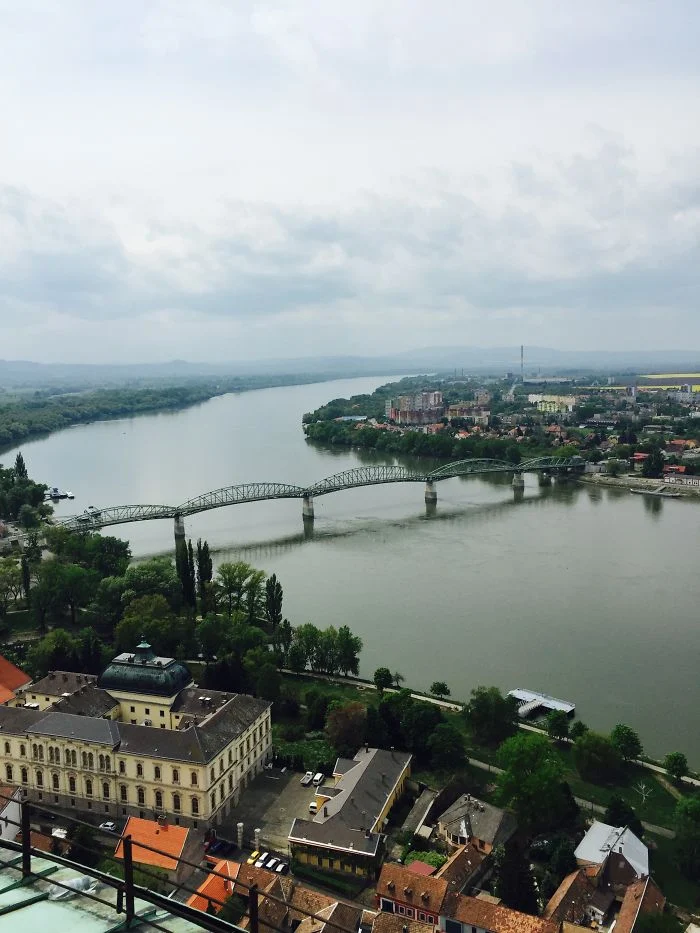 This regal bridge was named after Archduchess Marie Valerie, daughter of Austrian-Hungarian Emperor Franz Josef and Duchess Elisabethof Bavaria. What a beautiful way to honor an unforgettable princess! Whether you take your time admiring it or cross it quickly on your way to explore both countries, don't forget to marvel at this stunning bridge uniting two nations.
Three Countries, One Monument - Welcome to Basel!
If you're looking to get the ultimate experience of three countries in one place, then come on down to Switzerland's beautiful city of Basel! This unique city is situated at the Dreiländereck monument – an iconic monument that marks where the borders of Switzerland meet France and Germany.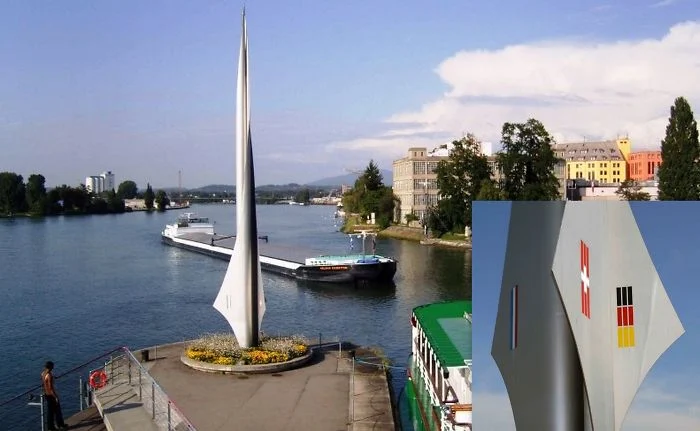 Of course, it is also home to a range of art museums (such as the Kunstmuseum), great educational institutions and stunning architecture. So why not take some time out to explore this fascinating city? From its boundary monuments on Swiss territory, all the way along its scenic Rhine river, this exciting location has something for everyone.
You, Me & We: An Epic Three-Country Cairn Marking the Borders of Finland, Norway and Sweden!
It's official – if you're in need of a real-life version of the game "Risk," then you can't do better than the epic Three-Country Cairn at one of the world's tripoints. Built in 1926 after multiple border changes and political negotiations, this odd stone feature marks where the borders of Finland, Norway and Sweden meet.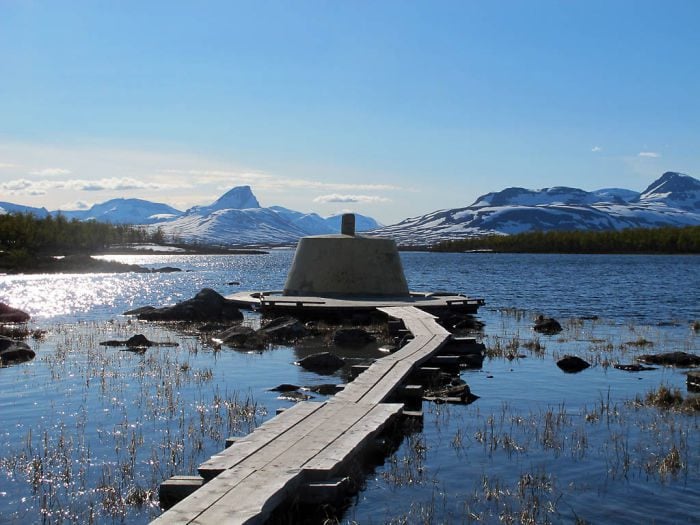 Each of these beautiful nations gives the Three-Country Cairn its own name in their respective language. Not only is this landmark a symbol for regional unity but it is also regarded as being home to the tiniest artificial island on planet Earth!
Hadrian's Wall: Rome's Barrier of Separation
Hadrian wanted to ensure the safety of Roman Britain, so in 122 AD he built an impressive defense – Hadrian's Wall. This incredible wall spanned across the British isle from coast-to-coast and was meant to keep out those pesky Caledonians from Scotland.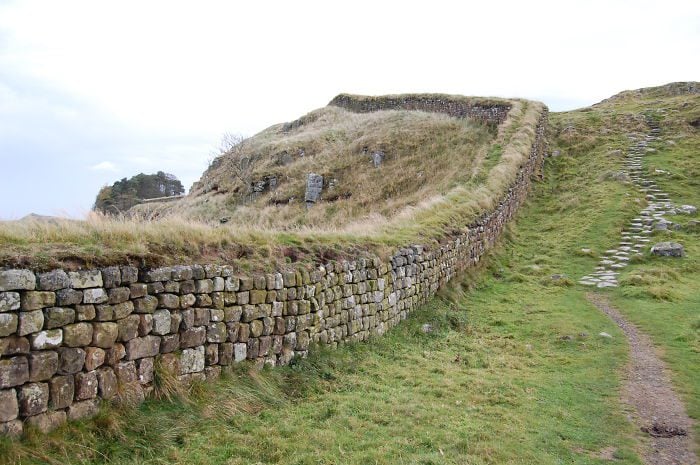 However, even with its sturdy construction, time and looters have caused it to dwindle in size. But hey, at least we have some sightseeing for tourists! Nowadays you can get a unique view of Britain on the wall – just don't forget your passport!
Spectacular Spot for a Quadruple National Get-Together
Did you know that there is an incredible spot on Earth where no fewer than four nations unite? Yes, it's true – Vaalsberg hill and forest near the Dutch town of Vaals is where the tripoint of three countries meet – but wait, there's more. Until 2010, this remarkable region was even a quadripoint!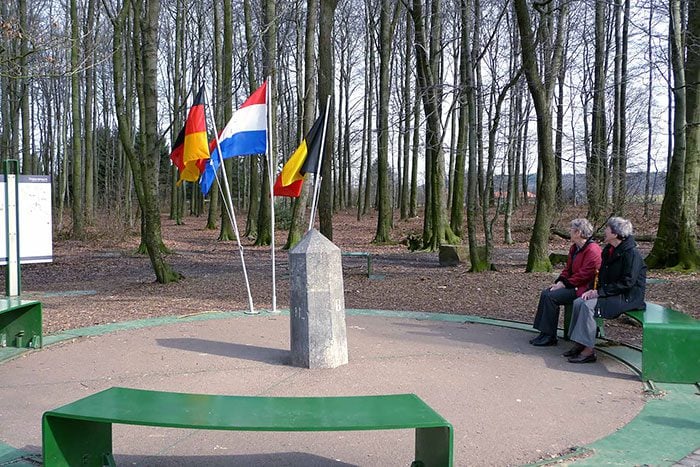 How come? Well, back in 1816 existed the condominium of Neutral Moresnet which was jointly administered by the Netherlands and Prussia.This fourth country eventually became part of Belgium in 1920, so now we just have to hold out for another nation to join before we can get our quadruple national gathering going.
A Thousand Years of Fun at the Oldest Border!
Welcome to The Stripe, a 1200km-long fun zone that has been around for close to a thousand years! Portugal and Spain have enjoyed a lot of 'borderly' love here since 1143, when our Portuguese heroes won the Battle of Valdevez.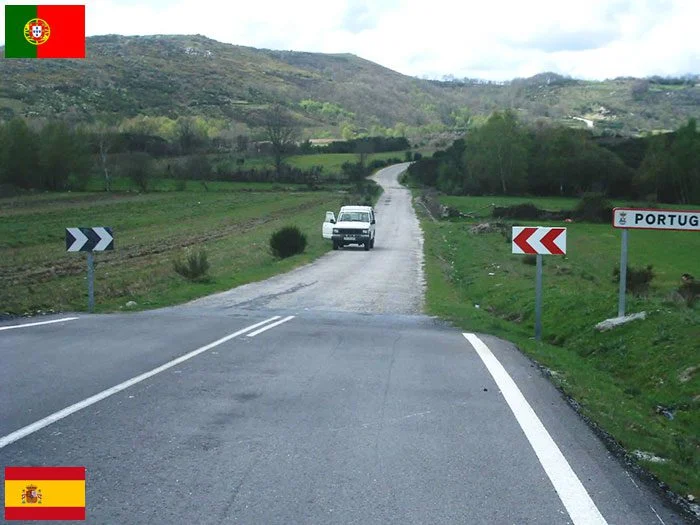 This victory redefined the border's shape which is still intact today – despite some rather serious attempts by party-poopers to ruin it with the Treaty of Alcañices in 1297. So come join us at this fun place where we all make our own rules and celebrate 'borderly' love every day!
Don't Just Take a Dip, Feel the Iguazu Falls' Sizzle!
Are you ready to take the plunge of your life? The stunningly beautiful Iguazu Falls on the border of Argentina and Brazil is just what you need! Whether these majestic falls move you to tears or joy, one thing is for sure – you won't regret taking this leap (metaphorically speaking!).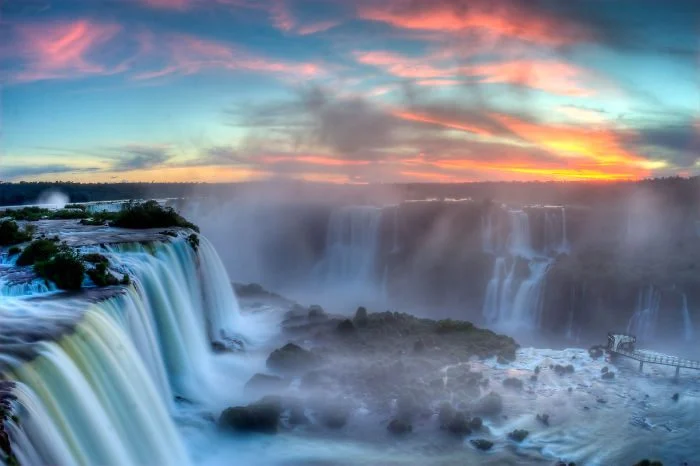 Not only will your eyes be delighted by its sheer beauty, but also by its famous cameo in Marvel's Black Panther. And if that isn't enough for a dynamic experience, how about visiting two UNESCO sites – Parana National Park (Brazil) and Misiones Province (Argentina)? So don't sit there dreaming – pack your bags and come see why everyone is raving about the amazing Iguazu Falls!
The Battle Between Germany and the Czech Republic - Who Will Win?
The epic battle between Germany and the Czech Republic rages on, depicted here atop this border. On one side lies a symbol of Germany's careful forestry management, whilst on the other awaits destruction as bark beetles consume all in their path.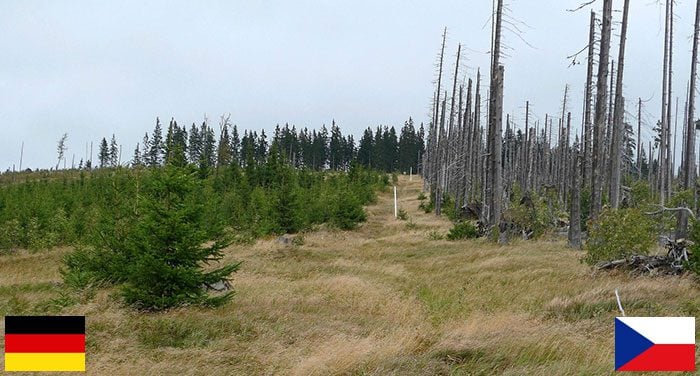 Beware! If left unchecked, these tiny terrors might just win this battle. Let us hope that in time, their devastating spread can be kept at bay with an army of dedicated conservationists!
Zoom Across the Stripe: Zip From Spain to Portugal in Seconds
Ready for a wild ride? Now you can zipline across the Iberian Peninsula and cross two countries in mere seconds! The strip of land known as "The Stripe" is an international border between Spain and Portugal, made up of the River Guadiana (or Odiana).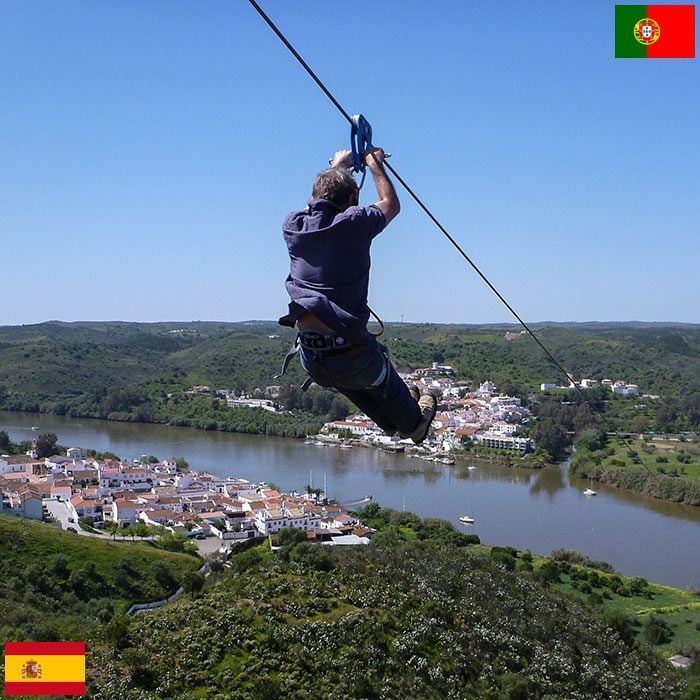 On this extraordinary 720-meter trip, adventurers will zip from Sanlúcar de Guadiana in Spain to Alcoutim in Portugal at an exhilarating speed of 70 km per hour. Picture it: soaring high above the river with panoramic views of two countries – what could be more thrilling?
Two Kingdoms and a Øresund Bridge - Uh Oh!
If you're feeling particularly adventurous, why not take a trip to the spectacularly beautiful Øresund Bridge? Connecting the kingdoms of Denmark and Sweden, it's 8km long with lots to explore! But watch out – if you were looking for flags on either side of the bridge, better check again before you visit – it turns out they were placed on wrong sides and should have been reversed oops!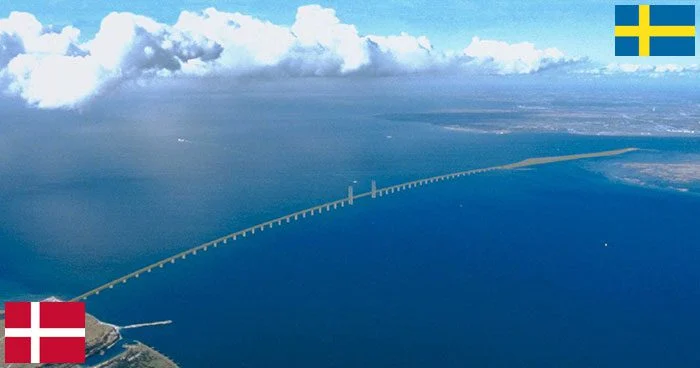 Don't worry though, your journey won't end abruptly in mid-bridge. The Øresund Bridge begins in Malmö, Sweden before running for 8 km across to Peberholm, an artificial island. And from there? You'll make your way through the 4 km Drogden Tunnel that links Peberholm with Amager island in Denmark – quite the incredible feat of engineering!
A Wild Divide: The Long and Winding Norway-Sweden Border
Have you ever dreamt of having Scandinavian nations at your feet? Well, if you happened to be standing along the 1630 km-long dividing line between Norway and Sweden, that's exactly what you'd get!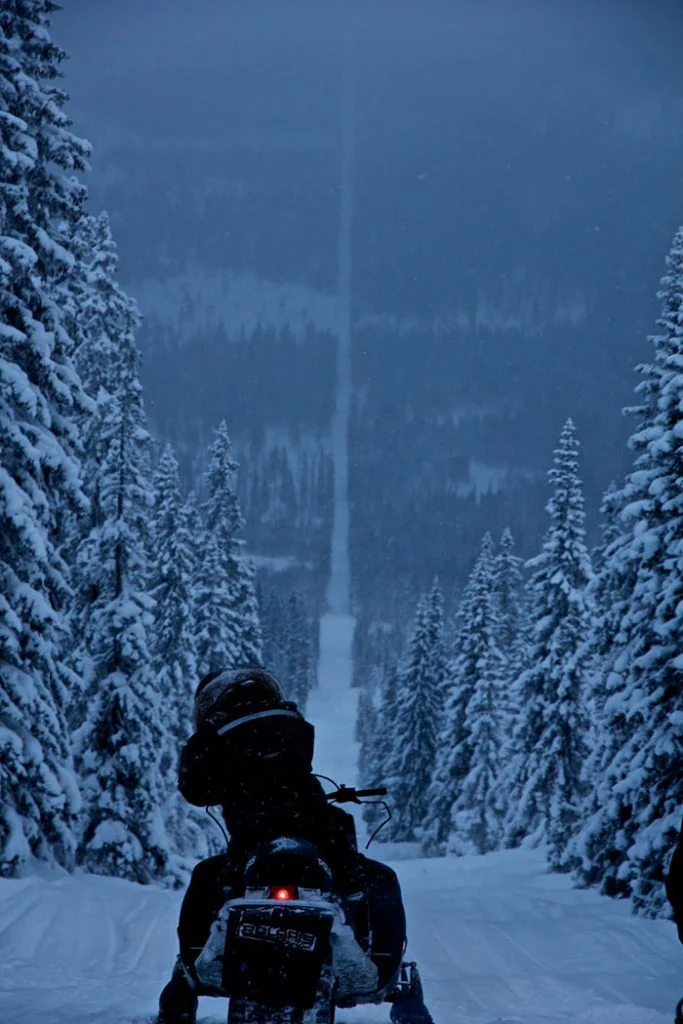 This border runs through frosty and densely forested areas – quite the adventure if you ask us! The formative years of this divide can be traced back to 1814 after the Treaty of Kiel was signed. Though crossings were free and easy until recently, Covid has made sure that adhering to necessary restrictions is a priority now.
Crossing Borders (Literally!) – Uniting Sweden and Norway at the Svinesund Bridge
It's not just trees that divide Sweden and Norway – the border literally cuts through a bridge! And if the stories are true, it was the same bridge that served as union between these two countries.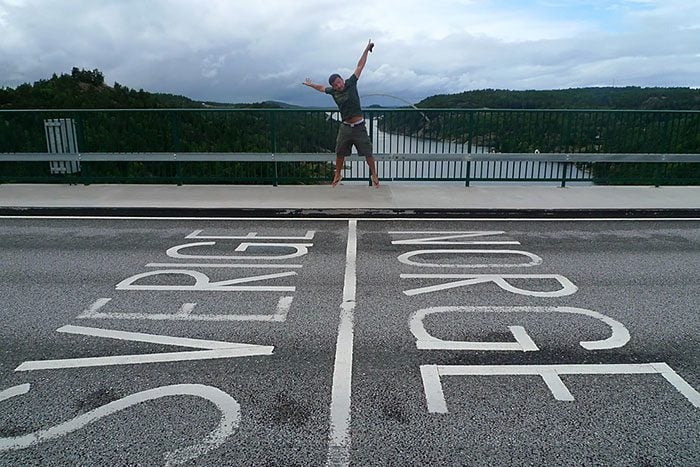 Back in 1814, Norway joined forces with Sweden to form an epic alliance: The United Kingdoms of Sweden and Norway. They stuck together until 1905 when Ol' King Haakon VII declared independence for his people. It's been a wild ride since then – but one thing stands true: The Svinesund Bridge will always unite them.
Discover Unexplored Beauty of Usedom Island
Welcome to the gorgeous Usedom Island—a paradise located in the Baltic Sea, stretching 66 km long and 23 km wide! Here, you have the fascinating experience of exploring two countries at once: Germany and Poland.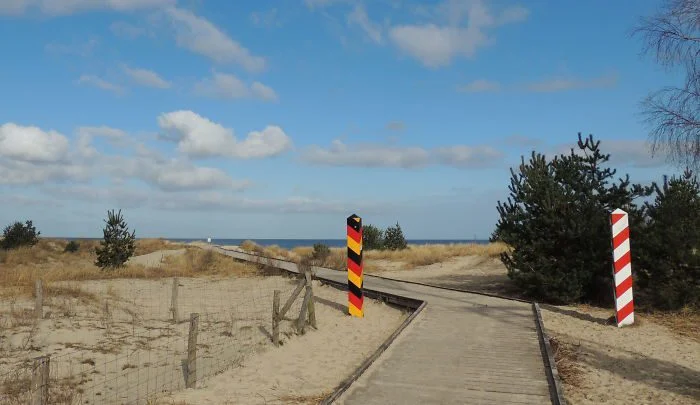 A population of 76000 people reside here and give this place a special charm. On the German side, you can marvel at its unique architecture and visit three beachside towns full of resorts. Meanwhile, head over to the Polish side for a trip down memory lane with its two-century-old lighthouse plus a Museum of Sea Fishery that's sure to leave you mesmerized.
Exploring the Karawanken: Fun in the Mountains!
Are you looking for a fun and exciting way to explore Europe? Why not take a trip to the magical Karawanken mountains, situated between Austria and Slovenia. With miles of rolling hills and rocky peaks, tackling this mountain range is an adventure you won't forget.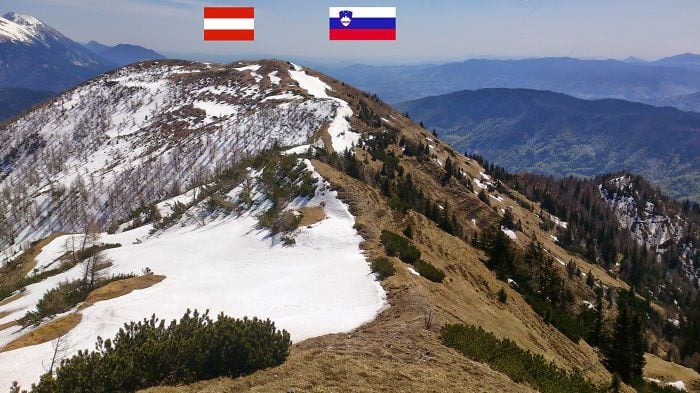 The best way to venture across these majestic mountains is by taking either the Wurzenpass or the transnational Karawanks Motorway Tunnel. The Wurzenpass takes you from Carinthia in Austria all the way to Podkoren in Slovenia, offering striking views along your journey. And if tunnels are more your thing, then why not take a ride through history with 1991's Karawanks Motorway Tunnel!
The Bewitching Bend of the Prut: A Tale of Two Countries
Tales tell of a beguiling flow that lies in the East; a river that serves as not only sustenance, but also borders for two countries. It's the captivating "Prut", that winds between Romania and Moldova, and even reaches its way into Ukraine.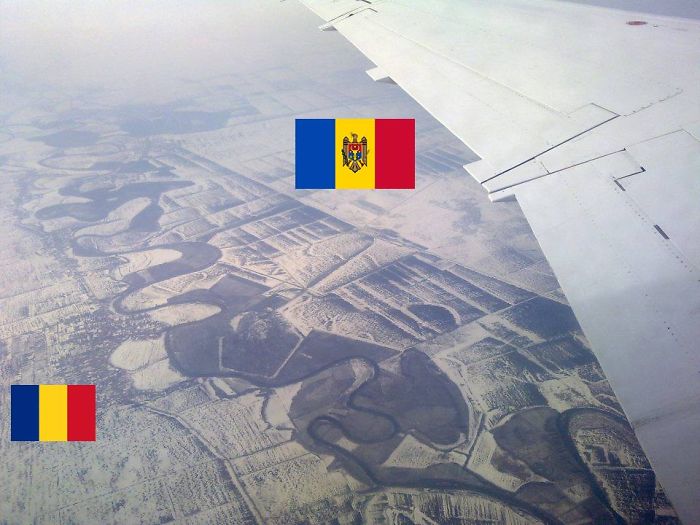 Now hop aboard your trusty helicopter, gather up your binoculars, and take a scenic flight over this impressive stream. If you have the chance – don't miss out on experiencing an aerial view of one very bewitching bend – The Prut.
Bridging Nations Across the Paraná! - Friendship Bridge Joins Brazil and Paraguay!
The great Paraná River, second longest in South America, has been the site of an incredible feat of engineering since 1965 – The Friendship Bridge. At 290 meters long, this impressive structure joins two amazing countries – Brazil and Paraguay.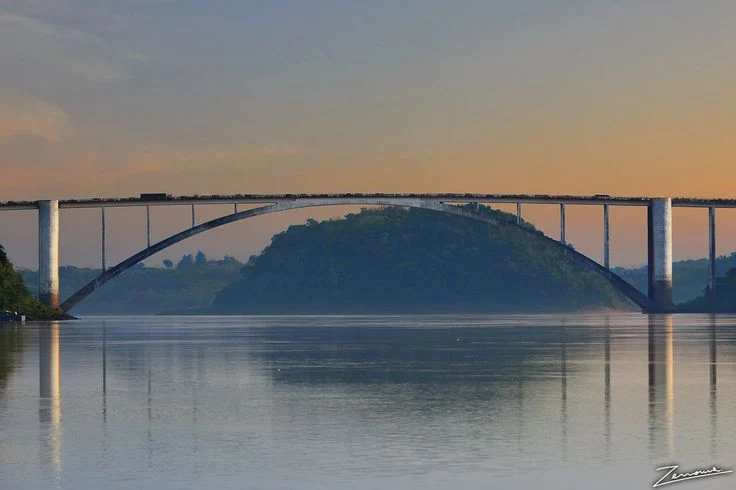 This bridge is more than just metal and wires; it symbolizes a connection that allows for unhindered trading between both nations' cities of Foz do Iguaçu in Brazil and Ciudad del Este in Paraguay. So why not take a journey down the Paraná River to experience its natural beauty as well as this modern marvel that stands proudly over its currents?
Feast Around the World at This Wild Table!
Have you heard about the world's most treasured table? Found nestled in Slovakia, just over the border from Austria, this unique little table marks a very special place. It's a tripoint where three countries meet – and it may be your passport to an international culinary adventure!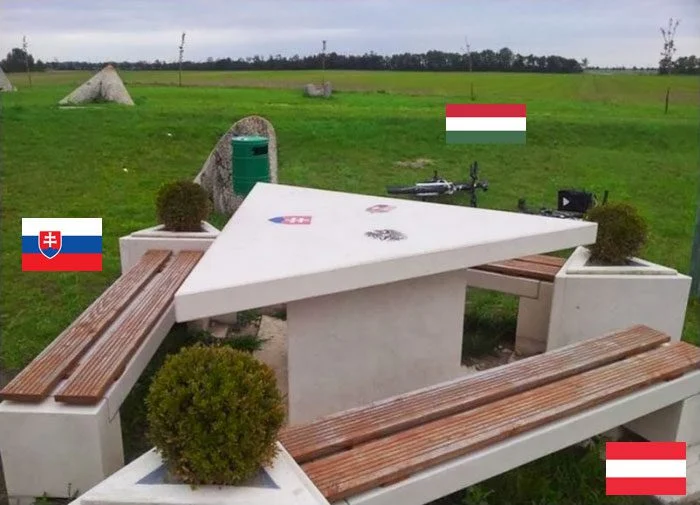 Sit down at this one-of-a-kind table, and you'll be having lunch or snacks with neighbors from Austria, Slovakia, and Hungary. Who knows how long it's been around, or who decided to build it – all we know is that it's awesome for international travel without ever leaving your seat!
The Most Baffling City Border Ever - Welcome To Baarle-Hertog
Have you ever seen a border that looks like it was made up of a jigsaw puzzle? Welcome to Baarle-Hertog, the Flemish municipality situated between Belgium and The Netherlands! This peculiar twist of geography isn't just an optical illusion; centuries old treaties are responsible for this stunningly unique border.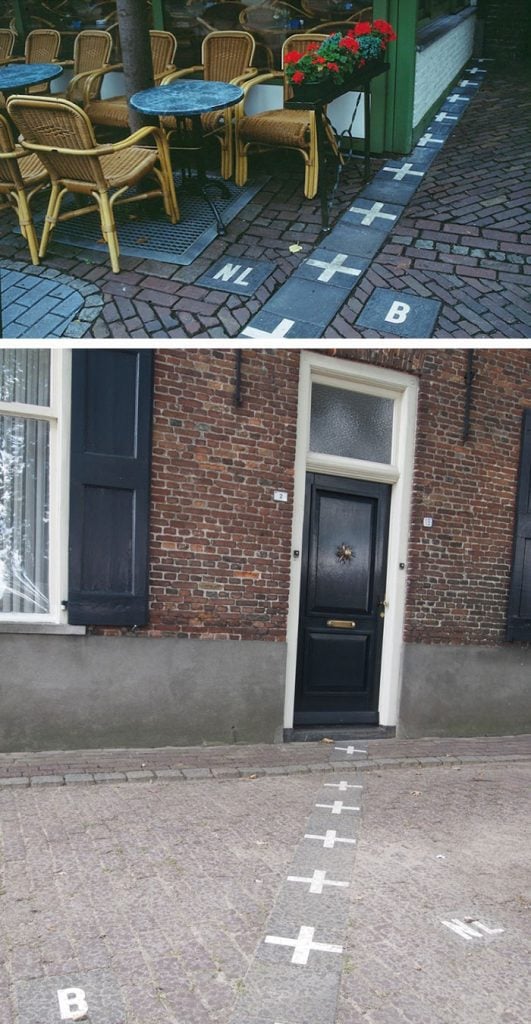 Viewing its picturesque landscape, we can see how sections of the municipality are divided by this strange marriage with its Dutch neighbor, Baarle-Nassau. You won't find any other place in the world quite like it! Whether this baffling blend captivates or mystifies you, one thing's for sure – visiting Baarle-Hertog will be an experience unlike any other!
Australia, the Land-Locked Country with a Lot of Maritime Neighbours!
Australia – land-locked but surrounded by water! That's right folks, don't let the lack of any landbound borders fool you; this country and continent all in one sure has plenty of maritime borders.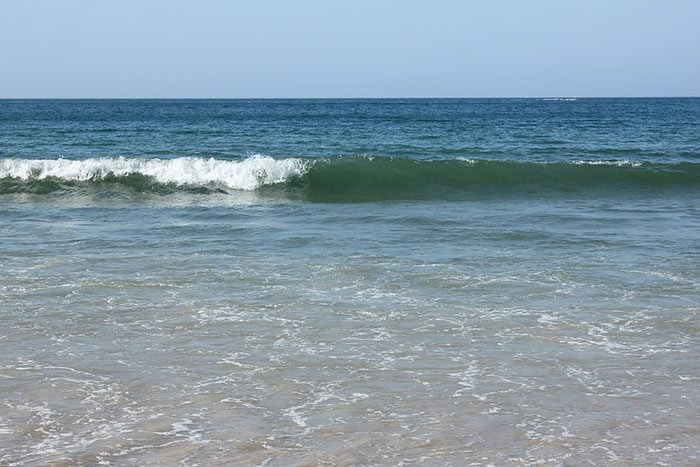 From New Zealand to Papua New Guinea and from New Caledonia to the Solomon Islands – there sure is a lot of 'new's in the neighborhood. So while Australia may seem like an isolated hermit, it sure looks like they have plenty of friends out there in their very own little corner of seaside paradise.
Dashing Across the Globe: The Epic 8,890km Adventure of America and Canada!
We've heard of epic journeys taking us from one corner of the world to another. But have you ever imagined a border stretching 8,890 km? Well, this is exactly what you get when traveling along the USA-Canada border.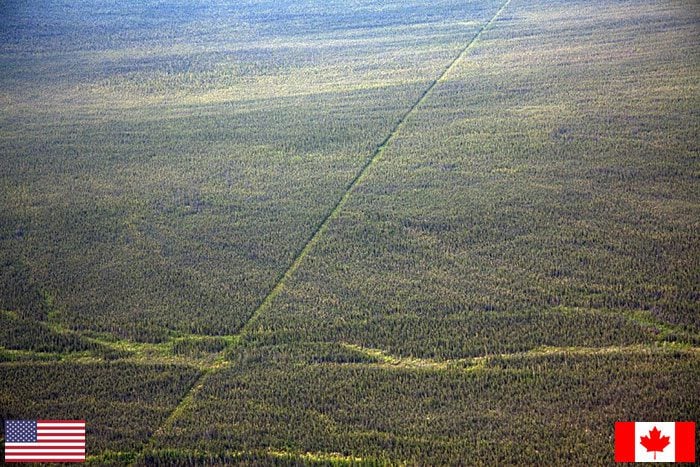 It all began in 1783 when America won its War Of Independence. But it wasn't until 1908 that this boundary really took shape with the famous Treaty of Paris between the USA and UK. Nowadays, it's known as the longest border on Earth.
Come Climb the Krzemieniec - Where Three Nations Collide
Come and experience a unique three-way adventure atop the Slovakian mountain of Krzemieniec! You'll be met with a spectacular view at the peak, where Poland, Ukraine, and Slovakia converge.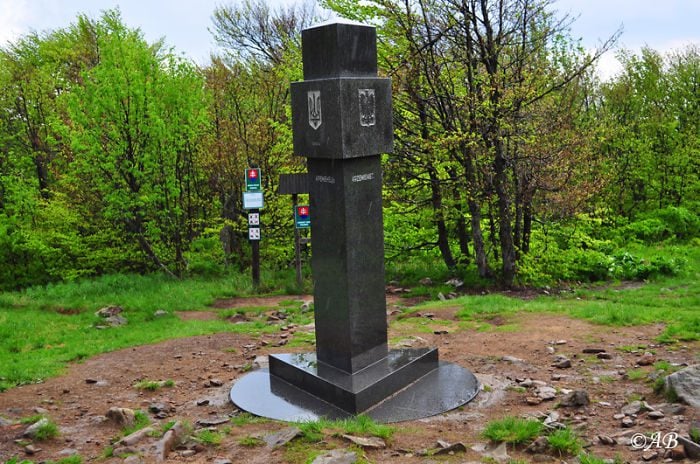 Embark on an eye-opening journey as you explore the many wonders of this tripoint. Among them is the gray stone marker post – who made it? We may never know due to pesky language barriers. Plus, catch glimpses of three different national parks from each country and UNESCO Stužica Reserve to add color to your trip.
Two Countries, One Crossing -- Exploring the Unique Estonia-Russia Border!
There's something special about the 294 km long Estonia-Russia border – and it's not just the fact that it separates two countries! It all comes down to one magical spot that combines natural beauty and historical grandeur – the Narva River and its accompanying bridge.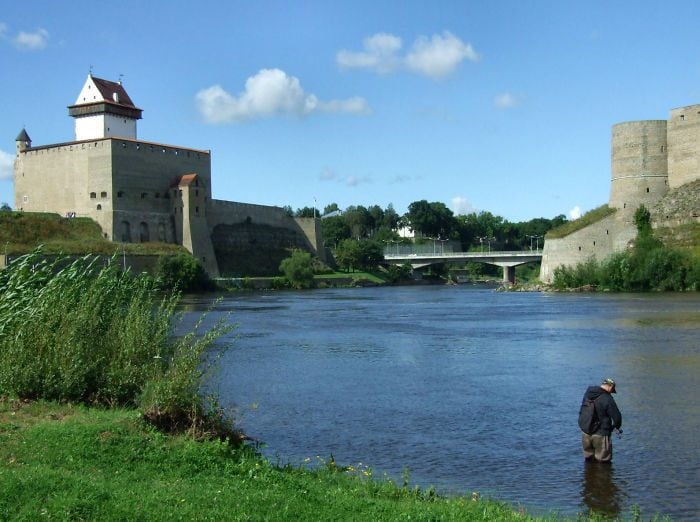 On one side of this incredible crossing lies Hermann Castle in Estonia, while Ivangorod watches over from Russia on the other. Whether you call it a bridge or a riverbank, this is truly an incredible sight to behold!
A Visual Treat of a Cross-Border Wonder: The Olza River!
Have you ever had the privilege of witnessing arguably one of the most wonderful and mysterious sights there is? Well, we present to you an awe-inspiring aerial view over the mystical Olza River. This river meanders for almost 100 km along both Czech and Polish regions – Karviná and Frýdek-Místek on one side, Cieszyn Silesia on the other, forming an absolutely beautiful natural border.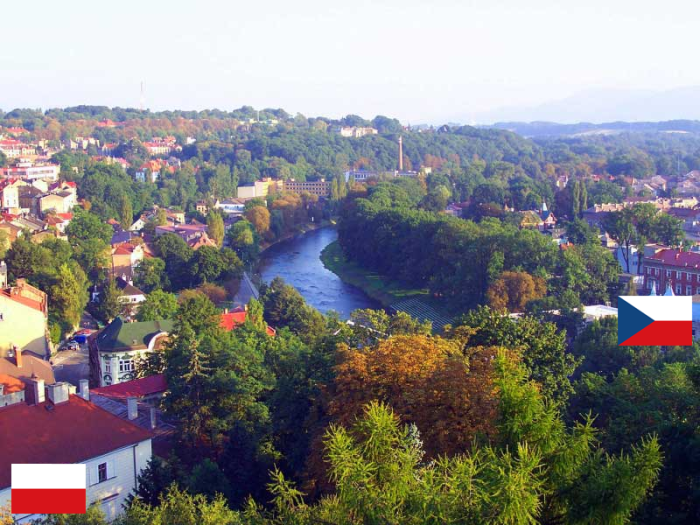 The enchanting beauty of this border has attracted various creators like poets, essayists, and artists, each having their own unique take on it. What better way to appreciate its magnificence than taking in the mesmerizing view from high up above?
The Far-Flung Waterfall Wonders of Ban Gioc
Tucked away in the Southeast and eastern regions of Asia lies a hidden gem nestled between two countries – the majestic Ban Gioc Falls! These jaw-dropping waterfalls, located between China and Vietnam's Karst hills (home to Trùng Khánh district in Vietnam, and Daxin County in China), are the fourth largest along international borders.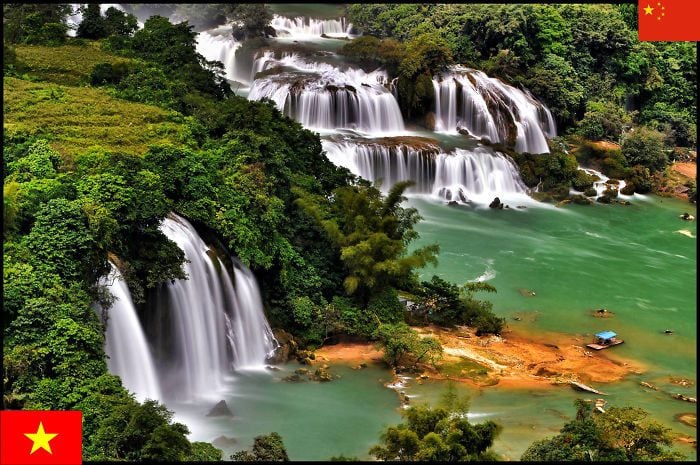 And what's even cooler? Depending on the amount of rainfall or river flow, these unique falls may transform into either one or two separate cascades. Not only is it incredibly beautiful, but this magical spot is also home to species of plant life that you can't find anywhere else.
Literature Knows No Borders: The Haskell Free Library & Opera House
Step aside, UN Security Council – the Haskell Free Library and Opera House is making international relations fun! Built in 1904 between the two countries of Canada and US, this charming Victorian-style building straddles the provinces of Quebec and Vermont, as well as the towns of Stanstead and Derby Line.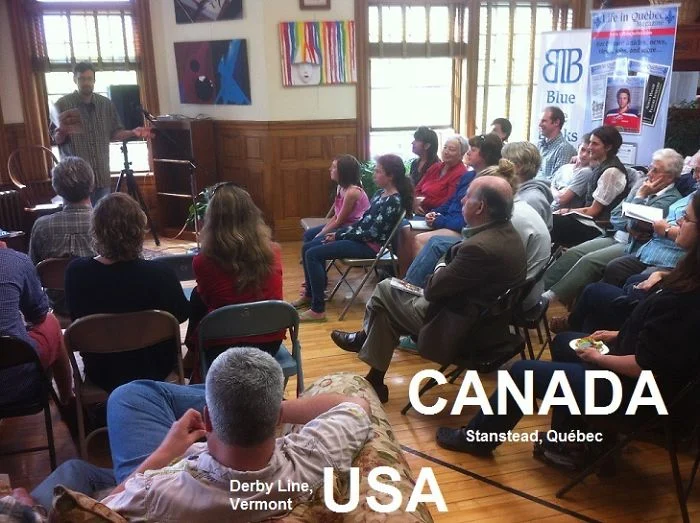 Its timeless exterior isn't the only thing that stands out; with a collection of over 20,000 books, it's no wonder why it has been deemed a heritage site for both nations. Oh, did we forget to mention? It also has two different addresses!
Confused by Borders? Luxembourg, Germany and Belgium Agree on One Thing!
Who would have thought it! Three countries – Luxembourg, Germany, and Belgium – all agree on one thing. They found common ground in the Sûre River that flows through the Belgian province of Luxembourg – not to be confused with Luxembourg the country.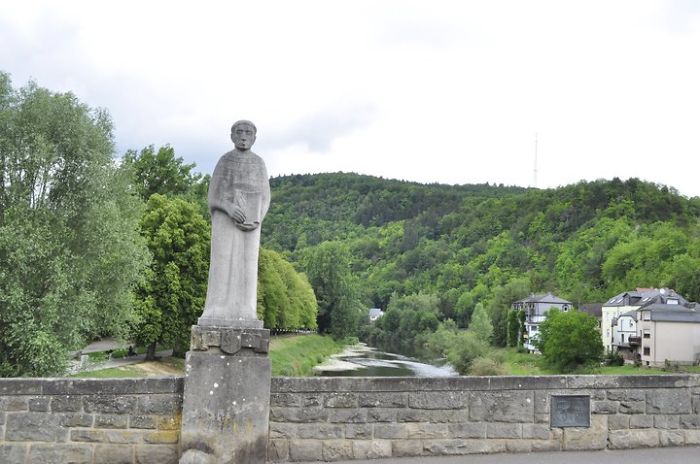 Yes, things can get a bit confusing when it comes to geopolitical borders but this river has saved the day! The other two rivers forming their shared border are the Moselle and Our rivers. So there you have it: three countries happily cooperating together by simply agreeing on which body of water is theirs!
Who Knew? A Fun Look at the Forgotten Country of Andorra!
You may not have heard of it, but believe it or not, Andorra is actually a real country! This small sovereign state with its area of 470 km2 lies in the Pyrenees mountain range, sandwiched between France and Spain.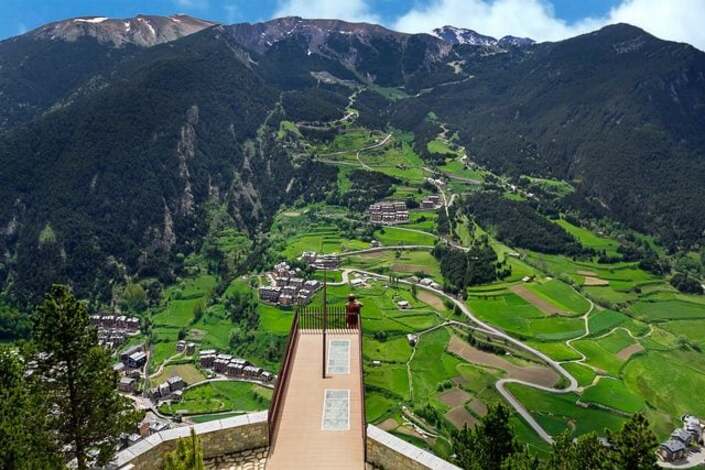 With its total population barely amounting to 80000 people, this landlocked nugget is ruled by co-princes – the French President and Spanish Bishop of Urgell – who jointly exercise their sovereignty over Andorra. Not exactly your typical monarchy then – surely there must be more to this mysterious country than meets the eye?
Keep Your Eyes on the Sky – Neighborly Love in Ukraine and Slovakia!
Stretching along the western border of Ukraine lies an interesting slice of history – the city of Uzhhorod! Not only is it a home to many, but also an airport… Just 90 meters from the Ukrainian-Slovak border. This closeness has led to a peculiar agreement between both countries that can't be seen anywhere else in the world.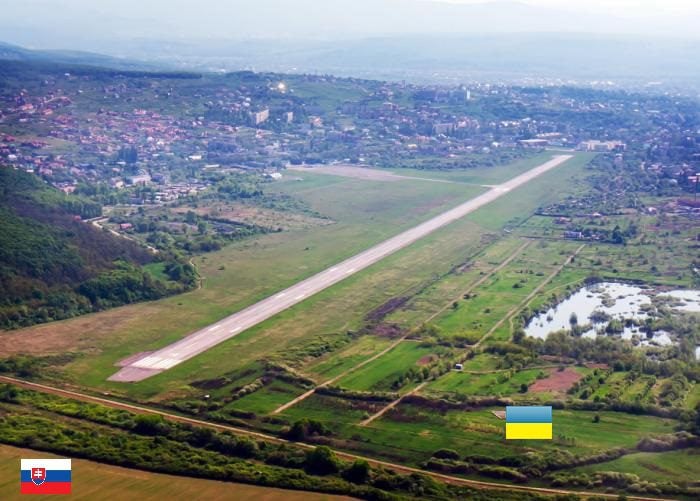 All planes taking off or landing at Uzhhorod have to use Slovak airspace due to their proximity to each other! It's these special treaties that have made this rather bizarre situation possible. So keep your eyes up high next time you're near this corner of Europe; as friendly Ukrainian-Slovak love takes flight – quite literally!
Time to Meet the Little Liechtensteiner!
Have you ever heard of the little Liechtensteiner? Nestled in the Alps between Switzerland and Austria, this tiny Principality is only 160 km2 in size. But don't let its miniature stature fool you – it's a constitutional monarchy that packs a punch!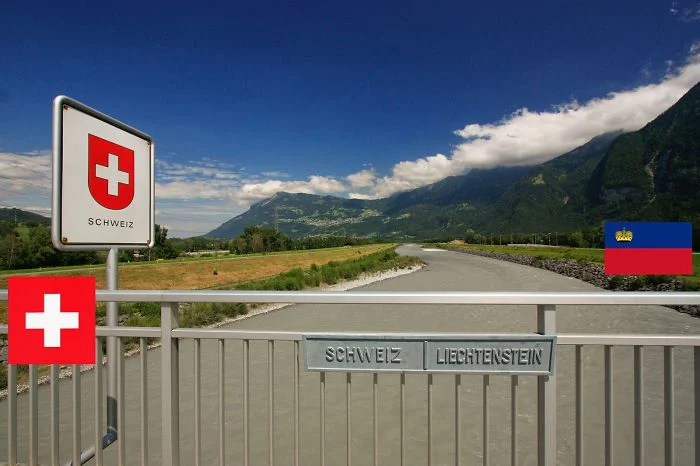 Ruling over Liechtenstein is none other than His Serene Highness Prince Hans-Adam II of Liechtenstein. The Rhine River serves as its border with Switzerland but also supplies life-giving water. This unique microstate has garnered international attention for its rare natural beauty, making it an absolute must-see destination for curious travelers!
Conquer the Enchanting Col Agnel!
Are you ready for an adventure? Then journey to the beautiful Col Agnel mountain pass and explore its breathtaking French-Italian border. At a whopping 2744 m, it is the third highest paved pass in Europe! Moreover, historians believe that Hannibal of Carthage may have used this very route during his war campaign – how cool is that?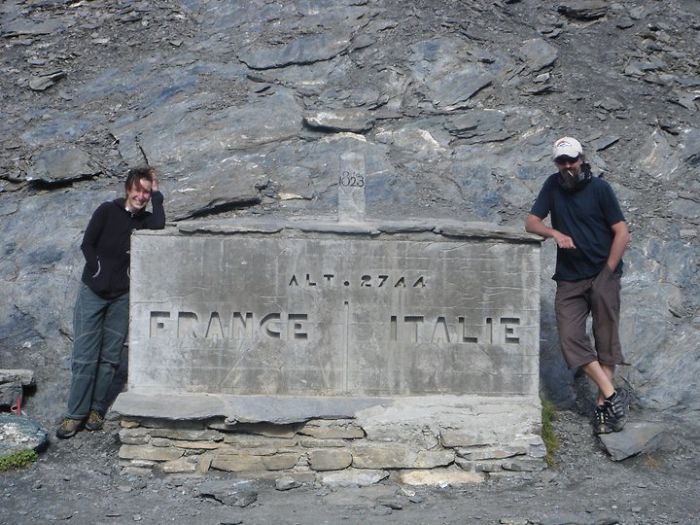 If cycling is your thing, then put on your helmet and explore the picturesque marker stones around Col Agnel. And if stories from bygone eras fascinate you, then brace yourself for a time travel experience like never before! So come and conquer the enchanting Col Agnel today!
The US-Mexico Border: Bringing Neighbors Together
Do you want to know about the area where two countries are uniting in friendship? Look no further than Naco, Arizona, home to a border-straddling phenomenon that's breaking down barriers. Naco, AZ is a small town located in Cochise County, and it has its own twin on the other side of the fence: Naco, Sonora.
Despite what we commonly hear from American news sources about this area, residents of both sides have come together with something special—volleyball games! Yes friends, join in on all the fun as townsfolk take turns crossing over the border for some volleyball action – because here at Naco there's plenty of space for everyone to play!
A Dual Display of Greenery: Haiti and Dominican Republic in the Spotlight
Head away from the Atlantic Ocean to the Caribbean Sea, where you'll find a particularly divided island— Hispaniola. It's split between Haiti and the Dominican Republic, with DR taking up more space.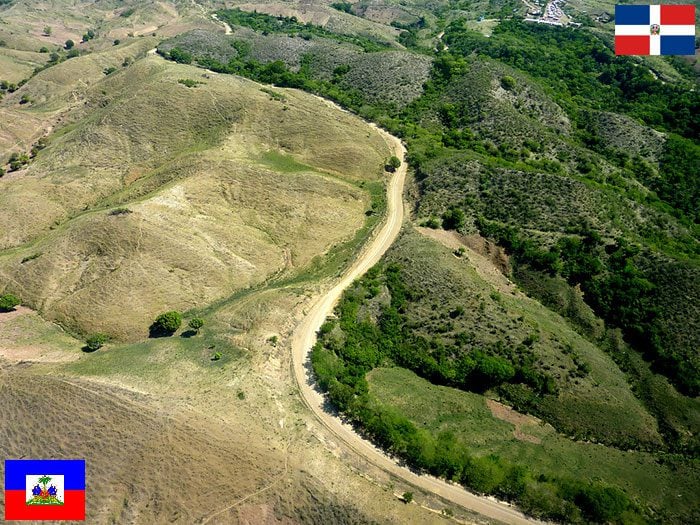 The first thing you'll probably notice is their starkly different level of greenery; indicating a difference in environmental protection implementation. While we can only hope for changes in the future, Hispaniola right now is a classic case of how two countries do things differently!
Welcome to Zavikon Island: Twice the Fun, Half the Confusion!
Forget what you have heard about this small and stunning island! Welcome to Zavikon Island part of Thousand Islands in St. Lawrence River along the USA-Canadian border – but surprise, surprise! It is entirely in Canadian territory.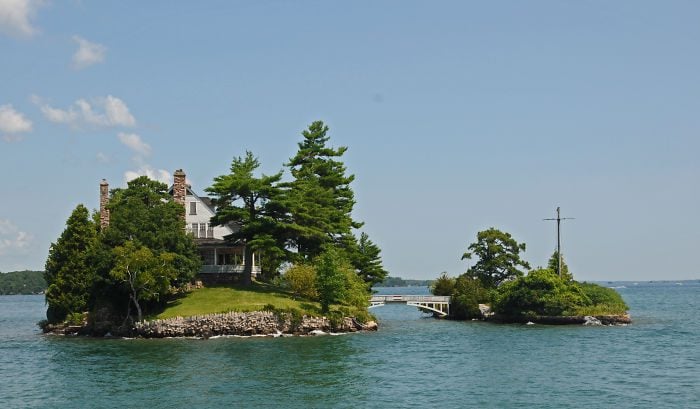 The funny part? This popular tale of the US and Canada sharing Zavikon Island has been doing rounds for years but no one knows who started it – Come experience twice the fun and half the confusion at beautiful Zavikon Island. With its unmatchable beauty, it promises a unique holiday adventure that will remain etched in your memory for life!
Lopsided Conservation: A Tale of Two Countries' Different Perspectives!
From Haiti and the Dominican Republic to the River border between Brazil and Bolivia, it seems that not all countries are on the same page when it comes to conservation efforts. Take a look at this satellite image taken in 2008 of Bolivia's Pando Department and Brazil's Acre province, which show dramatically different land usage practices!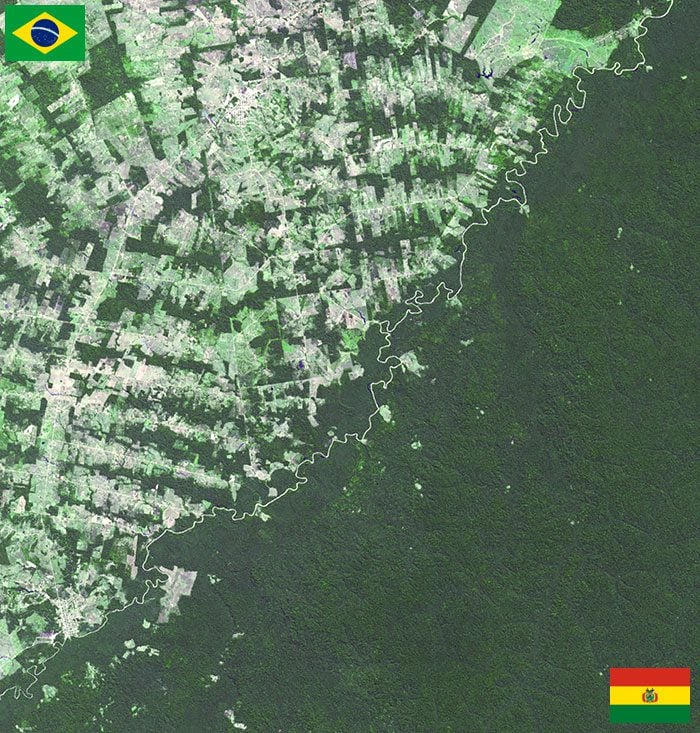 Brazil has adopted an aggressive stance on forestry and land conversion plans such as creating farming land and cattle ranches contrasting with Bolivia's more laid back approach. So why don't we take some inspiration from our friends down south and start investing in greener ways?
Stuck Between Two Nations: The Story of the Confusing Station at Nova Gorica
Do you know where the border between Italy and Slovenia is? Well, if you look closely enough, you'll find it at the Slovene railway station of Nova Gorica. You see, this station forms a part of both the municipal town of Nova Gorica in Slovenia as well as bordering with Italian city Gorizia (or Old Gorica according to Slovenes).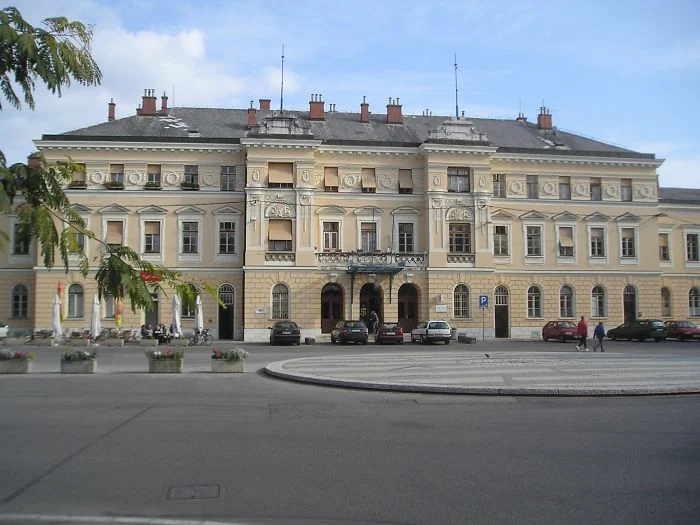 This is all thanks to Transalpina Square that marks out this boundary line – and what an interesting history it has! It's changed names and nationalities more than once due to numerous wars, annexations and treaties dating right back to 1906 when it was first completed by Austria. Wow! So much drama over such a small spot – no wonder they call it 'the confused station'.
Believe it or not, the UK has a Border with Spain!
Believe it or not, the United Kingdom does indeed have a border with Spain – no passport necessary! That's because Gibraltar is an overseas territory of the UK located on the Rock of Gibraltar at the foot of the Iberian peninsula. It may seem strange since they're separated by water, but this little bit of land is Brit property.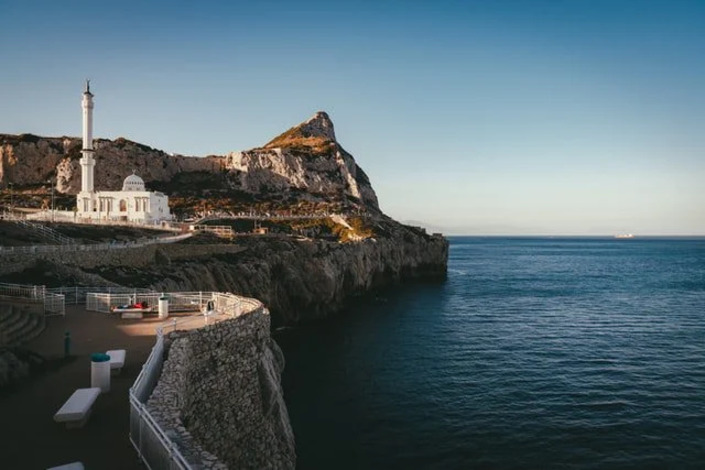 In 1704 during the War of Spanish Succession, it was captured from Spain and formally ceded to Britain in 1713. So if you want to explore both countries' cultures without crossing international borders – head on over for some fish and chips tapas!