A Pod Of Dolphins Circling This Swimmer Ended Up Saving His Life
Adam Walker was definitely no ordinary swimmer. He pushed himself to the limits, taking on challenges that most would never dare. However, on one of his swims, he encountered something he never expected – a school of dolphins that helped him fight for his life!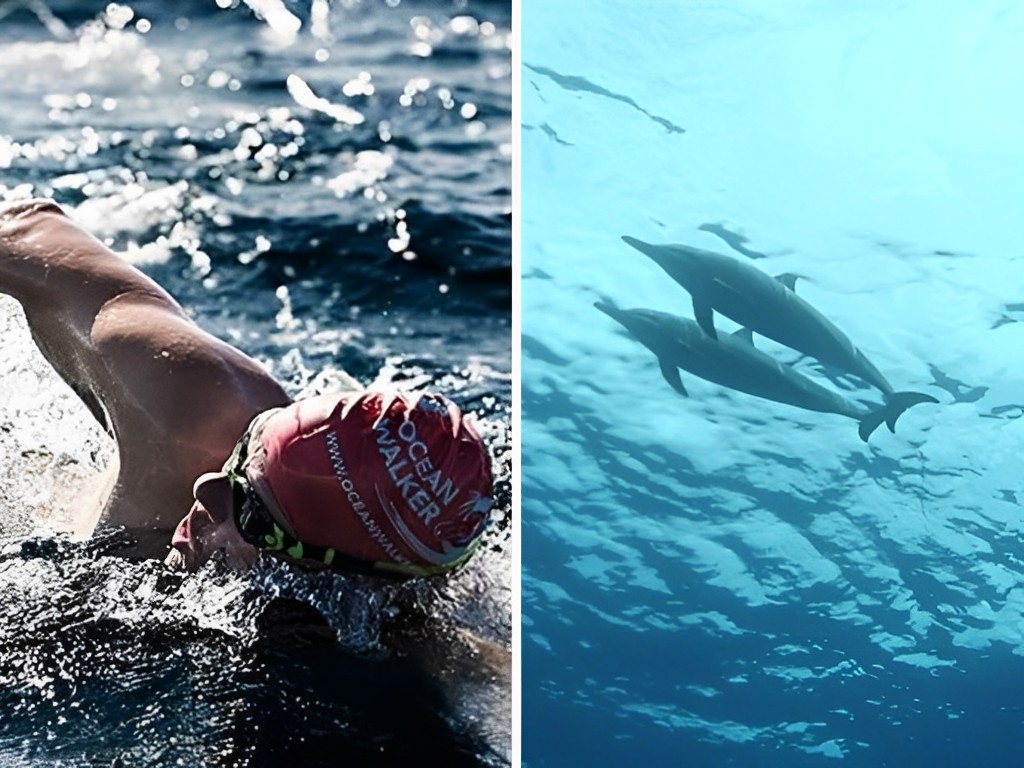 Despite his experience as a swimmer, he had never come face to face with such danger before.
From Rugby to Swimming: Adam Walker's Inspiring Journey 
Adam Walker's journey from a promising rugby and cricket player to a successful swimmer is truly inspiring. Growing up in Nottingham, U.K, Adam had a passion for sports and was a star athlete in school.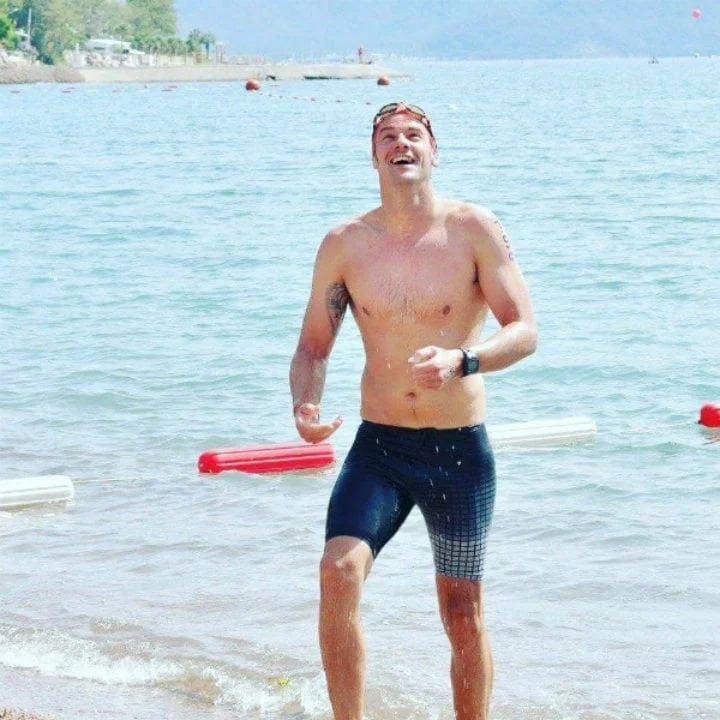 However, his dreams of becoming a professional athlete were cut short due to back and knee injuries. Despite this setback, Adam was determined to stay active and was advised to take up swimming as an endurance activity.
From Fun to Fame: Adam Walker's Swimming Adventure 
Adam Walker's life took an unexpected turn when he decided to take up swimming to stay healthy. Little did he know that this simple decision would lead him on a wild adventure and eventually make him famous.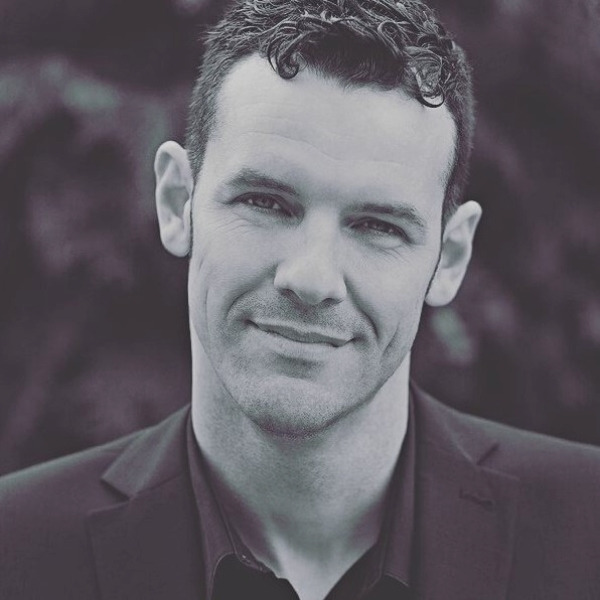 After decades of swimming for fun, Adam left university and began a career in sales. Although he was successful, something was missing from his life. That's when he decided to take his swimming to the next level and compete. His hard work and dedication paid off, and soon he was a renowned swimmer, making a name for himself in the world of sports.
From Job Loss to Channel Swimming: Adam Walker's Inspiring Journey
Adam Walker was on a plane to Australia for a family holiday in 2006 when he stumbled upon a movie that changed his life. On A Clear Day You Can See Forever was about a man who chose to swim the English Channel after losing his job.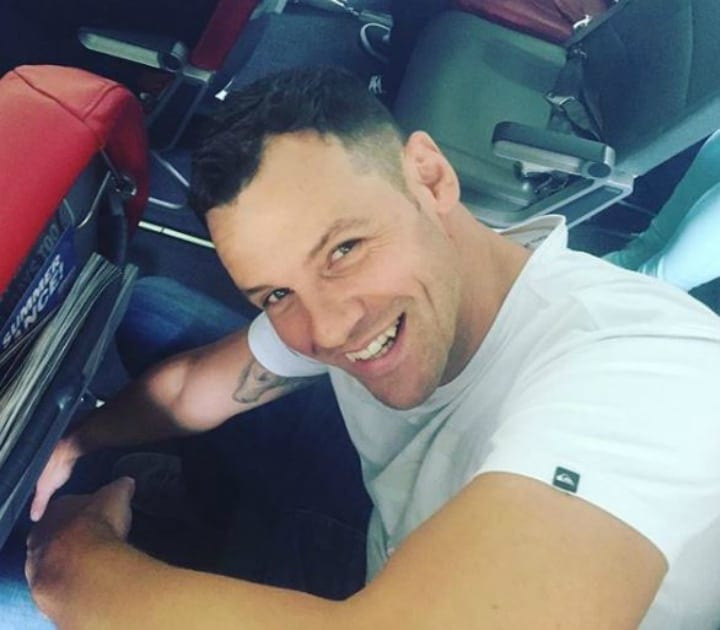 Inspired by the premise, Adam decided to take on the challenge himself. He marked a date on his calendar and began training as soon as he landed. Despite being happily employed, Adam was determined to swim the English Channel and embarked on an inspiring journey that would change his life forever.
Adam Walker's Transformation from Salesman to English Channel Swimmer 
Adam Walker had been living a mundane life of work, eating, sleeping, and repeating ever since he began his career in sales.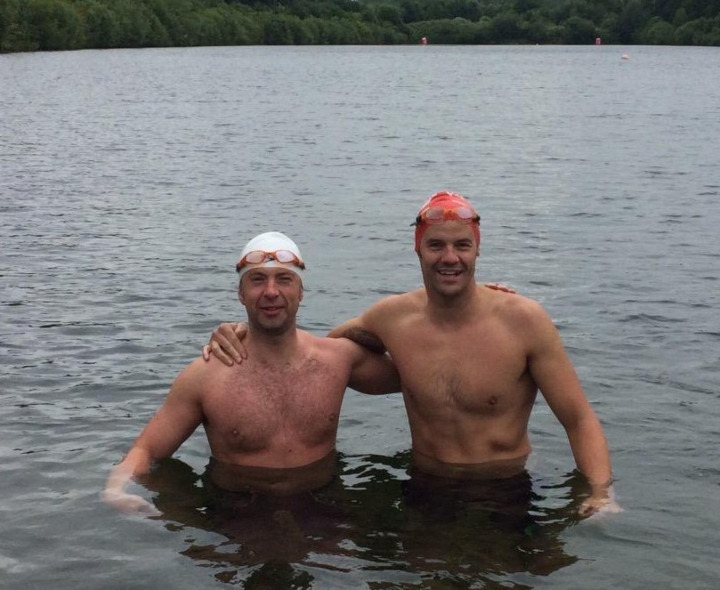 But when he set his sights on conquering one of the most difficult challenges in the world of swimming – the English Channel – Adam was determined to push his physical and mental limits, despite his lack of experience. He dedicated all of his free time to preparing for the challenge, and soon enough, his life began to shift drastically.
Adam Walker Conquers the English Channel 
Adam Walker found his true calling in 2008 when he conquered the English Channel. He faced harsh conditions, describing them as "swimming in a washing machine," but he was in love with the challenge.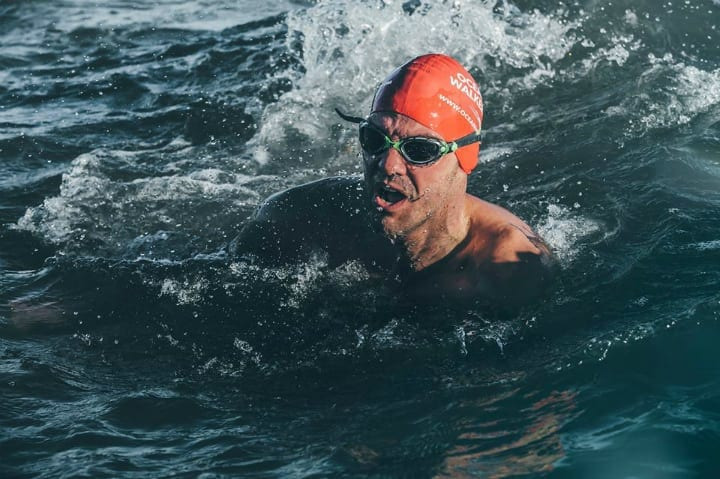 After his successful swim, he felt accomplished and soon set his sights on his next mission – the Strait of Gibraltar. On July 5, 2011, Adam made history as the first British person to achieve the crossing. His incredible journey is a testament to his courage and determination.
Adam's Epic Journey to Achieve the Ocean's Seven 
Adam's swimming journey was far from ordinary. With years of experience, he was eager to take on longer and more difficult swims. When he heard of the Ocean's Seven, a marathon of the seven most challenging swims in the world, Adam was determined to complete it.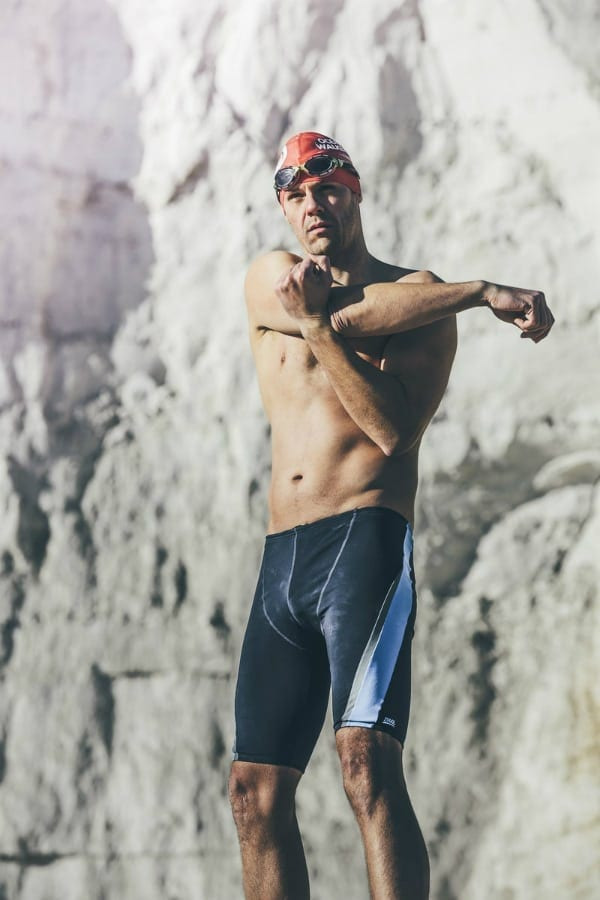 He had already conquered the English Channel and Strait of Gibraltar and kept going. He swam through the Molokai Strait in Hawaii, Catalina Channel in California, Tsugaru Strait in Japan, and the North Channel between Great Britain and Ireland. Finally, Adam achieved the incredible feat of becoming the only British swimmer amongst ten others to have completed the Oceans Seven.
Refusing to Let Injury Stop Him
Adam Walker pushed his body to the limits, and during his English Channel swim, he ruptured a bicep tendon. Despite being injured and advised to stop, he decided to continue, and unfortunately, this caused permanent damage.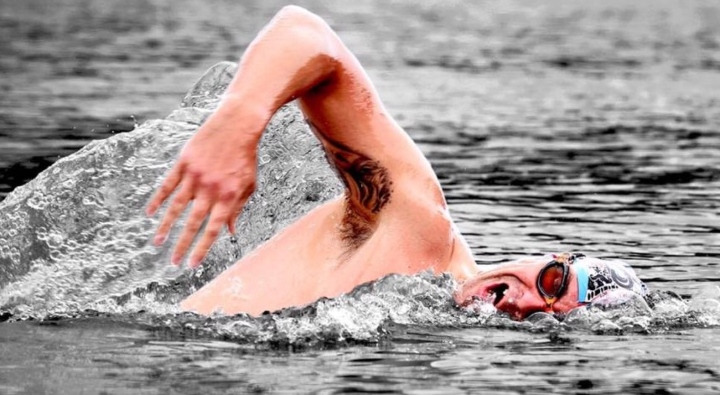 He had to go through three operations to re-attach the fibers to the tendon, and the doctors had to order Walker to never swim again or else he would risk irreparably damaging his arm. Even with this injury, Adam refused to let it stop him from achieving his goals.
An Epic Battle - Walker's Swimming Triumph Over a Portuguese Man o' War 
Walker didn't let anything get in the way of his dream, not even medical advice. He pushed forward, determined to swim for 17 hours and 2 minutes in the Molokai Strait, and that's when his epic battle began.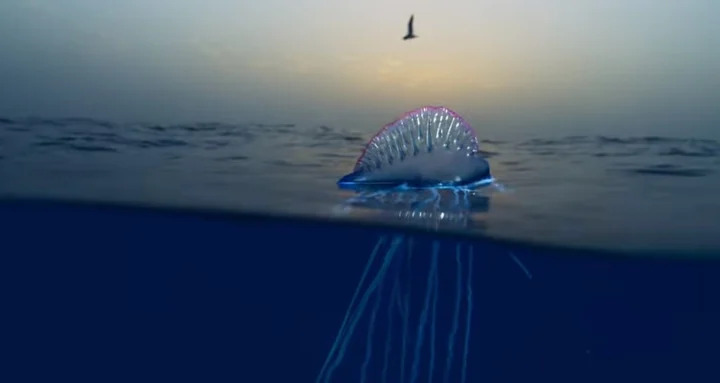 In a battle of man versus nature, Walker encountered the venomous and hazardous Portuguese man o' war. Despite the pain and agony of the jellyfish's deadly sting, Walker persevered and won his battle, completing the swim in three and a half hours. An incredible feat, Walker's courage, and determination will never be forgotten.
Adam Walker's Epic Journey Across the Cook Strait 
Adam Walker was not one to back down from a challenge. On April 22, 2014, he decided to take on the treacherous waters of the Cook Strait, located between the North and South Islands of New Zealand.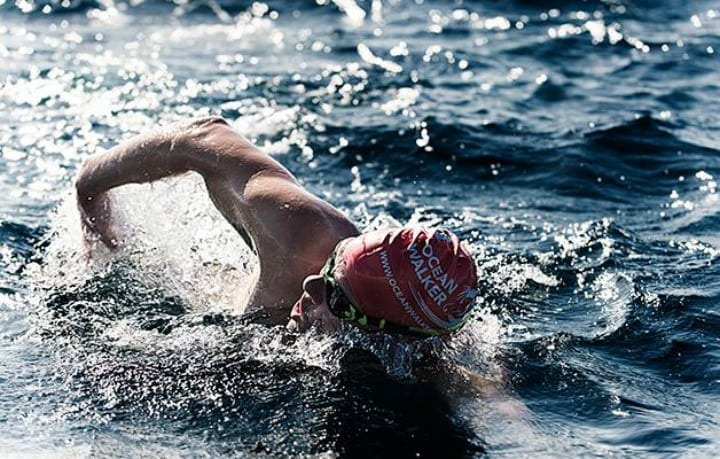 Despite the unpredictable and dangerous conditions, Adam was motivated and excited. He even brought a GPS tracker so people could follow his progress. Thankfully, Adam was able to get treated as soon as he reached shore and, after a few days, was already planning his next adventure. Adam's courage and determination to overcome the odds are truly inspiring.
Overcoming Adversity - Adam's Incredible Swimming Journey 
Adam was filled with trepidation when he stepped into the water. In the first hour, he grappled with his own doubts and almost gave up. But his coach, Scott, had other plans.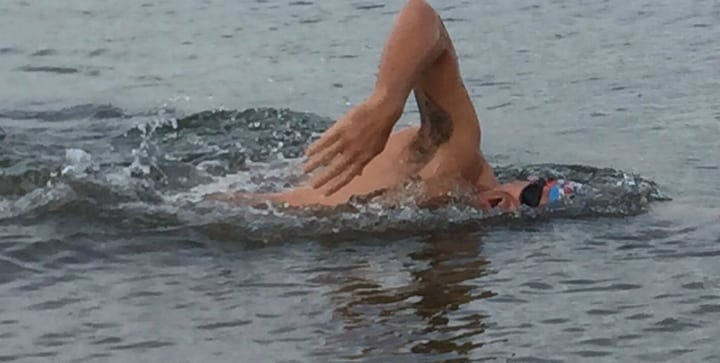 He approached Adam in his boat, offering words of encouragement and a drink to boost his morale. His supportive words gave Adam the determination he needed to continue, and he emerged from the water with newfound clarity and strength. Adam's incredible swimming journey of overcoming adversity is an inspiring story for us all.
A Fin-tastic Surprise in the Water 
Adam was three hours into his swim and had found his rhythm, not needing to take a break every hour. His stomach had settled, and his focus was sharp – until a fin surged past him!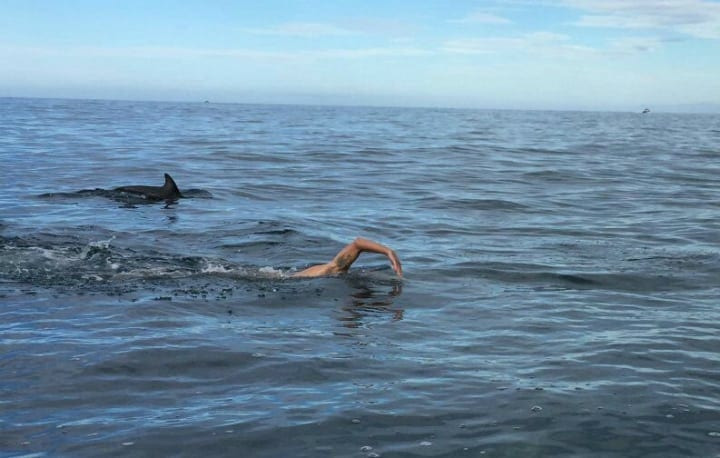 For a second, he thought he had imagined it, and then suddenly, he felt something bump his feet! Dumbfounded, Adam looked down and was met with a fin-tastic surprise! He had encountered a friendly sea creature who was here to join him on his swim!
A Friendly Encounter with a School of Dolphins 
Adam Walker was awe-struck when he found himself surrounded by a school of dolphins. He had swum in open waters countless times, but nothing could compare to this miraculous experience! The social dolphins circled him, almost as if they were welcoming him into their pod. 
To Adam's relief, the dolphins were harmless, but he didn't know that something else nearby posed a great danger. It was only the presence of the dolphins that alerted him to the possible danger. Truly, it was a friendly encounter with a school of dolphins!
Adam Walker's Worst Fear Comes True: A Close Encounter with a Giant Shark 
Adam Walker, a young swimmer, was in high spirits and enjoying his time in the ocean. But little did he know the danger that lurked beneath. 
After 15 minutes of marveling at the dolphins, Adam looked down and was horrified to see a giant shark swimming uncomfortably close to him! All of Adam's training and preparedness went out the window, and he was filled with panic. Thankfully, he was able to make it back to shore safely.
Dolphin's Unconditional Protection Saves Swimmer from Shark 
Adam was petrified as the shark's attention was piqued, and he was unsure what to do. Should he swim back to the boat or stay still? A million thoughts raced through his mind when suddenly he noticed that the dolphins had come closer to him.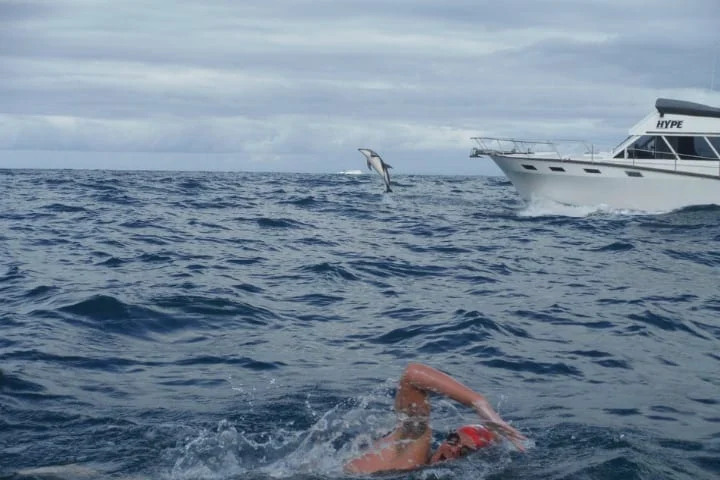 It appeared that they sensed the danger and were trying to protect him. This unexpected yet heartwarming occurrence gave Adam a moment of clarity and courage, allowing him to keep his composure and think of a plan.
Swimming with Sharks: Adam's Courageous Challenge 
Adam was determined to make it to the finish line and didn't want to waste precious time and energy getting back on the boat. So, he bravely ignored the presence of the shark lurking beneath him and focused on his training.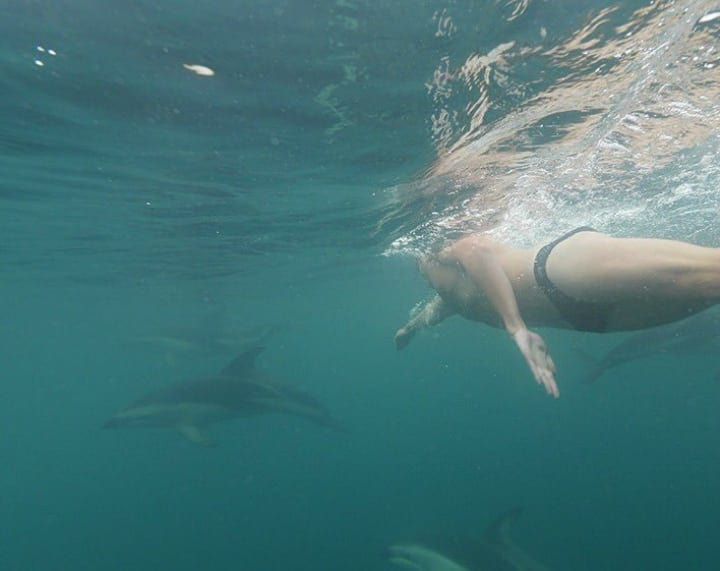 With each stroke, he pushed himself to go faster, and the presence of the dolphins seemed to be keeping the shark away. It was a courageous challenge, but Adam was determined to overcome it and succeed in his open-water swim.
Adam Walker's Miraculous Swim Through Shark-Infested Waters 
Adam Walker was no stranger to swimming with sharks, so he knew exactly what to do. He kept his eye on the goal and refused to look down, determined to make it to the end of his swim.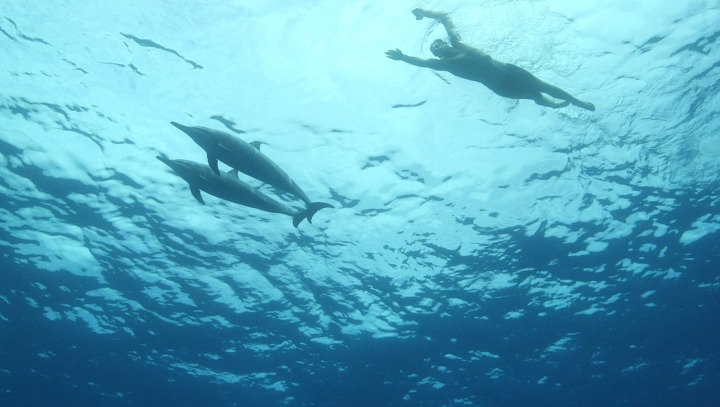 Surprisingly, he was joined by a group of dolphins who provided him with a reassuring presence. He found the courage needed to complete his challenge and make it to the other side. Adam Walker's remarkable swim through shark-infested waters was a testament to his perseverance and bravery.
A Young Swimmer's Nerve-Wracking Encounter with a Shark 
Adam had been swimming for a while, and the dolphins surrounding him had finally soothed his nerves. Tentatively, he looked down to see if the looming shark was still there.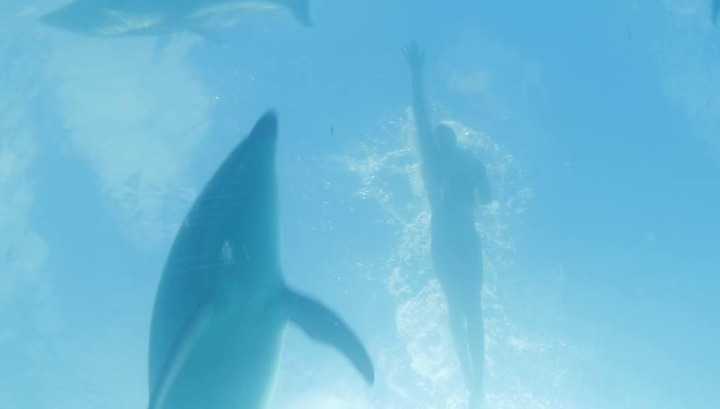 Luckily, he saw nothing other than the crystal-clear water beneath him. It seemed like the shark had lost interest in him. He knew his training was a contributing factor, but he couldn't help but feel that the dolphins were also protecting him.
Adam's Moment of Triumph: Overcoming Adversity with a Pod of Dolphins 
When Adam encountered a shark during his swim, it seemed his dream of reaching the finish line would remain just that – a dream. But just as he was about to give up, a pod of dolphins appeared from the depths.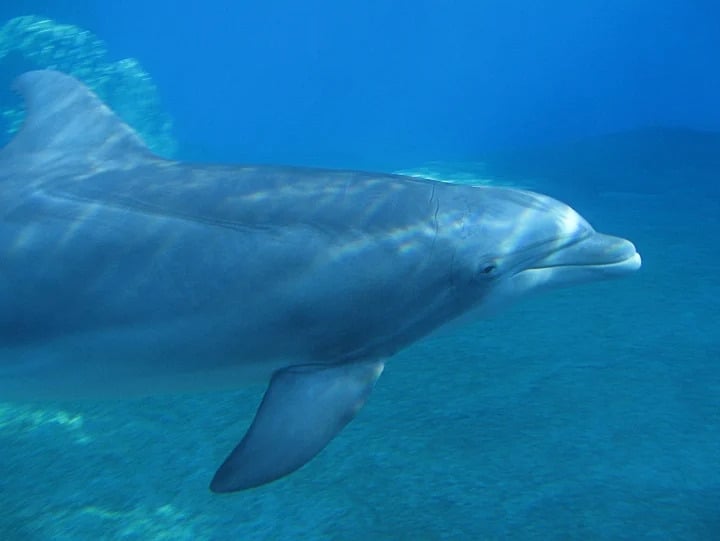 For the next 90 minutes, they swam together, giving Adam the strength and courage to push through the final stretch. As the dolphins left, Adam dedicated his swim to them and with newfound energy, he raced towards the finish line. In that moment, Adam felt an overwhelming sense of joy as he celebrated a moment of triumph over adversity.
Adam Walker's Triumphant Swim of the Cook Strait 
Adam Walker had just achieved his greatest feat yet as he reached the shore after 8 hours and 39 minutes of swimming the Cook Strait. His girlfriend, Gemma Clarke, welcomed him with a hearty homemade soup and a warm drink.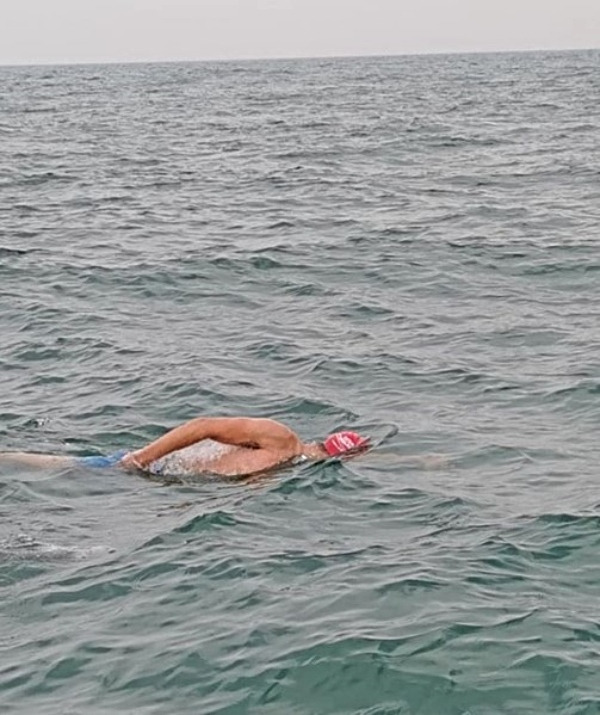 Walker was proud of his accomplishment and shared his experience, saying, "This was the most difficult thing I have ever done in my life and I'll never forget swimming alongside the dolphins." He had triumphed in conquering the Cook Strait with the help of some incredible marine life.